We love art here at InsideStylists.com
We love it in our homes. We love finding new artists, styles, genres and all that it entails, but due to the copyright laws that came in a few years ago finding the right piece for a photo shoot has become increasingly difficult. And that's why we've created this artists list.
Why is it difficult to find art for a photoshoot? 
In a nutshell – we need to have permission from the person who owns the copyright for the art we want to include in shoots – whether for magazines or commercial brand photography, and that isn't always easy. If you buy art or pick something up from a vintage market on holiday, use a postcard, birthday card or poster you stand the chance of being sued for copyright infringement.
"But that's not really going to happen is it?" 
I hear you say. Well, yes it is. It's been happening and more often than not the responsibility lies with the person choosing the art for the shoot. Not the client you're shooting for. Not the magazine. Not the TV director. Not the brand client.  The interior stylist who included it in the props and set up.
What's the answer? 
It's simple. Get permission to use any pieces of art from the artist themselves… and that's where you come in. If you're an artist and want to apply to be in the running to get featured we would love to hear from you. Whatever your discipline. Interior Stylists and writers are always looking for fabulous paintings, drawings, illustrations, installations, sculptures and so much more to include in photoshoots.
We have compiled a list. A very long list for all the members of Inside Stylists to have at their fingertips whenever they need to search for the right piece for a shoot. Only members will be able to access this list. If successful you will be added to this long member only list- it's a member's perk.
We have also shared a handful of our fave artists on the Artists Directory which everyone has access to.
 Want in? 
If you're an artist of course you do. All you need to do to apply is fill in the form below. We review every application to check it's not similar to any artist already listed. If successful we'll add you to the list but please be aware you must be happy for your art to be featured COPYRIGHT FREE
If your art is included in an editorial shoot you will be credited but with commercial shoots there isn't a way to share the credit so artists usually chose to hire their art out for a small fee as their name won't appear in the feature.
Delivery and collection will need to be arranged with the stylist using your art.
Need to understand copyright law in more detail? 
Yes, so did I. So I interviewed Margaret Haig. Head of Operations at the Intellectual Property Office on the Inside Stylists podcast so we could really understand what's involved with using art in photoshoots.  You can listen to it here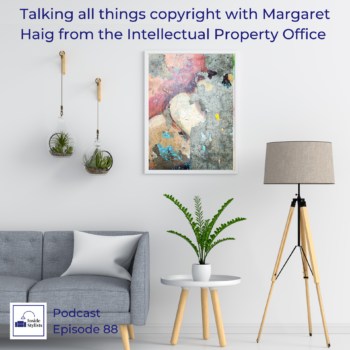 I also read up on all I could find and the best source was of course from the Intellectual property office. You can find them here Intellectual property office – See more details on this government website  .
There's an interesting document all about what is and isn't allowed – especially from an artists perspective. Read it here Intellectual Property Office document
---
If you're an artist and you'd like to apply to be included in the Inside Stylists Artist list please fill out the form below 
---
Artist enquiry Form
Hello, We're looking for a whole variety of artists who are happy to have their work featured in commercial and editorial features copyright free. If you would like to apply to be considered please fill out this form