FAQ: List your shoot location house
Renting out your house for photo and video shoots can be really fun, and rewarding and is a great way to earn an extra income but there are lots of things to consider before you open up your doors. That's why we have put together this handy guide to answer all your questions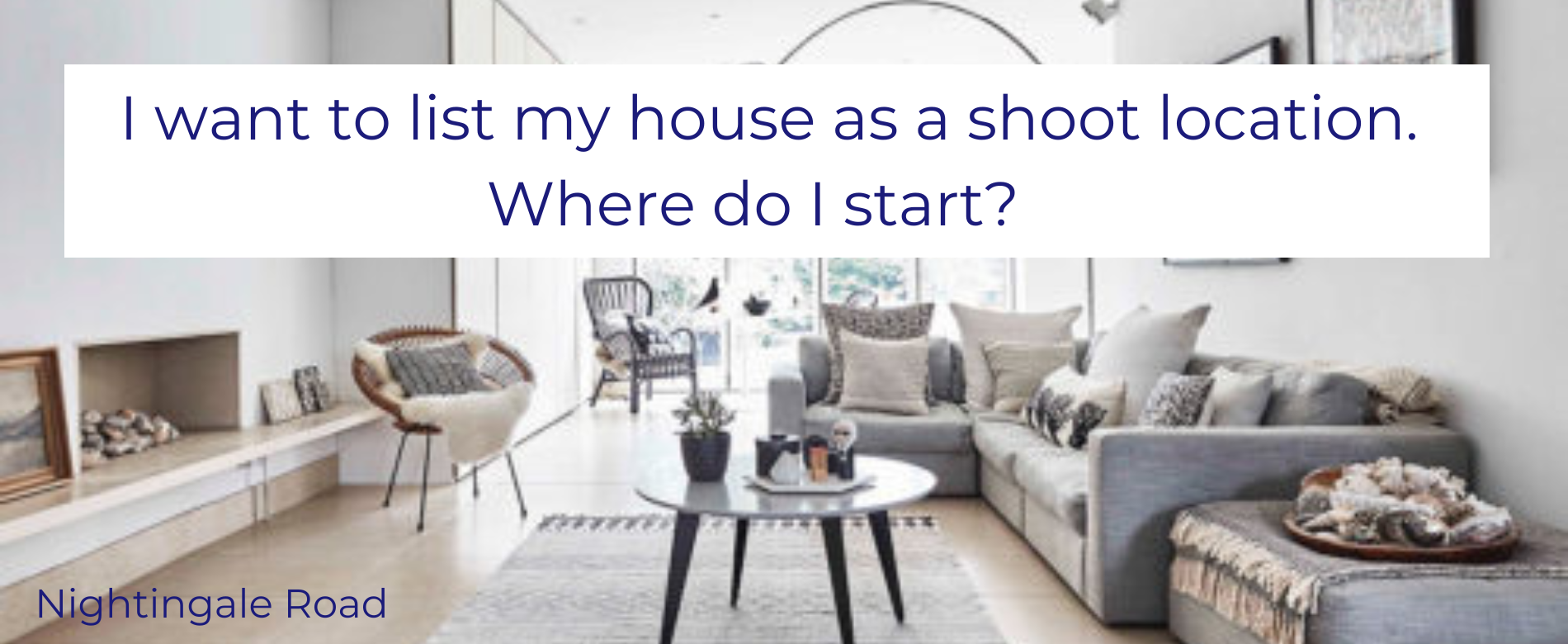 Your house doesn't have to be a mansion, ultra trendy or in London to be suitable for shoots. Whatever your house style there's a good chance a fashion, interior, food, or tv crew will be looking for exactly your look.
Statistically speaking most shoots happen around London and if that's where you are you're more likely to get more bookings but if you're further afield and your house has the right look and other things going for it like storage space for props, parking, or is near a good train or tube station it will probably be good for shoots.
If you're not sure your house is suitable for shoots drop us a line. You can send us some shots of your property and we can advise you before you register with the Inside Stylists shoot locations.
When your house is selected for a shoot
Once your property is up on InsideStylists.com, location agents, editors, stylists and art directors can look at it online and see if will work for their shoot.
The first point of contact will be the "Enquire here" form. An interested party will fill out the form that is emailed directly to you or whomever you choose to receive it. The form will include dates required, what they are shooting and their contact details. They may ask to do a recce which can last up to an hour and if they want to proceed they may need to do a tech recce too to ensure the space will work for their needs. These can take longer. The client will then book and confirm their option to shoot at your location with you.
You will be responsible for sharing your day rate hire charges and conditions of hire as well as taking payment – which we recommend happens before the shoot date. You should also ask to see documentation to see that the client has adequate insurance to cover the shoot.
What do I need to do before a shoot?
You don't need to do much before a shoot. Your house should be clean and tidy and anything precious should be removed. Mark any out-of-bounds rooms as "private' and provide tea and coffee. A packet of biscuits always goes a long way too.
Remember that the crew will be expecting the house to look as it does on the website so if you have new furniture or decorate a room after the shots are taken you'll need to share new photos.
Anything else I should know
Shoots can be very disruptive. A shoot that is longer than a day will incur props being stored where you live. Expect to lose access to your regular living space.
Shoots often run over and that may impact family life.
It's a good idea to have an accommodating approach to having your house filled with crews. You may be surprised to see how many people come to a photo shoot.
You may need to leave the property during shooting- especially for filming. You will be advised of this before the shoot.
What time do shoots start.
Shoots can be anything from 9am-6pm for stills and longer for filming- usually 12 hour days. Anything above these agreed times can be charged as overtime.
During darker winter months crews may want to start earlier to capture as much daylight as possible.
Decorating
Some shoots require decorating – wallpaper or painting walls. It's completely up to you whether you allow this. If you do a set builder will be hired by the crew to return the location to the exact look as it was before the shoot. You will need to advise on the paint colours needed to go back to what you have if you allow decorating.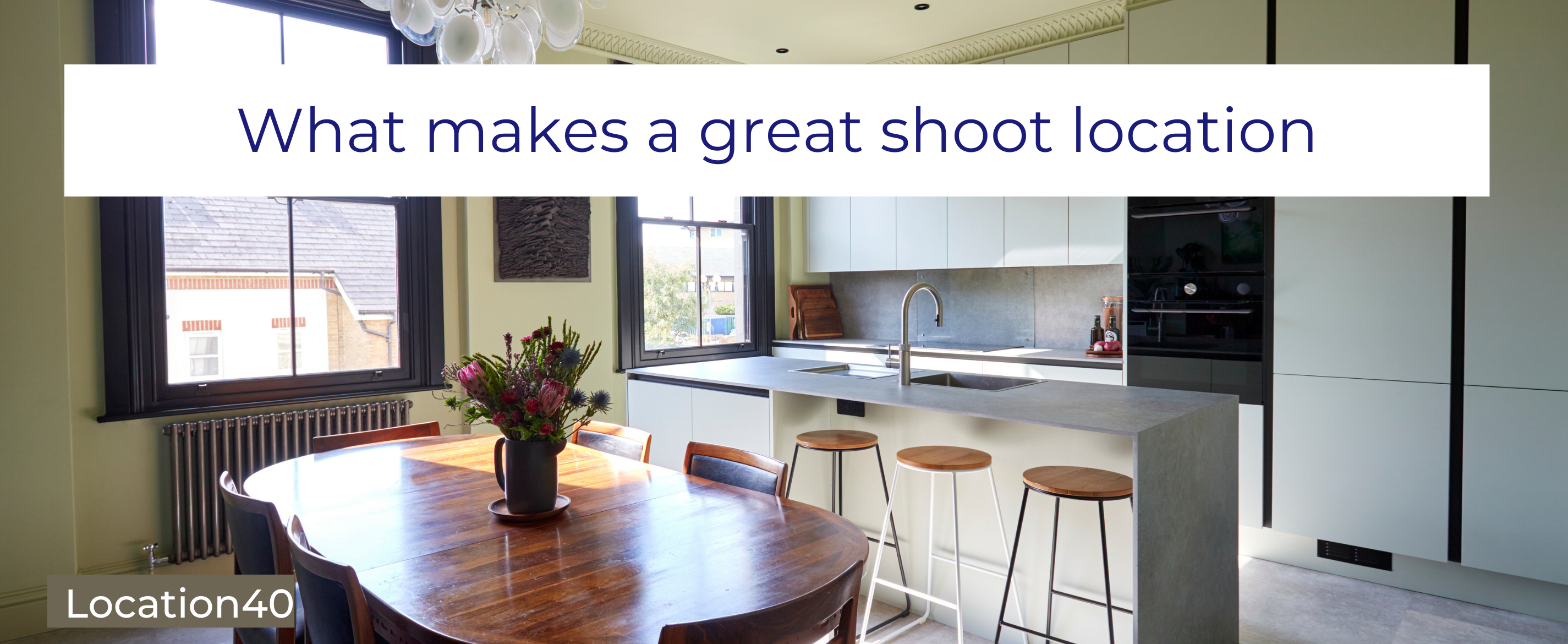 There are loads of elements that make a location great for photo shoots, here are just a few.
Space – rooms large enough to give the photographer space to pull back so that they can shoot a whole room – even if they're in a hallway or wardrobe. High ceilings are also a good element. 

Good natural light – big windows that fill a room with lots of daylight is a big bonus. 

Interest – all white homes are great for some shoots but if you have interesting elements – colour, architectural elements, design aspects, texture around your home that make it stand out the shots will look great.

Furniture and props – if you have great props in the house that the crew can use to enhance their images they'll choose you over needing to hire them in.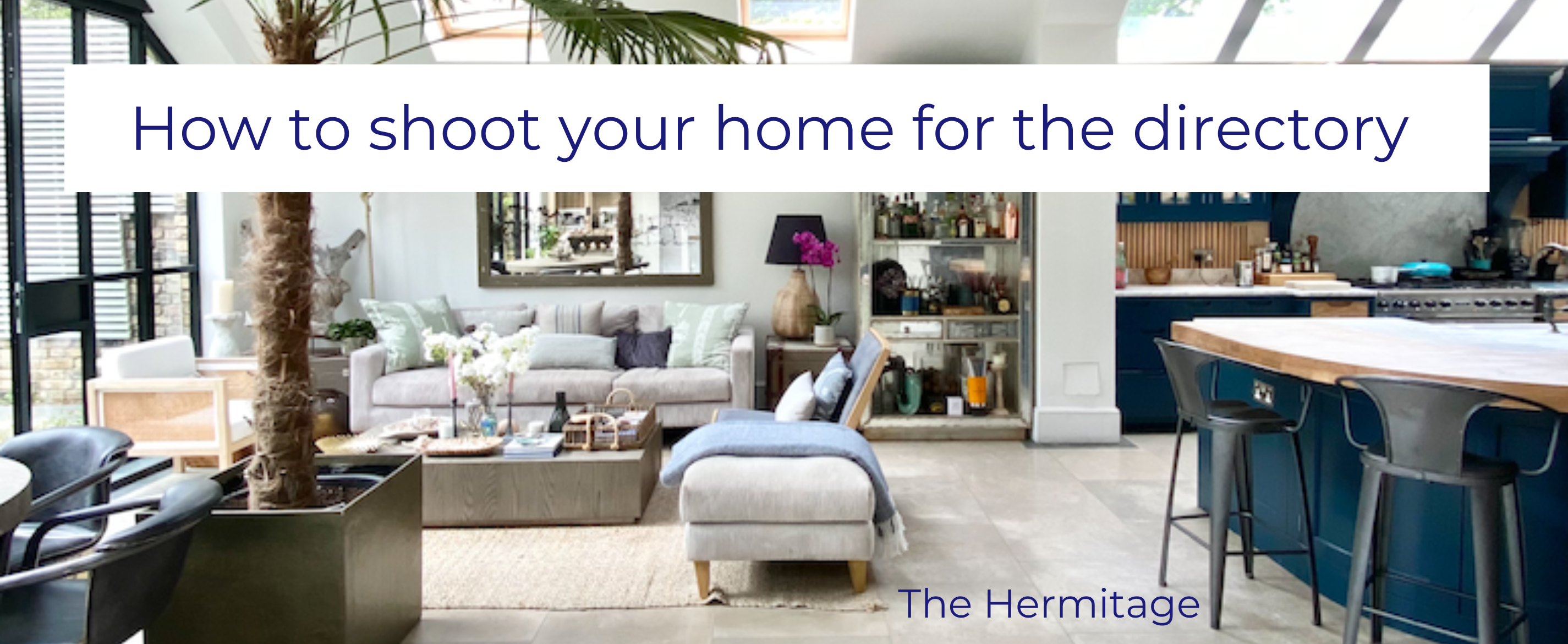 We would always recommend using a professional photographer to shoot your home – and we can recommend some,  but if you're shooting on your own here are some tips on getting the best out of your shoot.
Tidy up
Sounds obvious but it's a good idea to remove items that won't be available on shoot days. Furniture may be moved during shoots so declutter underneath beds and behind sofas. Personal items should also be removed.
Shoot when the weather is going to be good.
You don't need a super sunny day but dark clouds and rain will make your house look dark and dull.
Turn off your lights
Overhead lights will give off a yellow tinge and won't show the true colour of your decor. Shoot in natural daylight wherever possible.
Shoot all the rooms
Make sure you share all the rooms you are happy for clients to shoot in. If a room is out of bounds (for example kid's rooms and offices) then don't share them. People looking at your shoot location on

InsideStylists.com

 

will expect to be able to use all the rooms that are shared in your listing.
Use a DSLR camera whenever possible.
Cameras will take the best shots of spaces but if you need to use a phone attach it to a tripod or rest it on a solid surface. We need large clear photography so if a potential client zooms in it will still be in focus.
Show all the space
Stand back and take shots of each room with as much in as possible and from all angles. Avoid wide-angle lens shots. They make a room look different to how they look in real life and can be misleading. Take landscape shots instead.
Include all interesting aspects
You may have a feature fireplace, an amazing ornamental garden or great views of the sea or countryside. Include those shots too as clients often look for these.
Don't get personal
Don't include people or pets in your photography.
Take lots of shots
It's better to have too many shots of your location than too few. We can edit your selection so send us everything.
What to shoot
Plan the shots
We share images as if you were taking a tour of the property. Start at the entrance hall and then shoot as if you are walking through the downstairs areas. Shoot the staircase and then the upstairs rooms including bedrooms and bathrooms that you're happy for shoot crews to go into. Don't forget the banisters.

Shoot the front door
Many Christmas shoots start with a wreath on a front door.

Link up
If you have rooms that interconnect make sure you share that in your photography. It will give potential clients an idea of how they can shoot in the space.

En Suites
When shooting bedrooms with an ensuite make sure it's obvious how they connect
Make it REALLY obvious.
We want to show shoot crews exactly what they'll get if they shoot at your location so include everything you think they might be interested in. If they can't tell how a space looks on the whole they're less likely to book a shoot.