Mood boarding Mondays
It's back! Pull up a chair and get ready to be inspired by this month's round up of mood boards!
Welcome to the March edition of Mood boarding Mondays. Here you'll find the weekly mood boards that we've been posting over on the @InsideStylists Instagram page. So if you're looking for a serious dose of inspiration, you've come to the right place! I mean, who doesn't enjoy a few moments out of a busy day to gush over the latest pretty fabrics, paints and wallpapers right?
Enjoy! 
&
---
Pretty in Pink
BE BANG ON TREND WITH THIS PRETTY PASTEL HUE.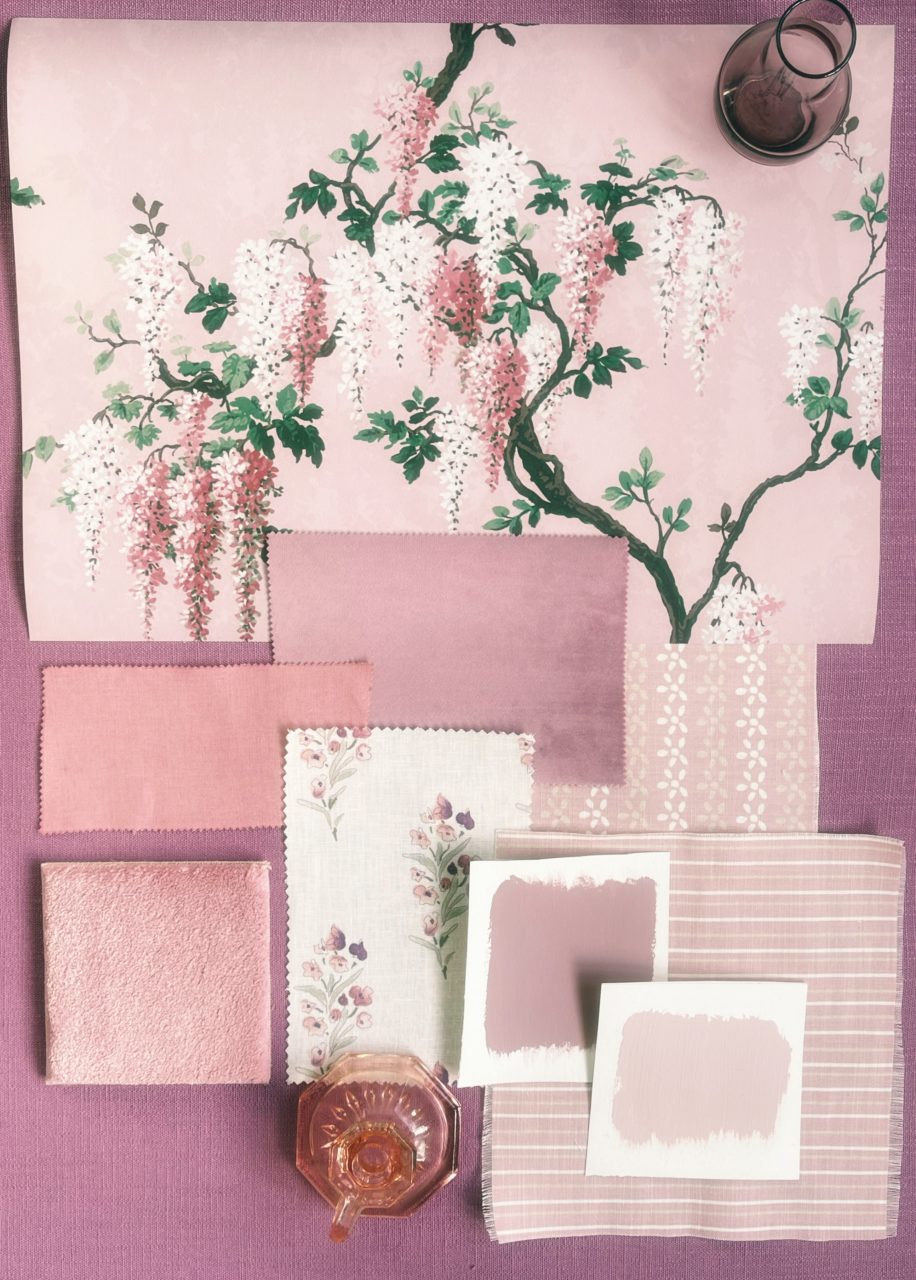 We've seen an explosion of pink all over Instagram and social media recently and it doesn't seem as if it's going away any time soon. Which is good, because we love it! Who would have thought we'd be thinking about painting our bedrooms pink again, let alone our living rooms? Get this look by teaming the Wisteria wallpaper with pink fabrics and paint for a touch of elegance and sophistication. Beautiful.
You can find these wallpapers, fabrics, and flooring here: 
Wallpapers
Wisteria in pink bloom, Pearl Lowe for Woodchip and Magnolia
Fabrics
Flowers: Arabella in Heather on white, Pippa Blacker 
Stripe: Linely in Deep Pink, Skimming Stones Designs 
Linen: Iliade Sorbet, Metaphores 
Velvet: Velore Petal, Prestigious Textiles 
Petals: Petal in deep pink, Skimming Stones Designs 
Flooring
Blush Saxony, Tapi Carpets 
Paint
Dark pink: May Queen, Crown Paints 
Pale pink: Antoinette, Annie Sloan 
---
Strut your Stuff in Emerald Green
THERE'S SOME SERIOUS ATTITUDE IN THIS SCHEME. AND WE'RE LOVING IT!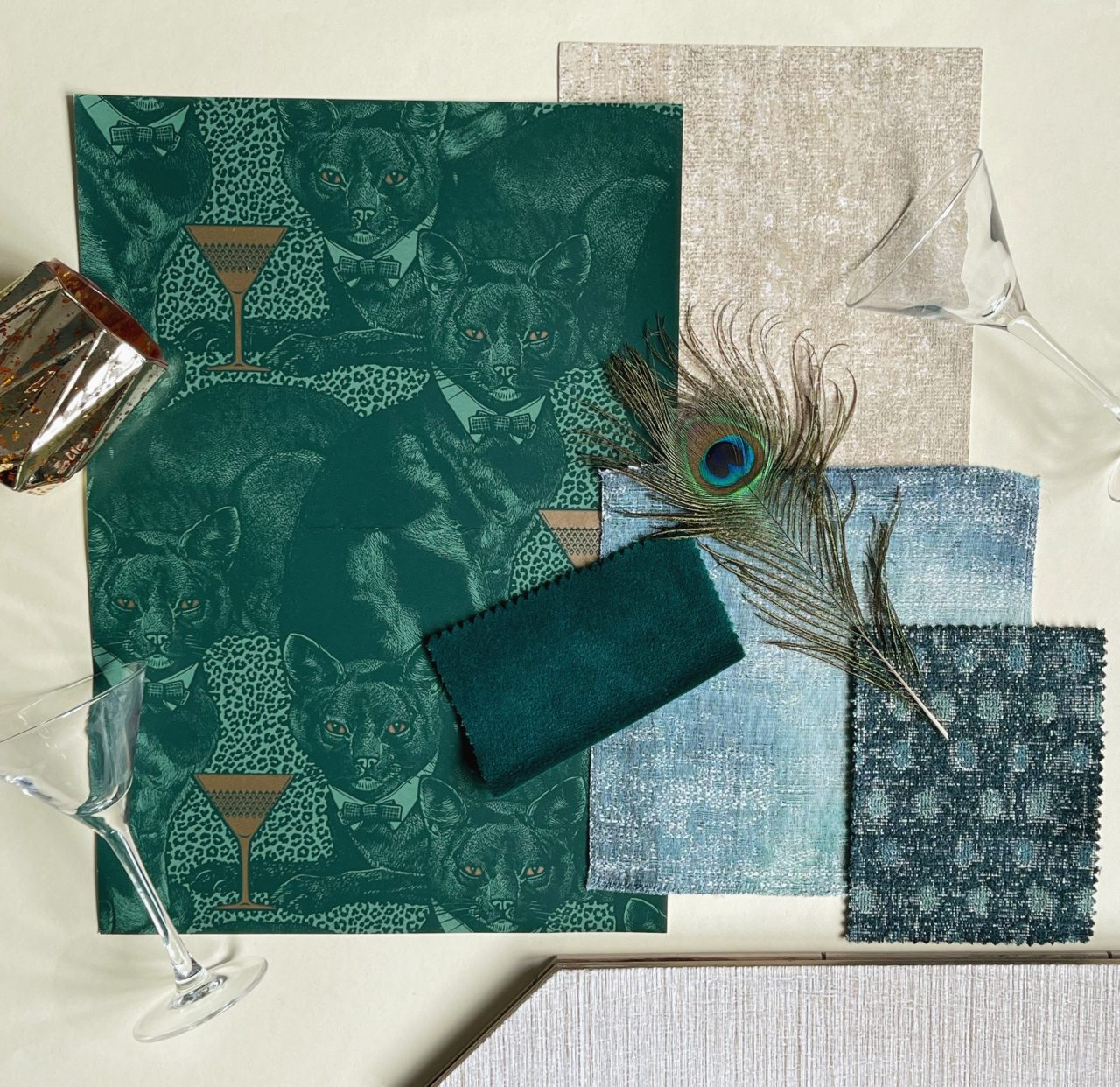 If you're looking for a room with the sophistication of the Art Deco era but with a modern twist, this is it. The wallpaper from Divine Savages needs no explanation. The title says it all – 'Cat-titude'. Add in some neutral tones and pared back fabrics in similar shades and you're there. Oh, and don't forget the drinks cart for the cocktails.
You can find these wallpapers, fabrics, and flooring here: 
Wallpapers
Cat-titude in Green envy, Divine Savages 
Gold: Morganite from Gingko collection, Elizabeth Ockford, 
Fabrics
Spot Bevan Serpentine, Villa Nova 
Shimmer: Lune Peacock, Black Editions 
Velvet: in Deep Viridian from Burlington Collection, Fox Linton 
Flooring
Urban from Brooklyn Collection, Ted Todd 
_________________________________________________________________________________________
Nurtured by Nature
SIT BACK AND BREATHE A SIGH OF RELIEF IN THIS CALMING SCHEME.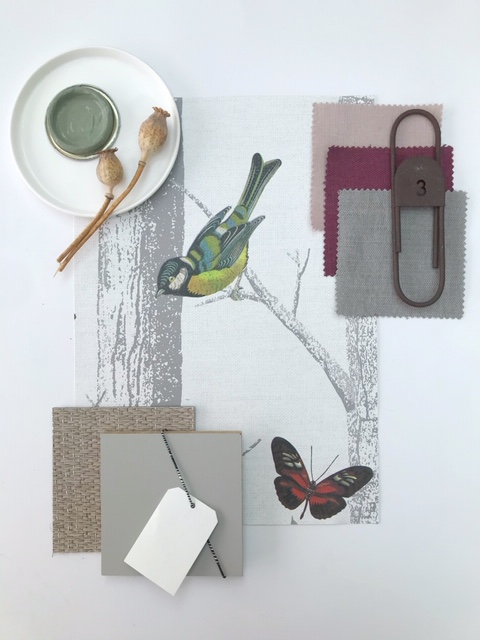 Looking for a space to breathe? Time out from the pressures of lockdown/post lockdown life? Welcome to the most centred and calm scheme ever. If 2020/21 has taught us anything, it's of our need to be surrounded by nature. There's a comfort in the natural rhythms of the world and the fact that spring follows winter. Bring that serenity into your home with this gorgeous wallpaper from Albany and gentle soft pinks, plums and greys from Stitched. And relax.
You can find these wallpapers, fabrics, and flooring here: 
Wallpapers
Epping, by Albany 
Fabrics
 Pink Plaster Cotton Weave, Stitched 
Linton in Fig, Stitched 
Linton in Gunmetal, Stitched 
Flooring:
Woven Vinyl in Portobello, Unnatural Flooring 
Wood furniture sample:
Chester Grey, Cotswold Company 
Paint:
Card Room Green, Farrow and Ball 
_________________________________________________________________________________________
Wild and Whimsical
IT'S TIME TO MAKE A STATEMENT AND CELEBRATE THE WILDER SIDE OF LIFE!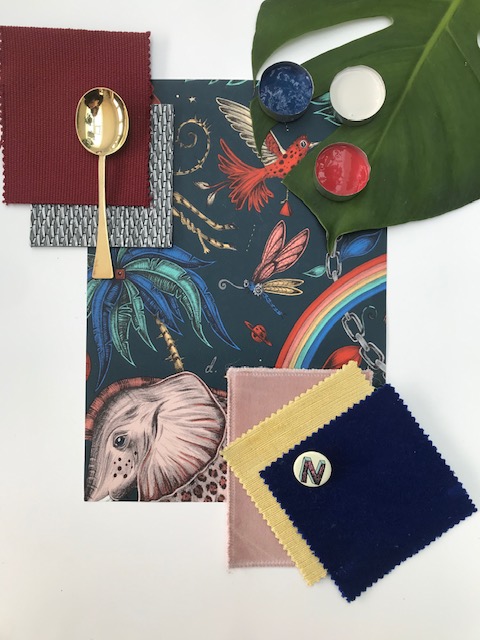 Ok, so I have to admit that I'm a bit obsessed with this Emma J Shipley wallpaper for Clarke and Clarke. I'm trying to think of all the places it could go in my home. We already have a lot of gold accents, navy and green plants in our house. I'm hoping that by paring this fabulous wallpaper with those elements, I can subliminally influence my husband to purchase the wallpaper by waving this mood board under his nose. Think it will work? Wish me luck!
You can find these wallpapers, fabrics, and flooring here: 
Wallpaper
Wilderie Wallpaper, Emma J Shipley for Clarke and Clarke 
Fabrics
Blush Pink Cotton Velvet, Made.Com 
Yellow Velvet (Mossop in Quince), Andrew Martin 
Blue Velvet (Pelham in Cerulean), Andrew Martin 
Flooring
Woven Vinyl in Mercury, Unnatural Flooring 
Cotton binding in Crimson, Alternative Flooring 
Paint
Navy Blue – Sapphire Salute, Dulux 
Burnham Red, Neptune 
Cornforth White, Farrow and Ball 
_________________________________________________________________________________________
Celebrate your inner artist
IF YOU WANT TO DIP YOUR TOE INTO CLASHING PRINTS, THIS IS THE SCHEME FOR YOU.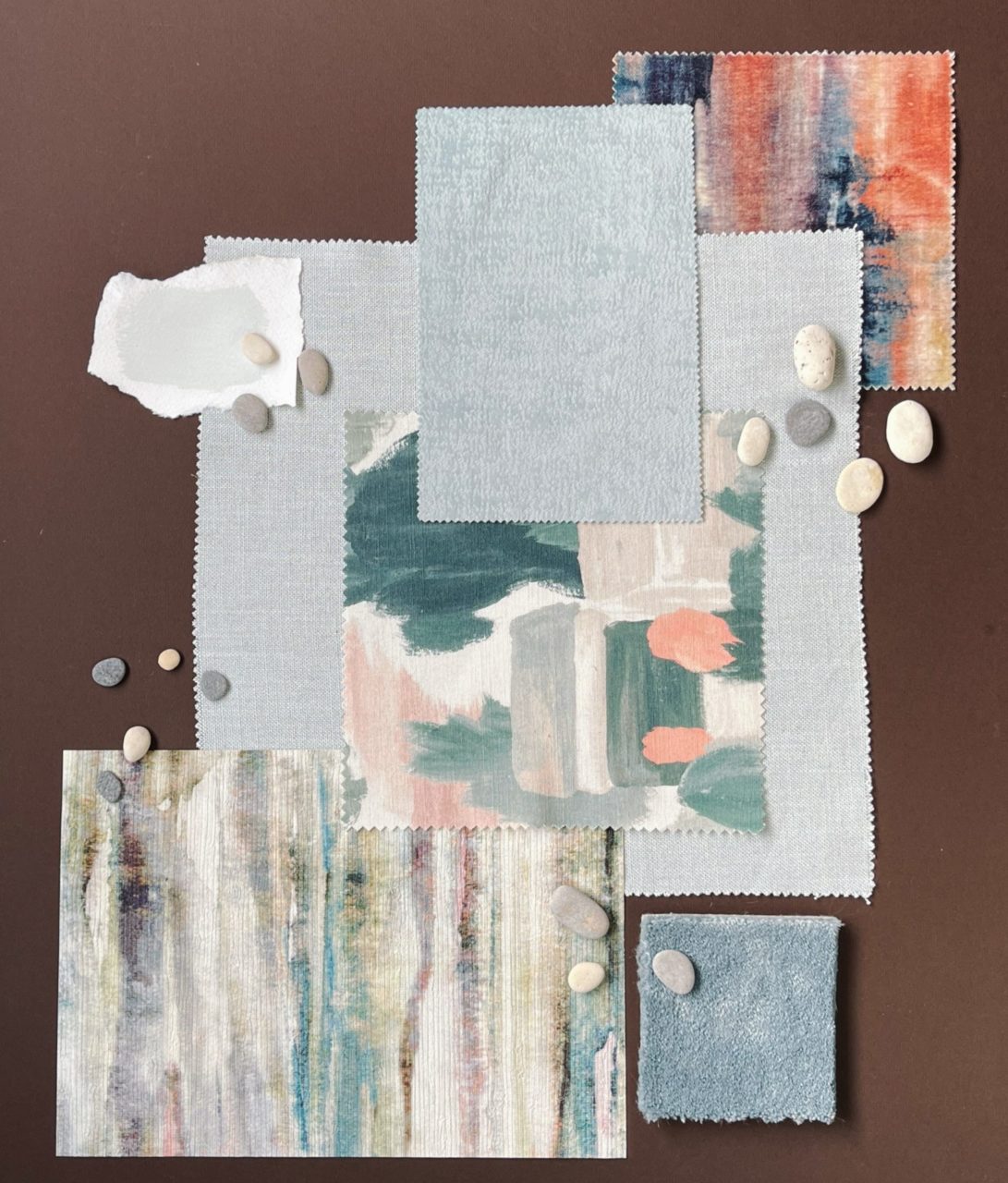 This mood board has some of the most tranquil, sophisticated painterly fabrics available right now. If you're not a fan of bolder hues but still want to make a statement, we think that clashing these prints is the perfect way to go. The addition of natural elements and neutral tones make this the perfect scheme for a seaside retreat or an artist's studio. Heaven.
You can find these wallpapers, fabrics, and flooring here: 
Wallpapers
Inaya Aurora from the Zafaro collection, Black Edition 
Fabrics
Powder – Trek, Andrew Martin 
Soho Sky, Prestigious Textiles Limited 
Solace Velvet Red/Slate, Jane Churchill  
Potting Shed Haze – Still Life Prints, Villa Nova 
Flooring
Jay – Andes, Unnatural Flooring 
Paint
Silver Frost, Sanderson 
---
Which is your favourite?
So, do you have a favourite from our collection of mood boards this month? Let us know in the comments below.
A huge thank you to all of the lovely brands who send us samples of their work and keep us up to date with all that is going on in their studios. Keep them coming! We've got lots in store for next month as we head towards the sunnier days of Spring/Summer so be sure to check in again soon.
---
---