---
Much more than just our Monthly Moodboarding Monday
We've got so many brilliant mood boards to share that we can't choose a favourite. Can you? 
As you know, we love to share all the fabulous new things we find here at Inside Stylists. Whether it's the colour of the year for a paint brand, or an up and coming artist who's creating their own wallpaper collection, we think it's important to give them a shout out so that everyone can find them. And also so that we can feature them! Check out our five fab finds after the moodboards for more inspiration. 
Enjoy!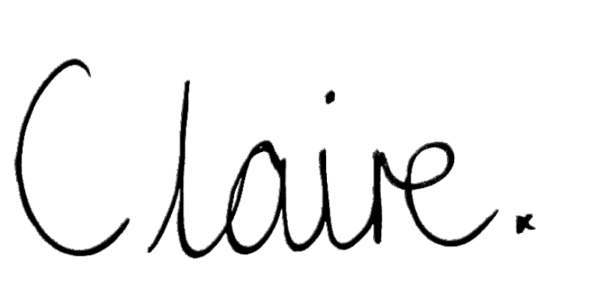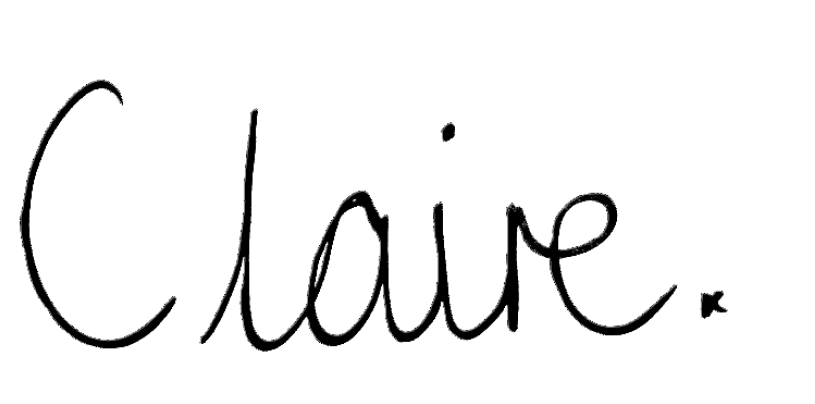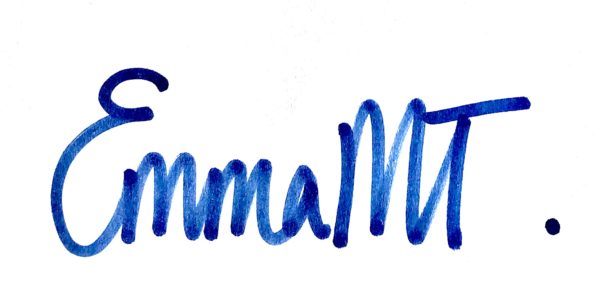 ---
Underwater style
This is how to create the ultimate self-care sanctuary at home.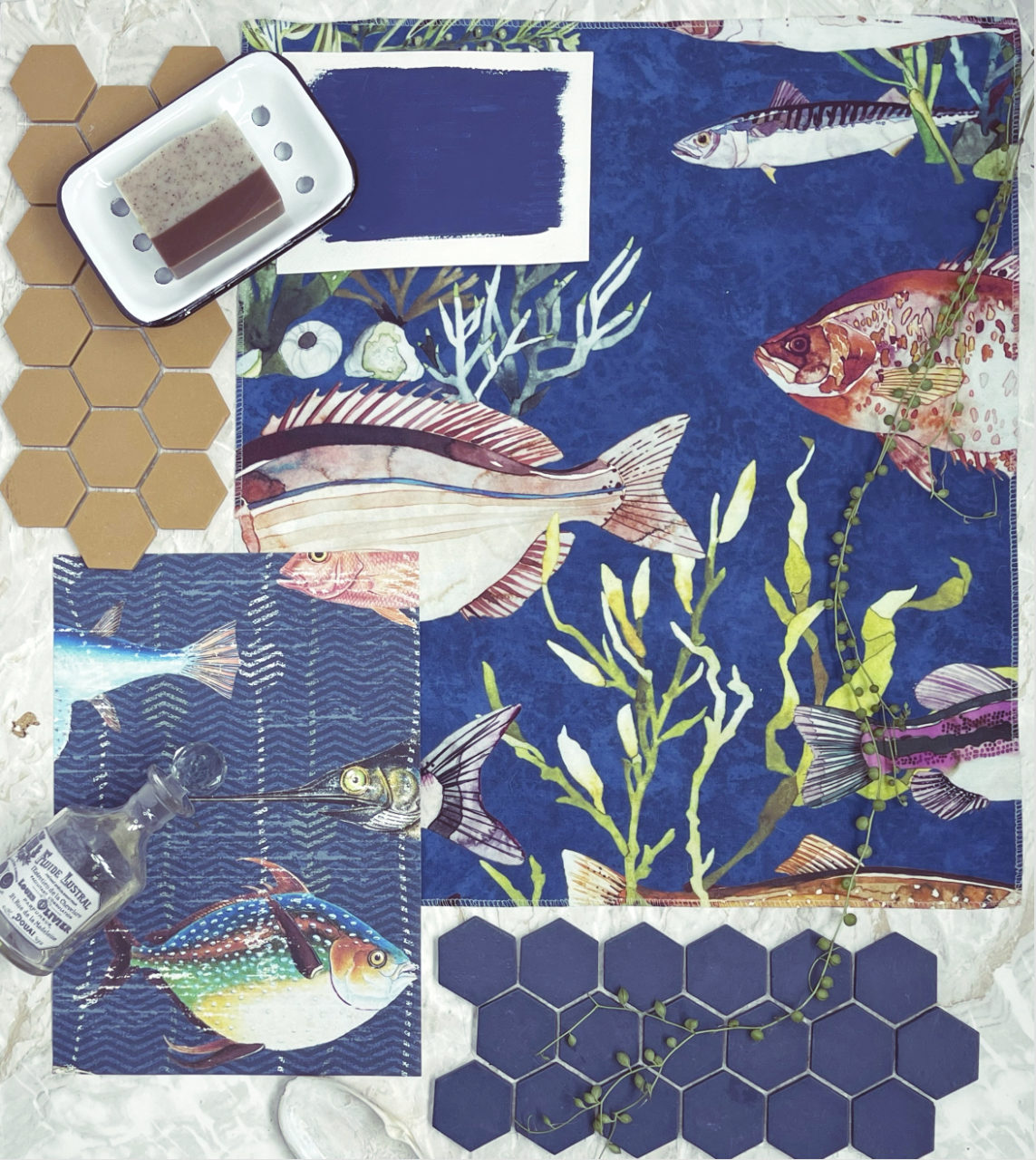 The desire for calm and restful blues in the home isn't going anywhere. We love this amazing wallpaper from Elizabeth Ockford and think it's perfect for creating a restful sanctuary at home. Imagine indulging in some self-care at the end of a long day surrounded by these elegant hand-drawn designs and stylish tiles. Just what the doctor ordered!
You can find these wallpapers, fabrics, and flooring here: 
Wallpapers
Kitts in Dark Blue from The Islands Collection, Elizabeth Ockford 
Fabrics
Laghetto Outdoor from Summerhouse collection, Osborne and Little 
Tiles
Brasserie Mosaic in Mustard and Blue, Artisans of Devizes 
Paint
Moonlight night, Designers Guild 
Soap dish, Lisa Valentine Home 
---
Bold and Bright Children's Playroom
Designing a child's room doesn't have to be scary. Unless you're featuring dinosaurs…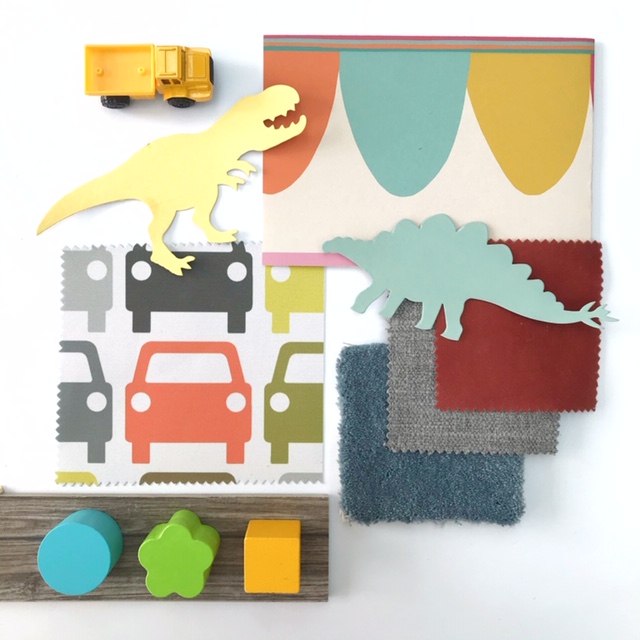 Our homes have had to adapt to being workspaces, home gyms and even home education spaces over the past 18 months. That means we need somewhere cute and stylish for all of those homeschool books and toys to be stored! We think that this playful scheme is the perfect solution to the design dilemma that can be children's spaces. The muted yellow and blue paint colours from Crown Paints inject a gorgeous pop of colour without being overwhelming. Meanwhile, the Orla Kiely fabric for blinds and curtains will ensure that your kiddo's space is bang on-trend.
You can find these wallpapers, fabrics, and flooring here: 
Wallpapers
Wallpaper border: Whimsical in Scaramouche, Cole and Son 
Fabrics
Cars – Orla Kiely House, Blinds 2 Go 
Linen fabric in shadow, Swyft 
Velvet fabric in Brick, Swyft 
Flooring
Carpet – Andes (Jay), Unnatural Flooring 
Paint
Yellow Dinosaur painted in Happy Daze, Crown Matt Vinyl 
Blue Dinosaur painted in Flagon, Crown Matt Vinyl 
---
Could this be the most sought after colour of 2021?
Our pink scheme was so popular last month, we thought we'd indulge you with another one!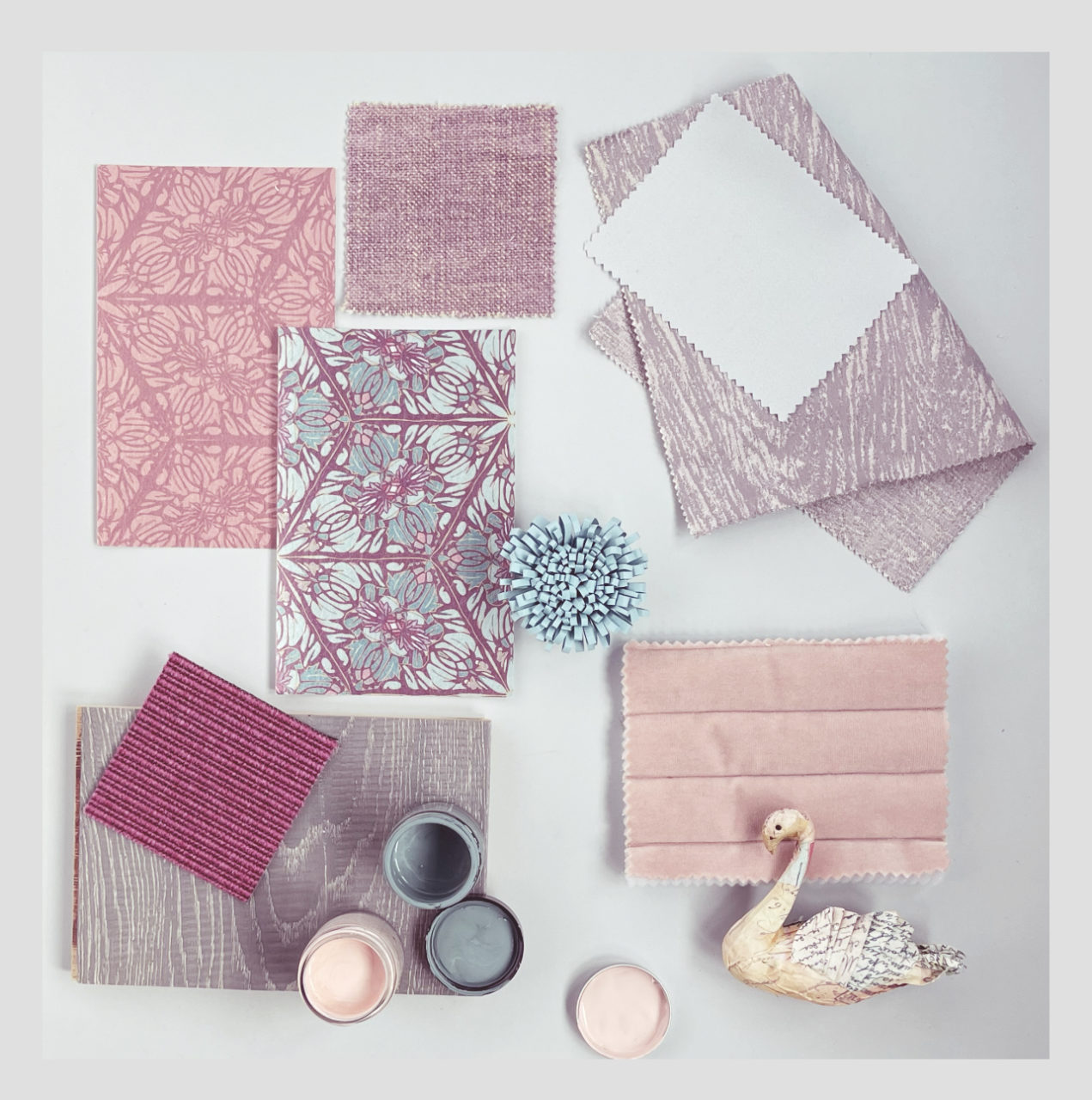 Our 'Pretty in Pink' scheme from last month was one of the most popular over on Instagram. It seems that you guys can't get enough of it! This month we thought we'd pair it with some bolder pink/purple accents and soft blue grey paint for a bit of a design twist. And that fat cord! Oh that fat cord. We love it.
(P.S. two minutes after this moodboard was shot my Jackapoo dog Alan Taylor shot out the door with the paper swan. Alas, he is no more!) 
You can find these wallpapers, fabrics, and flooring here: 
Wallpapers
Greenhouse in Exotic Green –Wild Lone
Greenhouse in vintage Rose – Wild Lone 
Fabrics
(Lilac top left) Palazzo in Fig, Andrew Martin
Pale Blue – Lambswool in Robins Egg, Fox Linton
Shimmer – Gulfloss in Heather, Prestigious Textiles
Quilted – Jumbo Cord in Blossom from Volume collection, Kirkby Design 
Flooring
Flax from Warehouse collection, Ted Todd
Rug made to measure. Beta Collection, Unnatural Flooring 
Paint
Agean Teal, Benjamin Moore
Pink, Osaka Blossom, Andrew Martin 
---
Spring interior style
Feeling like a seasonal refresh? We've got the perfect scheme to get you started.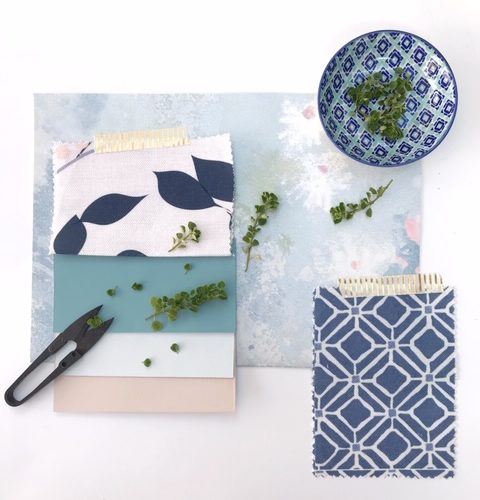 Is there anything better than walking in the brisk Spring morning air, hearing the birds sing and seeing buds on the trees? (Dog walkers and early morning joggers I'm talking to you)! No, we don't think so either. This soft and elegant wallpaper design from Linwood is perfect for recreating a whimsical spring mood at home. Partner it with textiles inspired by the natural world from Lorna Syson and you've got a perfect Spring interior.
You can find these wallpapers, fabrics, and flooring here: 
Wallpapers
Wonderland Pearl, Linwood 
Fabrics
Blue Curtain Fabric: Fretwork Indigo, Blinds 2 Go 
Wren and Cherry, Lorna Syson 
Paint
Vintage Peony, Blackbird Egg, New Dawn. All by Fenwick and Tilbrook 
---
Celebrate the Natural World in Style
Who said creepy crawlies aren't stylish?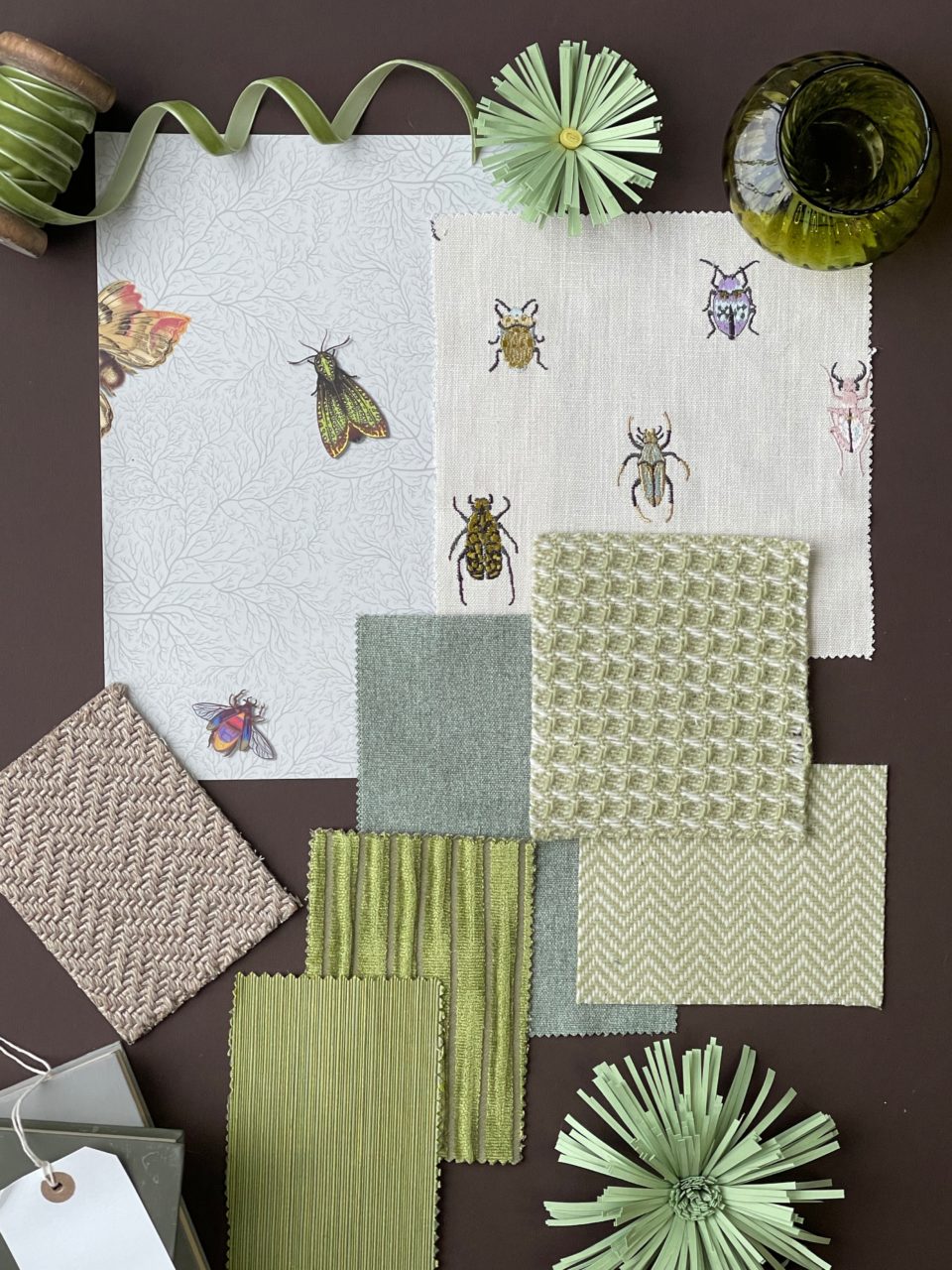 If you're a fan of the natural world, then there's no cooler way to showcase it in your home than through a design from Timorous Beasties. These guys know what they are doing when designing wallpaper that's elegant but edgy. We loved the greens in this paper and so chose an array of gorgeous textiles to compliment it. From fabrics to flooring, there's something here for everyone.
You can find these wallpapers, fabrics, and flooring here: 
Wallpapers
Nightcrawlers in Cool Grey, Timorous Beasties 
Fabrics
Green at front: Pepa – Menta, Pierre Frey 
Textured: Cosmo -Argento Oro, Pierre Frey 
Velvet: Gloriana -Cornelia, Osborne & Little 
Sage: Stamford Celedon, Prestigious textiles 
Bugs: Botanica fabric – Beetle Multi, Clarke & Clarke 
Flooring
Original chevron: Coconut, Eaton Square 
Paint
Background Colour: Cheltenham, Albany 
---
Other moodboards you might also like.
If you haven't seen our previous mood boards yet, make sure you head over and have a browse now. You can find them here and here.
Head over to Instagram to give us a follow and say hi. You can find us @insidestylists.
---
---
---
5 Fab new finds 
We've had such an influx of new desginers and new collections that we thought we'd share a few with you today. What do you think? 
"We specialise in elegant and provocative fabric and wallpaper, featuring layers of historical and fantastical influences. Founded in 2019 by Jessica Jordan, Wild Lone's designs embody a culture of storytelling, whimsy and escape."
We love the dark and interesting designs by Jess. The paper quality is gorgeous too. Subtle shimmers and beautiful textures. She's very happy to be featured in shoots too. Get in touch.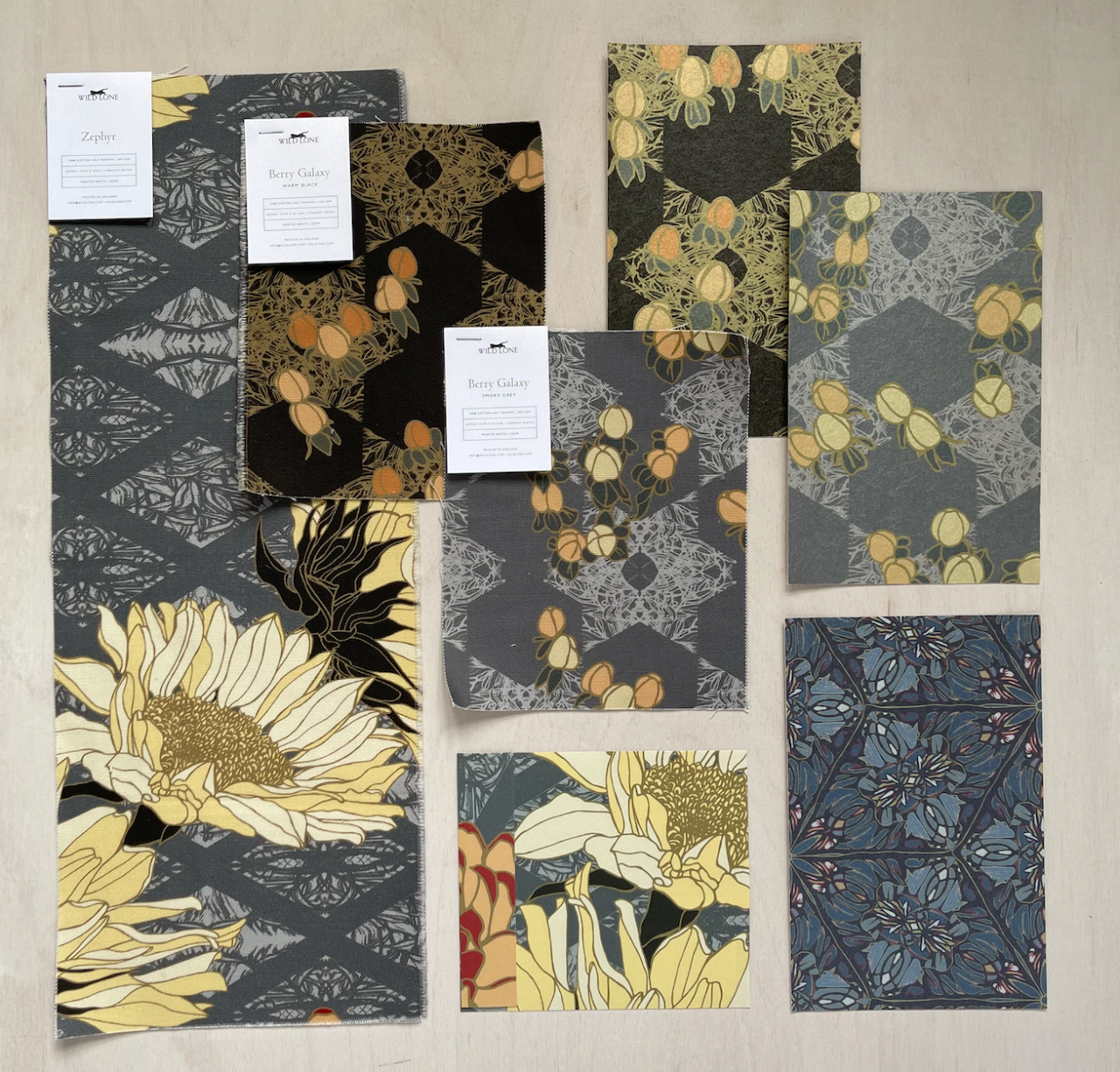 I challenge you to find another family-run business with as many styles and designs to choose from as Woodpecker does. There's real wood engineered, solid wood, Strand woven bamboo and Stratex (that's an embossed wood-effect finish flooring that's, waterproof and durable). They have tons of great imagery too!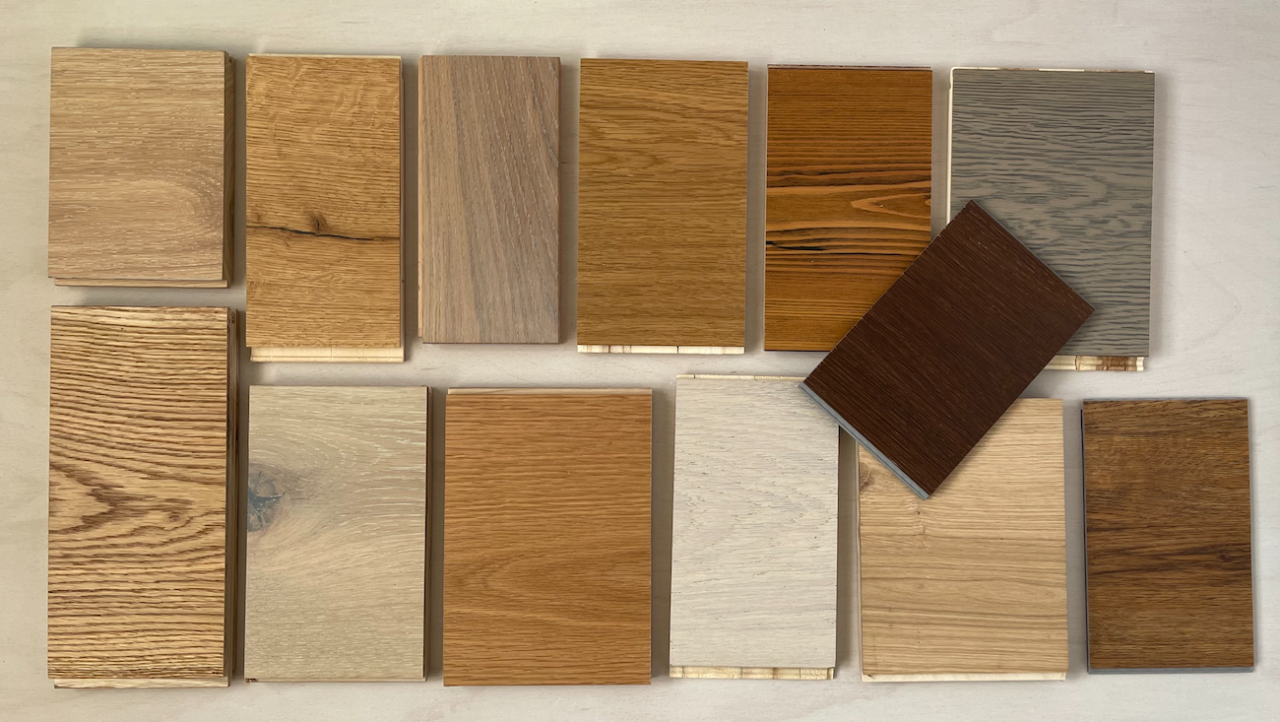 Okay, we've been fans of Flock for a while and you can probably tell as we interviewed Jenny from Flock for the Inside Stylists Podcast. Go have a listen to see why what she's doing is soooo fab. 
The reason she's featuring here is because of this absolutely gorgeous new range of 100% wools that have just launched. The twinning of the two colourways in each design makes them so versatile for so many projects and there's defo a colour for everyone!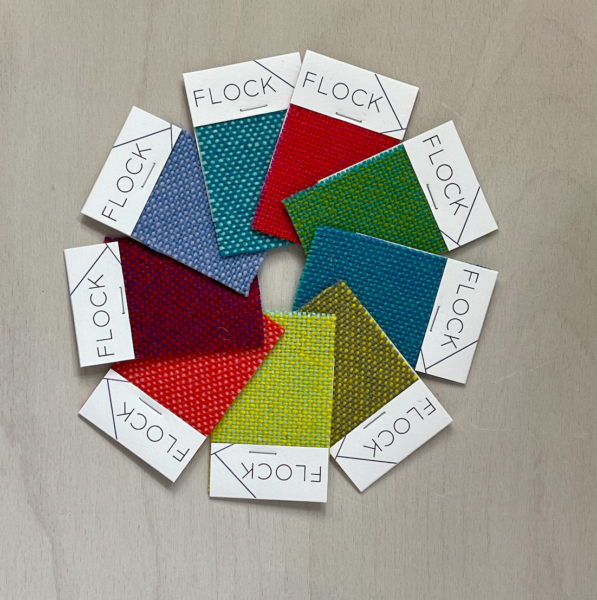 Okay. Where to start?
Warner House first arrived on my doorstep with fabric swatches. I thought that was all they did but no. I was so wrong. They also do wallpapers, divine paints – see below, cushions, furniture, and curtains and blinds. They really are a one-stop-shop. Head on over to their website to see all the fab new collections… oh hang on … let me just share a few with you here now.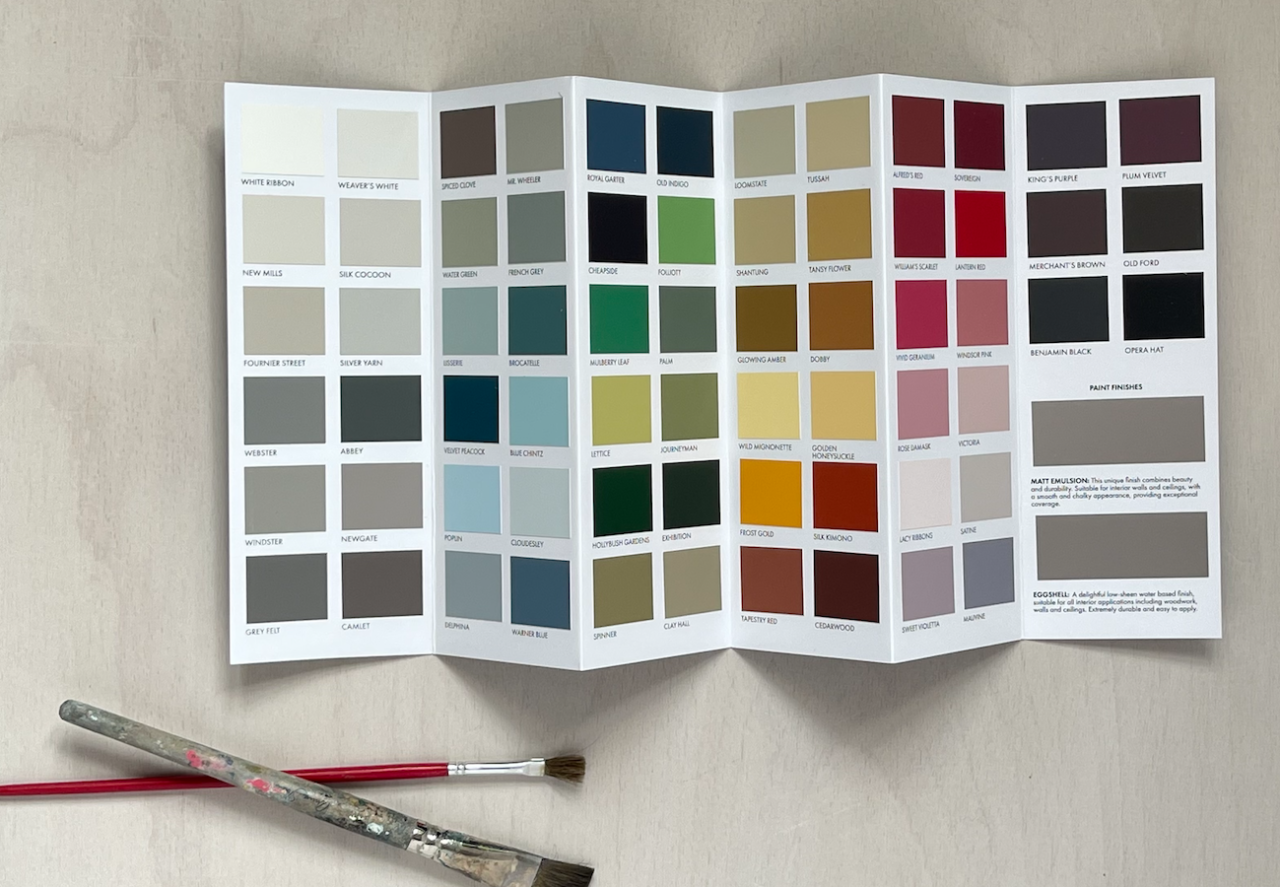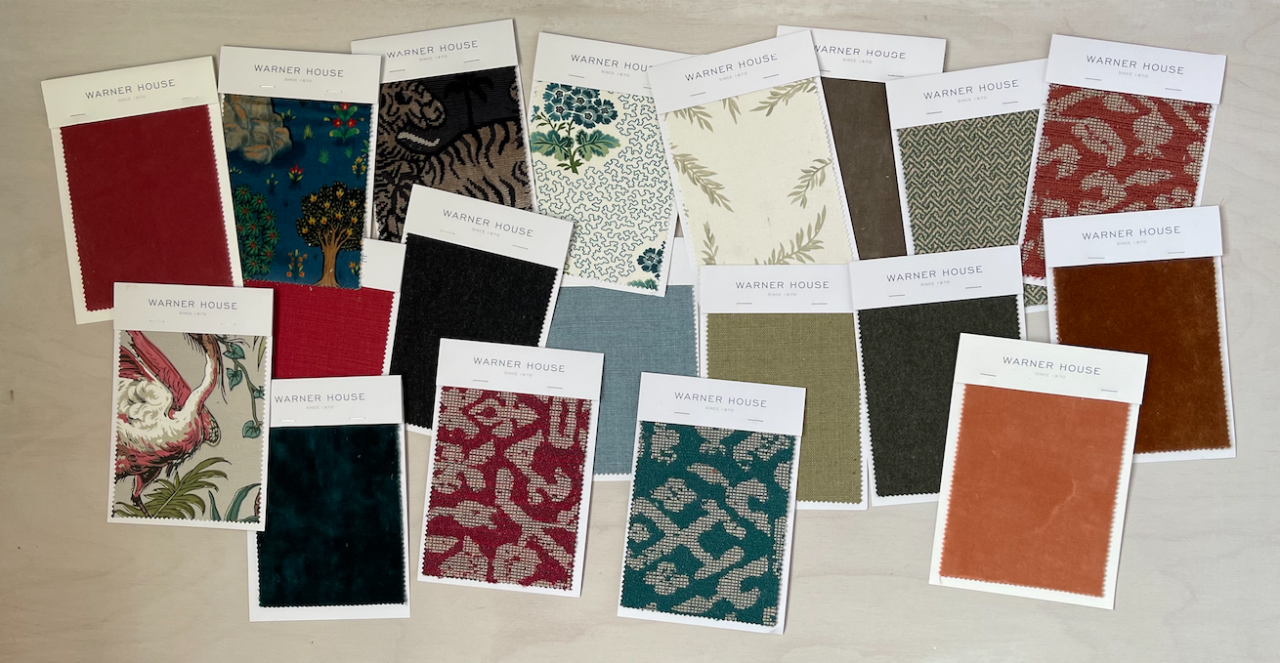 If a wallpaper design landed in your lap and it had a bumblebee carrying a packet of M&M's on it you'd definitely feature it right? Yep, me too! 
Rosco Brittin is a  

"London Based Artist Specialising In Screen Printing And Street Art Techniques. He Explores The Universe Of Natural And Unnatural Camouflage Dipped Heavily In A Light Fantastic, Producing Work That Has Been Described As "When Special F/X And Paper First Meet".
I adore Rosco's designs. In fact, there is a fourth colour of the Volto Flora design (below right) but it's stuck up in my living room as a contender. Just imagine it in Lapa blue too. Head on over to his website to see his prints. They're incredible too!