Mood boarding Mondays
We love to get our week off to the right start with our of inspiring mood boards. Want to see this month's designs? 
Here at Inside Stylists we want to share all the fabulous new interiors things we find – whether it's the colour of the year for a paint brand or an up-and-coming artist who's creating their own wallpaper collection. Each month we'll be shouting out about what's got us excited and featuring them here (and on Instagram) so that you can find out all about them too!
Enjoy!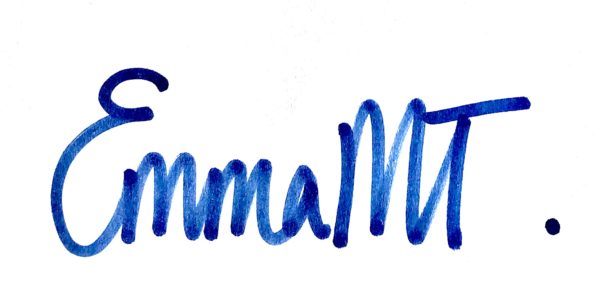 ---
Sophisticated Study
Working from home doesn't seem so bad with a luxurious home study like this one!

If you're looking for soft, earthy tones in a room then this is the scheme for you. The yellow and blue hues may be a darker shade of mustard and navy but this room still packs a visual punch. The marble and leaf patterns give a nod to the natural world and with fabulous worker bees for company, we suggest that this design would make a fantastic home office.
You can find these wallpapers, fabrics, and flooring here: 
Wallpapers
English Bee in Tobacco, Sand & Sushi 
Fabrics
Mustard: Mustard Velvet, Neptune 
Leaf print: Multi Stem Moss, Orla Kiely at Blinds 2 Go 
Flooring
Rug trim: Delft in Navy Suede, Natural Rug Company 
Rug: Woven Vinyl in Seed, Unnatural Flooring 
Tile
Marble Hexagon Tile, Topps Tiles 
---
Soft and subtle neutrals
Keep it calm and cosy with tints, tones and shades of grey.

When you're looking for that moment and of calm and clarity, soft and subtle neutrals are the way forward. The pared back colour palette allows the fabric textures to take centre stage without competition, resulting in a relaxed and versatile scheme. Balance the greys with accessories from the natural world and you're done. Gorgeous.
You can find these wallpapers, fabrics, and flooring here: 
Wallpapers
Langdale Trellis in Linen, GP&J Baker 
Fabrics
Floral: Otelie in Tamarind, Romo 
Stripe: Stockholm Stripe, Vanessa Arbuthnot 
Tweed: Arlo Stucco from Oxley Collection, Romo 
Spot: Opie Stucco from Oxley Collection, Romo 
Plain: Oslo in Elephant, Prestigious Textiles 
Flooring
Laminate: Victoria Oak, Carpet Right 
Rug: Hessian in Linen from Earth Collection, Eaton Square 
Paint
Beige: Potters smock, Claybrook 
Grey: Greyish grey, Claybrook 
White: Studio White, Claybrook 
---
Bold and playful brights
We're just a little bit in love with this explosion of colour and pattern. What do you think? Are you brave enough?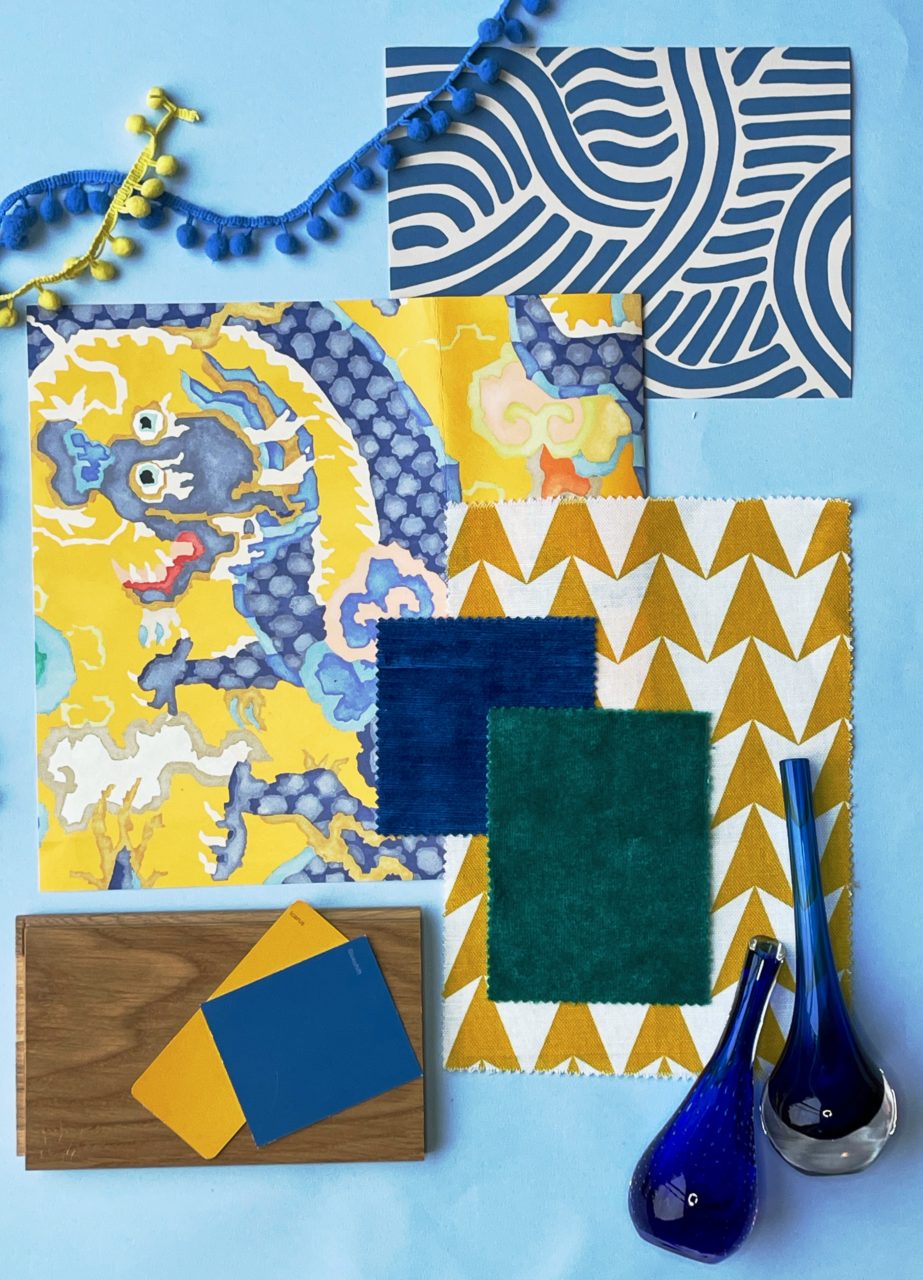 The hero piece of this mood board has got to be the Dragon wallpaper by Linwood. We're slightly obsessed! The curved lines and striking colours make this a fun focal point for any scheme. It's joined by darker blues, yellows and greens which enhance the print rather than fighting against it. But don't forget to add in a clashing fabric like this yellow triangle one from Flock. You wouldn't want to shy away from making a statement now would you?
You can find these wallpapers, fabrics, and flooring here: 
Wallpapers
Dragon: Double Dragon in Mango, Linwood 
Lines: Tango in River, Linwood 
Fabrics
Yellow triangles: Aldgate East Major in Mustard, Flock 
Blue velvet: Mossop in Cobalt, Andrew Martin 
Green velvet: Pavla in ocean, Designers Guild 
Flooring
Solid engineered white oak, Siberian Floors,  
Paint
Blue: Out of this world, Valspar 
Yellow: The Bookcase, Valspar 
---
Styling Pantone's Colour of the Year 2021
Make a strong yet subtle impact with ultimate grey and illuminating yellow.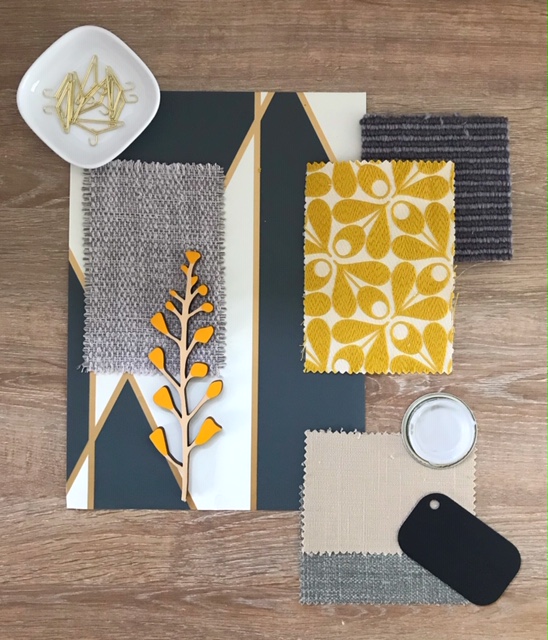 When Pantone stated that their colour of the year for 2021 was actually two hues that showcase how different elements can come together to support one another, (in this case Ultimate Grey and Illuminating), we knew we had to try our hand at styling the look. After all, supporting one another is what Inside Stylists is all about, right? This scheme celebrates several different tones of grey, with pops of yellow and gold. Perfect for a relaxing guest bedroom or stylish lounge we say.
You can find these wallpapers, fabrics, and flooring here: 
Wallpapers
Oblique: Geometric Collection II, Cole and Son 
Fabrics
Grey Woven: Harlow, Curtains 2 Go 
Grey Linen: Archie Aqua Grey, Neptune 
Beige Linen: Clara Parchment Cotton Linen, Neptune 
Yellow: Woven Acorn Cup in Dandelion, Curtains 2 Go 
Flooring
Pinstripe: Sable Pinstripe in Mineral, Naked Flooring/Knotistry 
Paint
Dimity, Farrow and Ball
---
Check back in for a regular dose of mood board inspiration!
Whether you're planning a feature on living room schemes, or a mood board for an upcoming shoot, we've got you covered with our monthly mood board round-up. If you're an artist or designer with your own range of fabrics, wallpaper or tile prints then make sure you get in touch with us for a chance to be featured. We'd love to hear from you! You can find us on Instagram on @insidestylists, @emmamtstylist and @claireparkininteriors