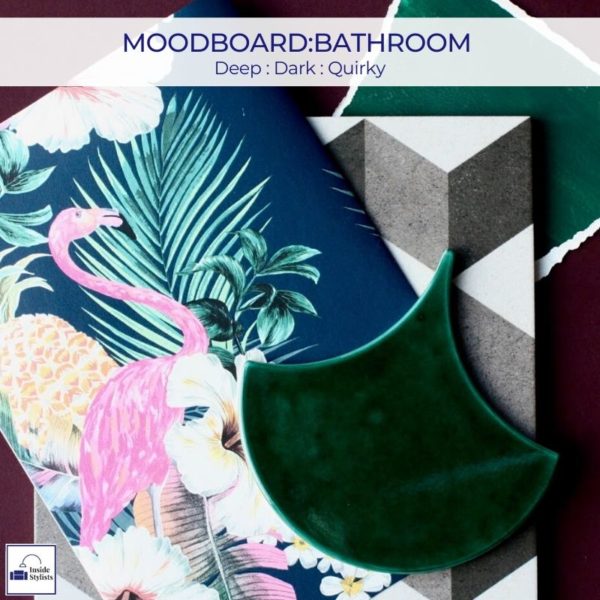 by Claire Parkin
Planning A Stylish Bathroom Colour Schemes with added Wow Factor
If you're looking to add some serious style to your home, then a striking bathroom  is an absolute must!
During spring last year, my husband and I moved to a new build home in Kent with our two small boys. Yes, I know! A new build. Yikes! It was quite a wrench architecture wise, as we left a gorgeous Victorian house with fireplaces and high ceilings, but it was a much-needed move as we were rapidly outgrowing our home at that time and needed somewhere with much more space – both inside and out. Since then, I've spent many hours planning and devising ways to add personality and interest to our home in order to move it from a collection of white and magnolia boxed rooms to something with character and a bit of wow factor. It has to be said that a bathroom seems to be the perfect place to start with – especially with the current trend for bold and impactful downstairs bathrooms. Even the most risk adverse home owner can usually be convinced to really go for it with the decor in their downstairs loo!
The Moodboard
With this in mind, we've brought you a decadent and sophisticated bathroom scheme today, which features bold tropical wallpaper, geometric floor tiles and the increasingly popular fish scale tiles…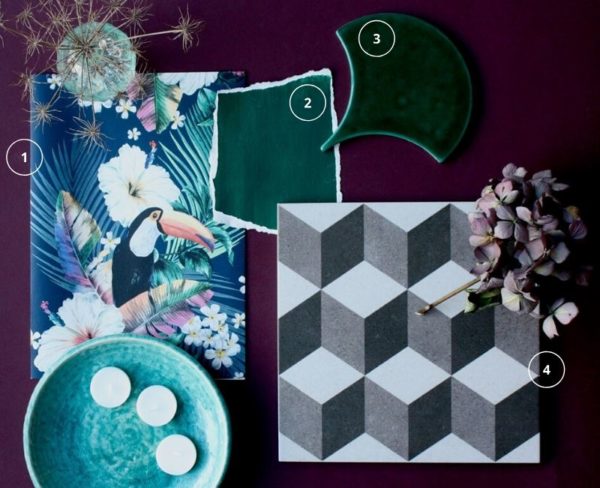 A great find
Firstly, who knew that Accessorize were now doing wallpaper? Not me! Until Emma told me of course 😉 The colours in this design are just amazing and work perfectly with the green wall tile and paint. The wallpaper is available from WallpaperDirect at a bargainous £30 a roll!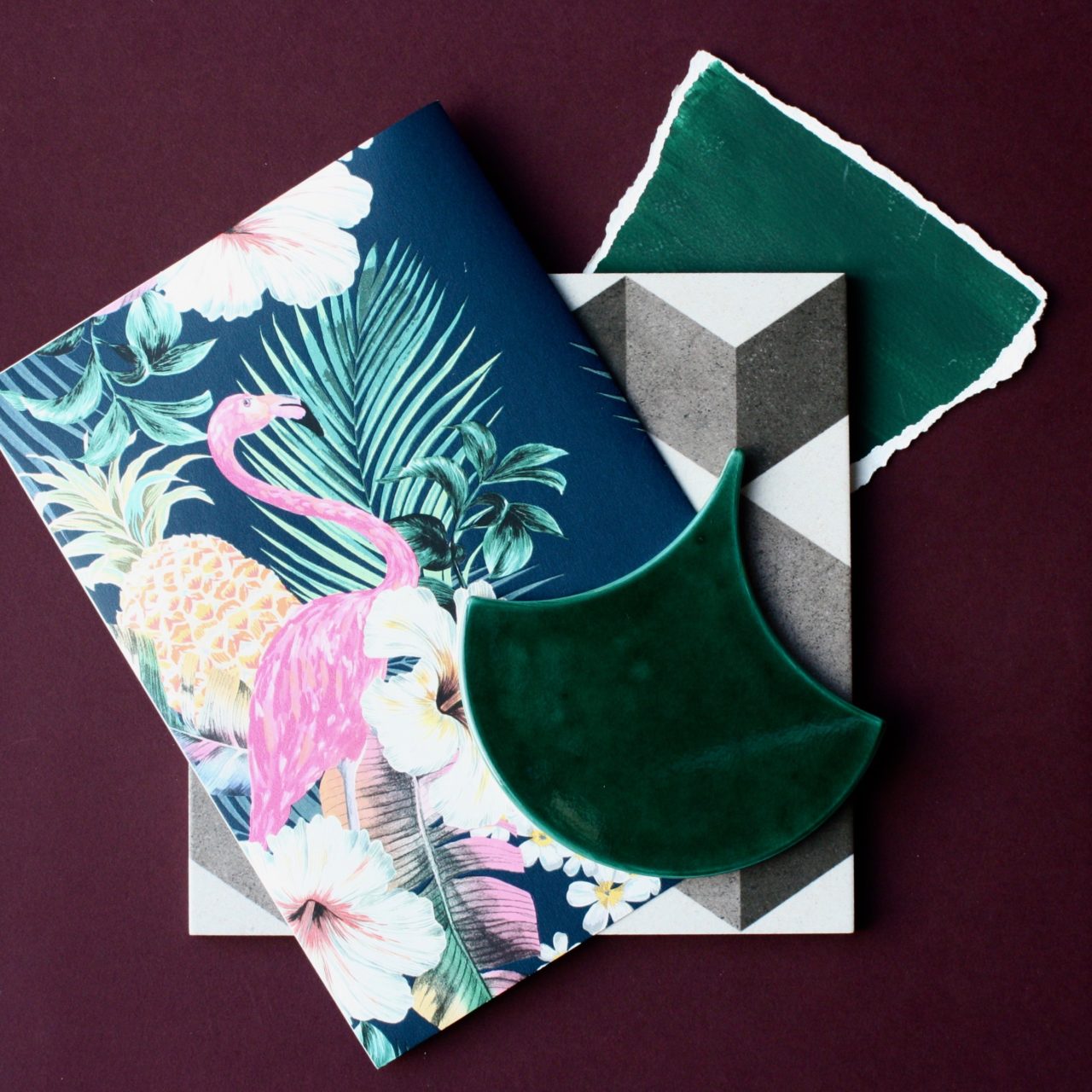 As you can see from the image above, the wallpaper also features a pink flamingo as well as a Toucan, which adds a playful, quirky element to the design. I'd definitely have this in my downstairs loo! The paper is also a good way to incorporate Pantone's Colour of the Year for 2020, 'Classic Blue', without committing to painting an entire room in that colour (although I've done that in my living room and I have to say, it's turned out very well! I told you I wanted to inject some character and personality into our new-build home).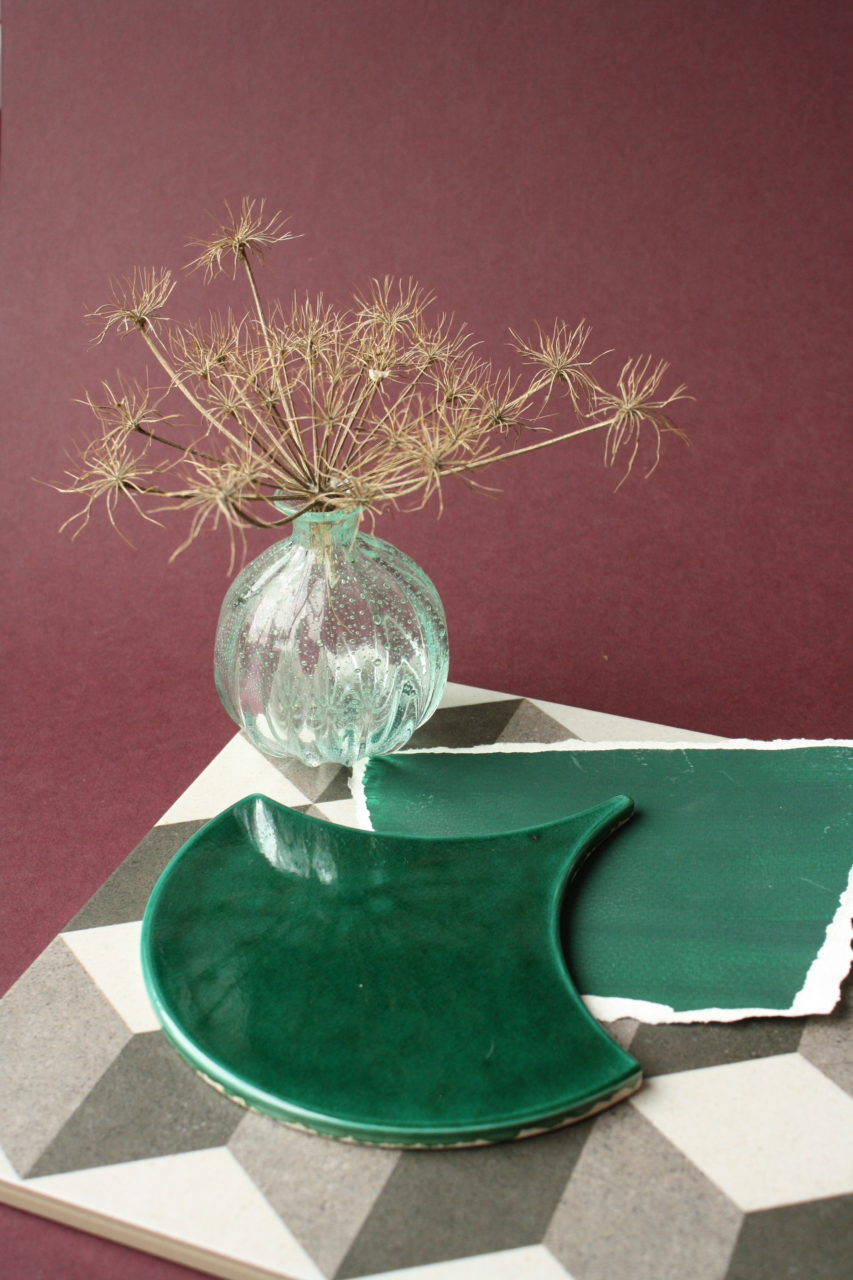 To tile or not to tile
Finally, how wonderful are these ceramic fish scale tiles? I'd use them as a backsplash to my sink in a downstairs bathroom or within a shower enclosure if using them in a family bathroom.
What do you think? Are you a fan of a bold bathroom which makes an impact or are you more a of a calm colours and clean lines type of person? Or perhaps it differs depending on whether you're decorating a family bathroom or a downstairs bathroom? I'm more inclined to go for the scheme above in a downstairs bathroom for example. Let me know your thoughts in the comments below. In the meantime, I'll keep you posted on how our 'commitment to injecting some personality to a new-build property' project goes!
Wish me luck!
Claire.
---
Claire Parkin is an Interior designer based in Kent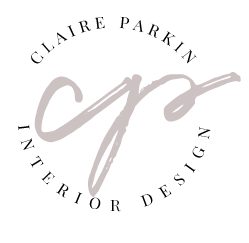 in the South East of England. She trained at the British College of Interior Design and has written an award-nominated interior design blog for the past 8 years. You can read it here
---