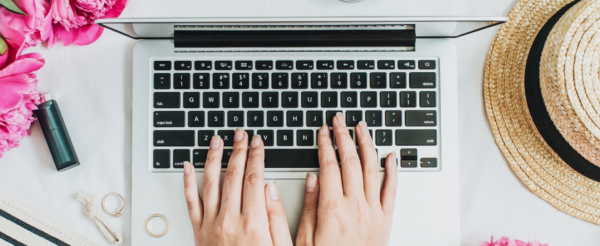 Want to peep behind the curtains of Interior Stylists lives? This is how
If I told you that I knew a way for you to have access to some of the top interior stylists in the industry, almost like going into their homes for a cuppa and a chat, you'd want to know what it was, wouldn't you? It's simple really. Check out their blogs!
I was chatting to a girlfriend the other day about blogging and she asked me why I enjoyed reading (and writing) blog posts so much. I told her that for me, blogging is a way to make a deeper connection with your online community. Let me explain.
When I think of Instagram, I think of scrolling through lots and lots of posts in one sitting. It's a bit like walking down the street and waving hi to your neighbours. You say a quick hello, exchange a smile, but then move on with your day.
Reading a blog post on the other hand, is like being invited by that neighbour back to their home for coffee and a chat. When you read a blog, you're in someone's personal space. You engage with their content on a deeper level and stick around far longer than on social media.
That's why we're sharing these fab interior stylists, writers and styling assistants blogs. They share so much on so many levels. It's inspiring stuff and they're most definitely worth spending time with!
So, in particular order please enjoy…
Jenny Branson

Reasons why we love this blog: Jenny Branson is the Queen of pattern and colour in interior design. Her blog is full of useful tips and tricks to create a bold and stylish interior. If you're a bit of a neutral palette fan (like me), then you'll love her blog as it will show you colour combinations you've probably never thought of before. (I included a brightly patterned headboard for a client in a design scheme after being inspired by her Instagram feed). Plus – as her t-shirt says 'Boss Lady' on it. We know she's our people! What's not to love?
You won't want to miss: How Do I Add Colour To My Home and 24 Simple Styling Tips To Transform Your Home
---
Rachel Ogden

Reasons why we love this blog: Rachel has a beautiful writing style and she makes you feel like you're going on the journey with her when reading her posts on home updates. She's also one of the most prolific interiors writers we know. She knows everything and everyone!
You won't want to miss: Kitchen Design Reveal and Stylish Ways to make your home safer 
---
Jen Morgan

Reasons why we love this blog: We have some seriously talented interior stylists, writers and styling assistants in the Inside Stylist family and Jen Morgan (also known as The Former Editor) is definitely one of them. If you're looking for a voice of authority in the interiors world, then Jen is your woman. With over 20 years of experience in the interior magazine industry and her very own magazine on the shelves, (Simply Scandi), Jen's website is a must visit for all things interiors.
You won't want to miss: Does Your Home Have It's Colour Story Straight and Living With Heirlooms (And Making Them Work)
---
Sara Bird

Reasons why we love this blog: Sara Bird is another highly talented interior stylist, writer and art director. Oh, and she's an author too! Her book 'Home For The Soul' is full of tips for creating a considerate and sustainable home. We think that browsing the pages is the perfect way to spend an afternoon. If you want to know what inspires Sara, then you need to head on over to her blog. It's full of beautiful images (including many from Sara's own incredible portfolio of work). It's one of the first places I head to when I'm seeking inspiration.
You won't want to miss: Home For The Soul and all the incredible images on Sara's blog
---
Claire Douglas

Reasons why we love this blog: Claire is an up and coming interior stylist and has the blog to prove it. We love her style and clever DIY projects. Definitely one to watch.
You won't want to miss: Billy is my Hero, Upcycled Pantry Shelves of Joy,  and Budget bedroom make-over to beat the lockdown blues
---
Donna Casey

Reasons why we love this blog: Donna's blog is incredibly stylish. And effortlessly cool. The kind of blog I'd like to be if I were one 😉 Donna's blog focuses on designers and their products. It's a perfect read if you're looking to update your knowledge or find out more about a specific designer. She also covers the major interiors trade shows, such as Maison et Objet. So if you can't get there yourself, Donna's got it covered for you!
You won't want to miss: 'Spotlight On: Sir Terence Conran' and 'Spotlight On: Sabine Marcelis'
---
Mary Middleton

Reasons why we love this blog: Mary writes a design led interiors and travel blog, which is jam-packed with interesting articles to elevate the design of your space. It's one of those blogs I need to take care with if I have a lot of work on, as I can easily spend hours clicking away and reading once on it! I refer to Mary's blog when I'm looking for a longer read and researching an aspect of interior design. It's honestly like a magazine. Go check it out.
You won't want to miss: 'Why is Traditional Decor Having A Comeback?' and 'Wallpaper – The Greenery Edit'
---
Claire Parkin

Ok, this one is a bit embarrassing because it's my blog. Cringe! No one likes to promote their own work do they?! In my defence, my blog has snuck onto the list as the lovely Emma M-T, who champions everyone in Inside Stylists, said that I "had to include it" in the round up. So here it is. I love writing my blog as I find it a great way to share whatever is inspiring me creatively. As I said at the start, it's like sitting down with a friend and a cuppa to gab away about something you're both passionate about.
I've been writing since 2012 so have a fair few posts on there now. These are some of my favourites: 'How To Use Plants In Interiors' and 'Is Your Home Spring, Summer, Autumn or Winter?'
---
If you're not writing a blog, why not?
I hope I've inspired you to not only spend time reading these wonderful blogs, but perhaps even starting your own? It's a great way to showcase your personality and build your personal brand – a must for freelancers in the interiors world. If you need a bit of help getting started, then check out the Inside Stylists podcast. Episode 81, (with Melanie Lissack) is all about starting a blog.
Got any other interior blog recommendations? Let us know via social media. You can tag us on Instagram via @insidestylists, @emmamtstylist or @claireparkininteriors