Come and meet Yummy Home
I met Amina at this year's Top Drawer and I was instantly drawn to her beautiful home fragrance collection much as I was her story. There's so much more to her brand –  Yummy Home's candles, room sprays, diffusers and body and bath products than meets the eye. You'll be hard pressed to find a more clean living, natural, feel-good product out there. 
I caught up with Amina to find out more. See her story below and what goes into starting your own company and where to get your hands on Yummy Home products.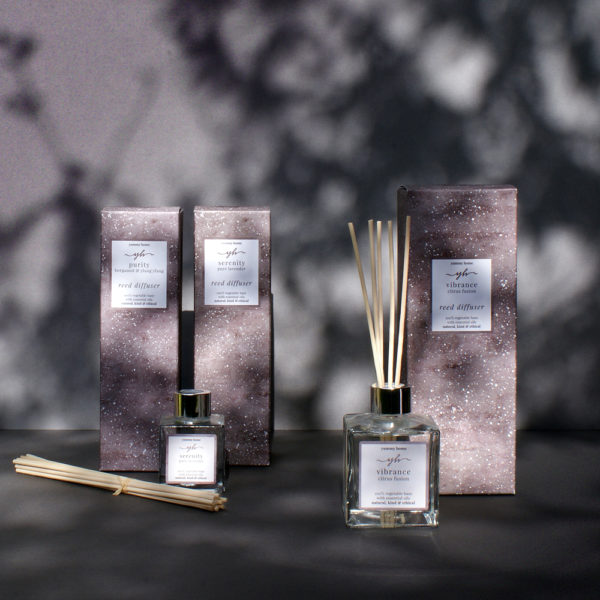 Tell us about your brand.
Yummy Home is a luxury lifestyle brand that doesn't compromise. It's about desire without disregard, indulgence without harm, about living without regret. Yummy Home combines design-led thinking with the goal of eliminating harmful toxins from our homes.
Following my own experience with cancer and realising how harmful many ingredients in everyday products can be to our health and the environment, I created a range of Candles, Home Fragrance and Body & Bath products that are natural, kind and ethical, yet stylish and luxurious.
Yummy Home products use essential oils or gentle fragrance oils and natural bases. The Body & Bath products contain none of the 'Terrible Ten' harmful ingredients as identified by The Soil Association or products to avoid as recommended by Breast Cancer UK's 'Ditch the Junk' campaign. The candle and home fragrance range is also Vegan-friendly, whilst Body/Bath is Beegan friendly.

All ranges are packaged in recyclable packaging that is minimal and simple but elegant. All Yummy Home products and packaging are made in Britain. I believe that if we all make small positive changes to our own lives, we will make a big positive change to the world… so let's do it!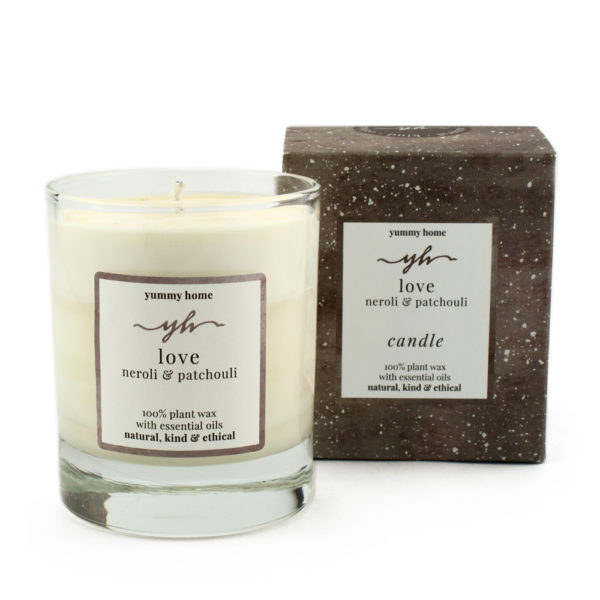 How did you come to choose products with your specific look and design?
I had a clear vision of wanting the packaging to be simple, elegant and to somehow bring in the natural element. My wonderful graphic designer, Kara Lines, encouraged me to think about a full background pattern instead of a plain background. I really didn't want the obvious plant/flower theme and was inspired by a photograph I saw of the night sky, it was a moody and intriguing sparkly sky. From that Kara created our background! To me it's the universe, our environment, in a neutral and earthy but interesting colour that fits in any home…others say they see other materials like stone…I love that everyone has their own interpretation.
Having noticed the trend of so many candle products and bottles being heavily patterned or block colour, I wanted a simple container that could fit in any home, a label that wouldn't detract from the product and containers that would allow the full experience of a burning candle and the flickering flame. Some fancy containers look great but you lose the experience of the candle and they are often not recyclable, which goes against our core values.
Packaging is a tough one as it can be what draws customers in but then just gets thrown in the bin and is a waste, not helping the environmental issues we are currently experiencing. Our aim with the look and design is to be aspirational and luxurious but minimal waste and of course recyclable.

What's your dream for your brand?
I want to make people aware of the benefits of embracing 'clean living' and eliminating harmful ingredients from themselves, their family and their surroundings. For customers realise the benefits of essential oils and the impact of aroma on our wellbeing. To be enjoyed in customers' homes across the country and to be stocked in Liberty!!!
In the future we also aim to add different producs for the home!
I want to support causes close to my heart and we currently donate gifts to a cancer charity called 'Something to look forward to'. I'm in the process of finding a smaller charity to support around environmental issues and also one on homelessness. Yummy Home is about having a safe place to live, being kind to the environment and being aware of the impact of toxins on our health.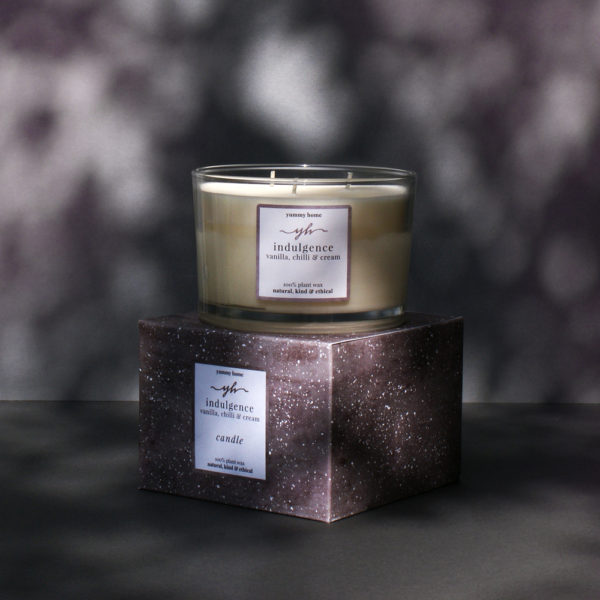 What's been the highlight of your career so far?
Receiving our first delivery of the final boxed products and our marketing material. Seeing all of the effort come to life, that was a very joyful moment…it finally had all come together.
 What's the best mistake you've ever made?
Giving things a go and taking chances, it's the only way to grow and learn. Makes you more resilient too and realise how strong us women are!
Yummy Home was originally a lifestyle concept store and the current range was a popular and successful part of it. But combined with the 2008 recession, being diagnosed with cancer and the change in shopping habits, we had to close the shop in 2015, which was a painful experience. Had I not done it though, I wouldn't have the Yummy Home candle, home fragrance and beauty brand that I have now.
If you could collaborate on a line of products with anyone who would be your dream partner and what would you create?
I'd love to work with an artist called Mila Furstova and have beautifully etched glasswork for the containers, representing different elements of each aroma.
Which of your products are most popular and why do you think that is?
Our Serenity and Indulgence candles are our best sellers. They are both distinctive aromas. Serenity is scented with Lavender essential oil and is a very calming scent, whilst Indulgence is Vanilla, Chilli & Cream and is a rich and luxurious scent.
Our Room Sprays and Reeds are also proving popular, there are less all-natural versions out there and I think customers value the all-natural element.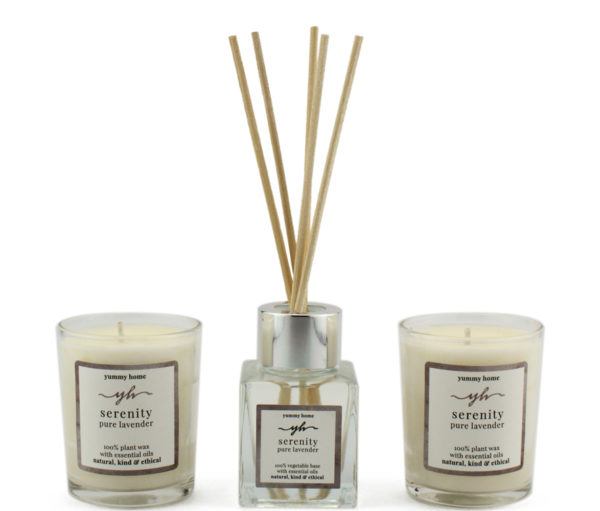 What's next for Yummy Home?
The next year or two will be all about building brand recognition and audience. We also have an exciting new collection of aromas in the making that have a theme close to my heart.
Quick fire round
 Tea or coffee?
Tea, tea, tea…I'm from Irish and Pakistani origin, both big tea drinkers, so drink about 10 cups a day!!!
 Cinema or theatre?
Ooh tough call, I love both. Will say cinema, we go to the 'Everyman' which is a cute boutique cinema, with sofas that you can cuddle up on and can eat pizza whilst watching great movies…its chilled and easy too!
Favorite song right now.
Currently listening to the new Snow Patrol album 'Wilderness, favourite track 'What if this is all the love we get', poignant and beautiful.
Best place to eat
One of my favourites is a Chinese called 'The Feng Shang Princess' in Regents Park, it's built on stilts in the Regent canal, lovely red lanterns light it up and the food is delicious.
What's the last thing you bought for your home?
My pride and joy…a framed etching called 'Blue Dream' by Mila Furstavo. It's a beautiful woman with etched wings with intricate details depicting different dreams and aspirations. Mila was the artist that created all the artwork for Coldplay's Magic album and this etching was Chris Martins inspiration…I'm very lucky to have one. I find it empowering as a female and simply beautiful to look at.
 Are you able to send out samples for shoots?
Absolutely.
---
 How can interior stylists and writers get in touch to feature your products?
---
Visit YummyHome.co.uk