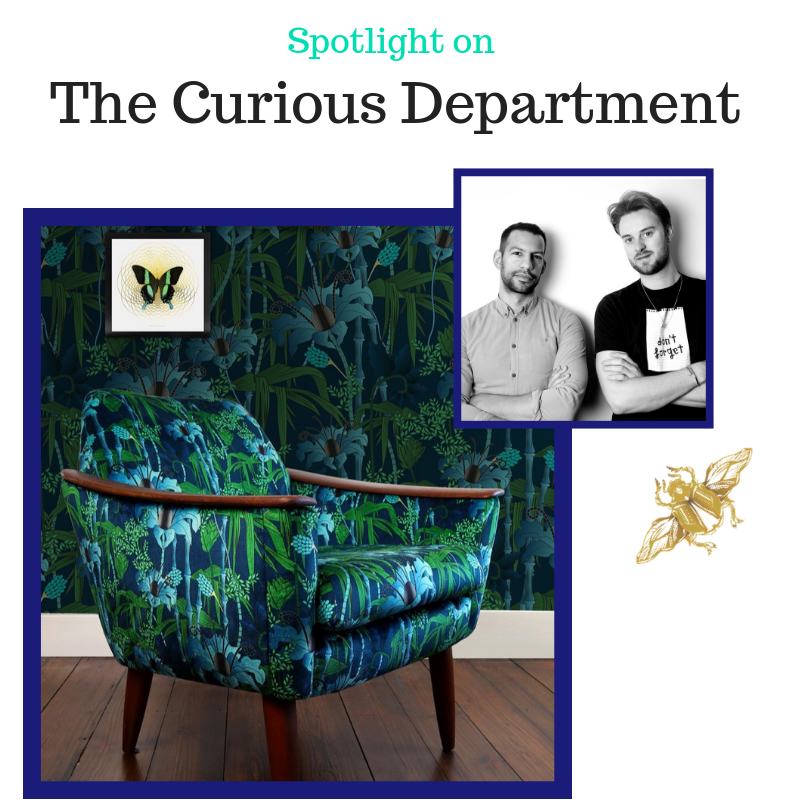 Have you seen The Curious Department? They design amazing gifts and unusual homewares, with limited edition art, ethical taxidermy, luxurious soft furnishings, fine bone china and award-winning stationery, all proudly made in the UK. You just have to see their wallpaper. It's fab!
We were lucky enough to catch up with the duo behind The Curious Department and see how they find and design such great and unique treasures.
Oh, and by the way… you'll find the pr contact for The Curious Department at the end of the feature.
How did you come to design wallpapers?
I (Ross) studied design and advertising at university and have been working as a Creative Director in London advertising agencies for the past 11 years. Art, design and creativity are a big part of my life, something that I just have to do or I go weird.
Can you describe your design process for us – from an idea to being available to buy?
We decided to adopt a Fashion industry model to our process, so instead of releasing disjointed designs we release collections. We always start with a concept and ourselves; what are we trying to say with a particular body of work, what's the story. This then creates a set of rules for us to design to. Next stop is form. Ross begins by creating vector based drawings of individual elements which can be carefully moved into position. This is quite a tricky step because when you're creating wallpaper you have to make a repeating pattern that can tile and seamlessly match up. Once the outline of the pattern is complete the colour exploration begins. We are obsessed with colour and spend a lot of hours trying to come up with the perfect complimentary combos – it's harder than it looks! Once the palette is decided we add shade and gradient to each individual element before producing sample prints. We get sample prints because what looks good on screen sometimes looks terrible in reality. Tweaks are made and then we go into the final printing process where there's no turning back. Once we press go, we commit to a batch of delicious wallpaper.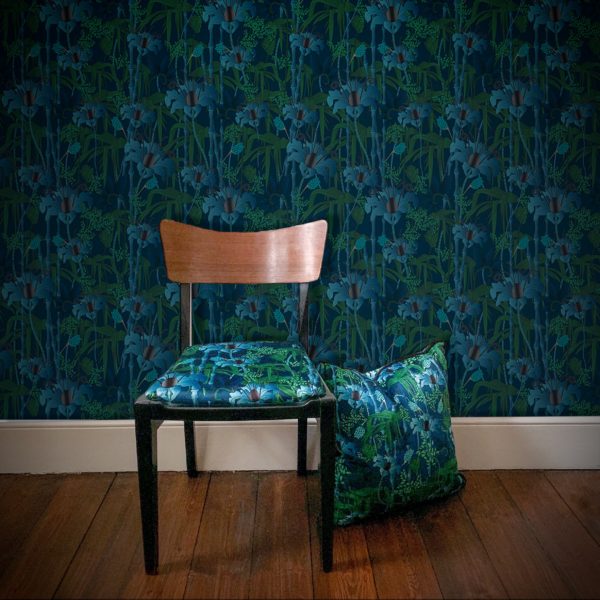 Where does your inspiration come from?
We get asked about inspiration a lot, especially with regard to some of our more unusual and unexpected patterns in the Metamorphosis collection. It sounds corny but our inspiration comes from within. We don't look to one specific thing, we see our selves as sponges soaking up the input that the world offers us, we process it, synthesize it, then put it back out into the world in the forms of our designs.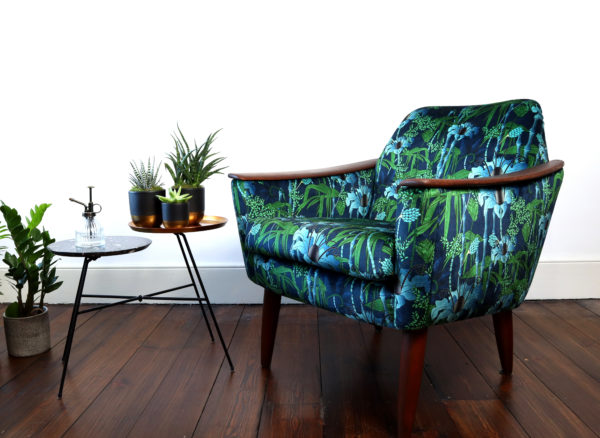 What's been the highlight of your career so far?
The highlight so far is knowing that people actually like what we do.  We receive lovely messages and pictures from customers telling us how much they love our designs. There's nothing better than seeing our work in other people's homes being enjoyed, especially when it involves a transformation story.
What's the best mistake you've ever made?
We designed and launched a range of gold foil greetings cards, but realised people were buying them to frame them and hang them on the wall, and they looked amazing. So we launched specific print versions of all the designs and gave people that. I suppose the mistake was that we didn't spot the opportunity but our audience did – we love our customers!
What advice would you give to an aspiring designer?
Do it because you love it. It's a long process that can be frustrating at times and your passion for it will power you through.
If you could collaborate on a line of wallpaper or homewares with anyone, past or present, who would be your dream design partner and what would you create?
We would partner with Patsy Stone from Ab-Fab. The brainstorming sessions alone would be a hoot.
What advice would you give to anyone on the fence about using wallpaper in their own home?
Your home should really express you and your family, and sometimes block coloured walls just aren't enough. Pattern and print is a very easy way to inject style and personality into your home. Sometimes I think people are nervous of paper because it feels like a big commitment, but the reality is you can always change it.
Which of your designs are most popular and why do you think that is?
Our Electric Lagoon Design has been most popular. We think it's success comes down to its considered design and the colour way. The paper uses a lot of gradients and tones to cover a wide spectrum of blues and greens. This means it's very easy to match it with blues, greens and even greys in peoples existing furniture and accessories.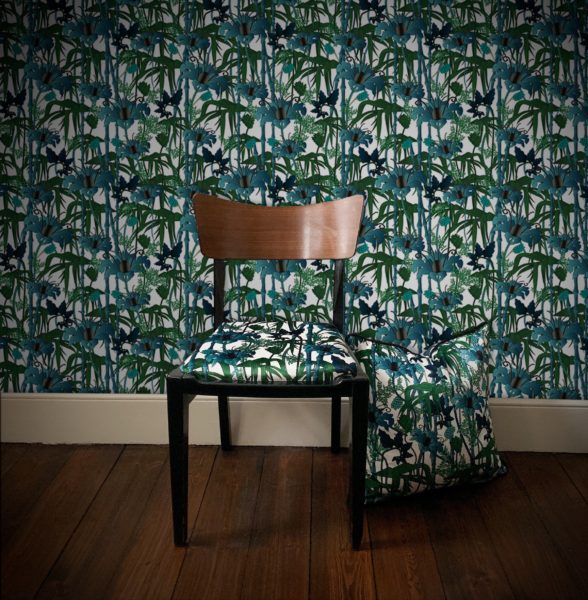 What's next for you?
We have a new collection underway that moves our aesthetic on. It's a bit of a risk but we think it's worth living dangerously! 
Quick fire round
Tea or coffee?
Coffee (iced)
 Cinema or theatre or gig?
Theatre
 Favorite song right now
We've just been to see the Tina Turner musical, so totally rinsing the back catalogue now!
 Best place to eat?
My mum's house, it's free and they have everything 🙂
What's the last thing you bought for your home?
A framed Skeleton of a Fruit Bat
 Tell us something not many people know about you.
Myself and Chris (the other co-founder) are going to get married!!!
 Are you able to send out samples for photo shoots?
100% Yes, we also have a few set pieces we can loan out.
 How can interior stylists and writers get in touch to feature your products?
 [email protected]thecuriousdepartment.com