Ahhh Summer is finally around the corner – well at least in our little interiors world anyway.
Today saw the press launch of the Next summer 2018 press show and it didn't disappoint. As always the colours trends were light, the textures on point and the accessories ever-changing – don't you hate it when a brand just re-hashes a popular item in a new colour? Well, Next has loads of brand spanking new homewares to shoot, style and feature. Available in store from late March.
Here's just a few trends we found, loved and want all for ourselves…
TREND ONE: Tablewares are textured
Well, they look textured at least. With speckles, geometrics, ink dyes, marble effects and beautifully wonky edges there's literally a ton to choose from. It's also worth mentioning that the cutlery was really on point too. You can see the marble effect and gold sets in the images above but there were also modern rose gold and black on show.
TREND TWO: Cushions – and fringing of course
Next have new buyers for their cushion range and they're really ramping up their game. They have colours and designs for everyone and this summer it means lots of fringing and tassels. Something for every shoot. Super tactile and wantable- or should that be shootable?
TREND THREE: Pastels – especially if it's pink! 
We're loving all the pastel colours around for the summer 2018 season, kind of lifts your spirits when it's so cold and frosty outside – don't you think? This chair is a new design for Next. In soft pink velvet they think it's going to be very popular and we can see why. It's gorgeous. With the trend for every corner of a home to have that 'something' special we think it's going to fly off the preverbial shelves. We're also loving all the faux sheepskins in pink too! Girlie heaven.
TREND FOUR: Black matt kitchens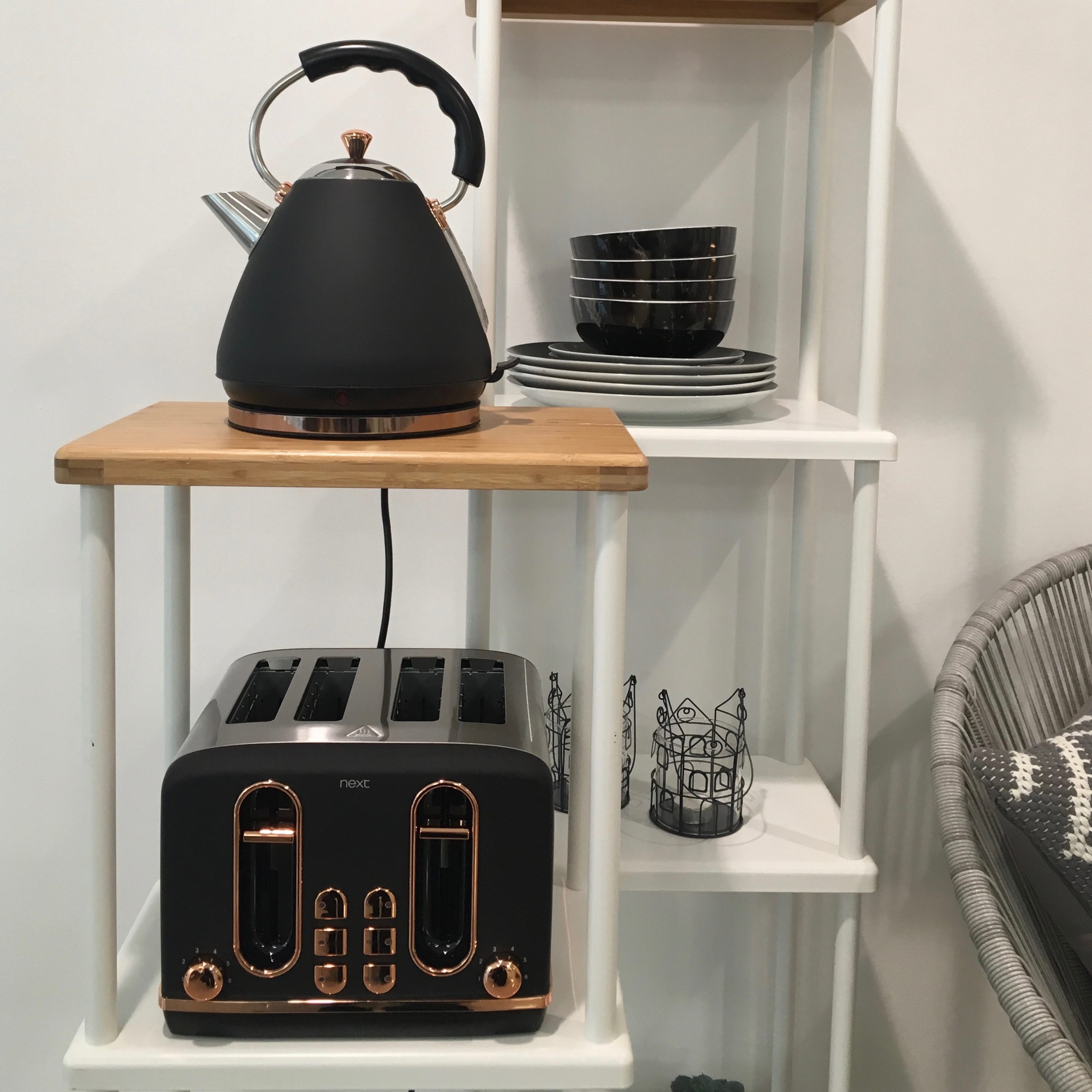 We've seen the trend for darker kitchen cabinetry for a while now – with navy and black taking the lead, so it's no surprise there's a matt black theme to the kitchenwares we're seeing for the warmer months. Teamed up with the other trend that seems to be here to stay- accents of copper, this toaster and kettle duo are bang on trend.
There's also a hint of the black kitchen trend coming through with the china- and with a marble effect design to boot! Double trend alert! Black marble china with white flecks rather than the usual white with grey. One for the boys? What do you think?
TREND FIVE: Rope garden furniture 
Of all the Summer press shows we've been to so far this year practically all of them had garden furniture made from rope. It's fine to leave out all summer long and has a really tactile look to it. We'd be interested to see what your legs look like when you've been sitting on it at a BBQ and you're wearing shorts – he he he!
In all seriousness, we think this is going to replace the plastic wicker look this year. It has a much more high-end look about it.
Speaking of outdoor shoots – if there's one thing the Next press show had plenty of it was lanterns and hurricane lamps. Again, oversized and with lots of detail. Designs had smoked, dip-dyed glass, traditional metal and glass and a cut-out metal look like these below. Roll on alfresco dining shoots.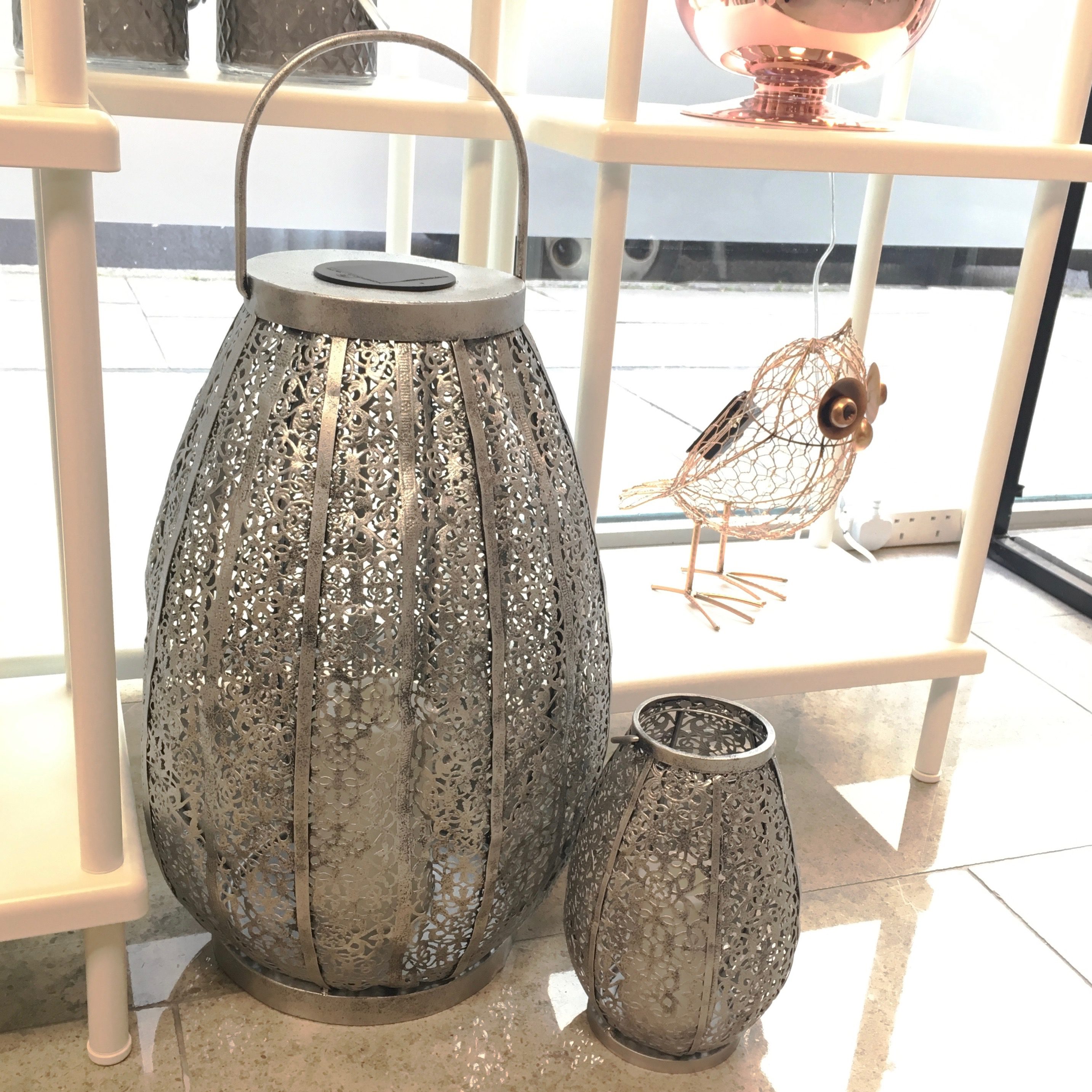 So, what do you think? Are you looking forward to shooting summer? Can you wait to get your features pinked up? No? Neither can we.
EmmaMT x
---
To contact the interiors press team and get your Summer 2018 game on drop a line to
Alice Bagnall:  [email protected]  0207 034 2471 
Katie Corcoran: [email protected] 0207 034 2475
You can see the Youtube video of the launch right here.