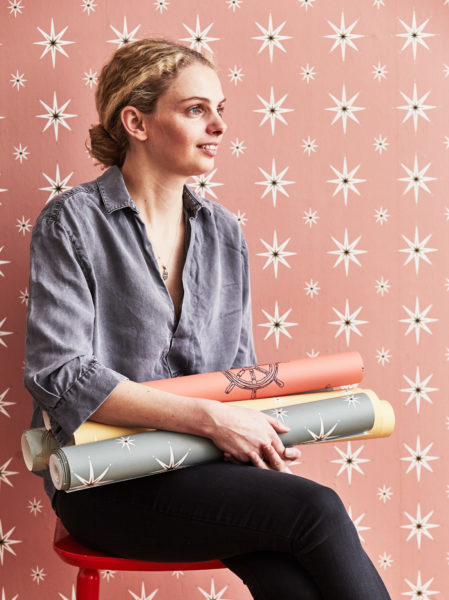 Spotlight on… wallpaper designer Jessica Osbourne
Here at Inside Stylists, we love nothing better than shouting from the rooftops when one of our own has something amazing to share  – especially when it's sooo interiors related. and that's definitely the case with Jessica Osborne. As well as being a stylist she has a fantastic range of gorgeous wallpapers too!
We caught up with Jessica to see how it all started, how she juggles everything as well as where her inspiration comes from. It's inspiring stuff
---
Tell us about Jessica Osborne London
I am a London based wallpaper designer and Interior Stylist. I launched my first traditionally printed wallpaper collection in Autumn 2018. The collection is made up of simple patterns and bold colours which are all traditionally printed in the UK.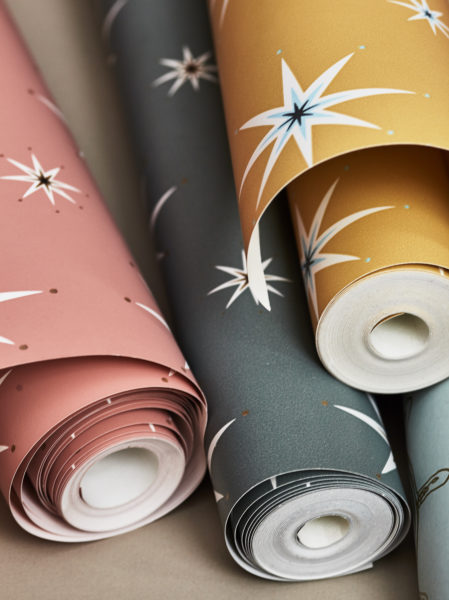 How did you come to design wallpapers ?
Since I can remember I have always wanted to do something creative. At school I would spend the majority of my day in Sixth Form in the art department, I was really lucky that my school had amazing facilities where I learnt how to screen print and design textiles. In 2008, I skipped the gap year and went to Central St. Martins for Foundation year where I discovered that Textile Design and interiors were what I wanted to do with my career. I didn't want to stay in London for University even though Central St Martins was full of the most interesting people and incredible tutors so I went back to Yorkshire to the University of Leeds where I specialised in Textile Design for Interiors as well as Design Management. Straight from Uni, I took a bit of a sidestep from interiors and worked for a photographic agency as an agent and producer representing some top photographers and stylists in the fashion industry. I learnt a lot about how businesses run, how to manage people and budgeting, I loved the people I worked within the office but fashion just wasn't for me. That's when I knew I really wanted to work for myself, so I moved into Interior styling for shoots in 2014. Something happened in my life in early 2017 which sparked me to realise that you have to do with you want to in life as its too short not to so with that knowledge I started the process of building the wallpaper business so that's how I got to where I am.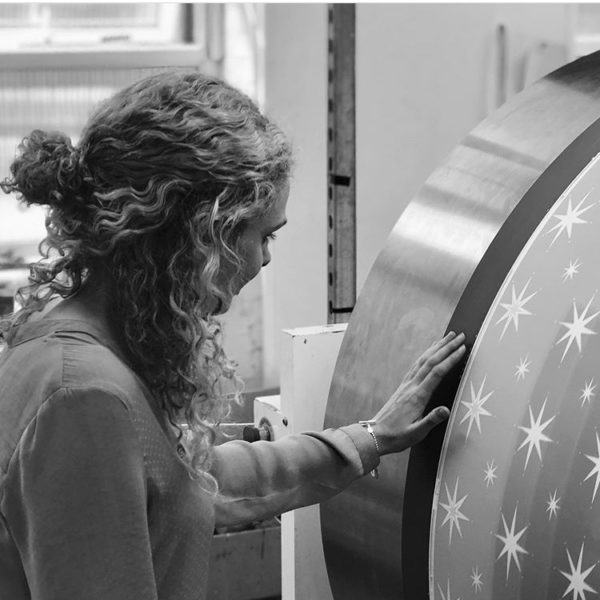 Are you still an interior stylist?
Yes, I am still doing interior styling. I now do my own styling jobs as well as still assisting some amazing and lovely stylists on editorial, advertising, commercial and  TV jobs. It is quite hardworking the styling jobs and wallpaper business at the same time. Last month, I was at a set design job at 7 am in the city then went onto doing prep work for a big interior shoot in the afternoon, then I dealt with wallpaper emails, sample requests and orders in the evening so its a bit of a juggling act but I quite like that and I love that I am in charge of my own diary. When people ask what's the goal or dream, of course, it is to make a success of my business but when it comes down to it, my goal is really to live life being able to make a living from doing something I love and to know that I have done all I can to make it work. My boyfriend (who has a luxury leather goods business) and I are both on similar paths starting businesses at the same time so fingers crossed we can just work hard and get to where we want to be.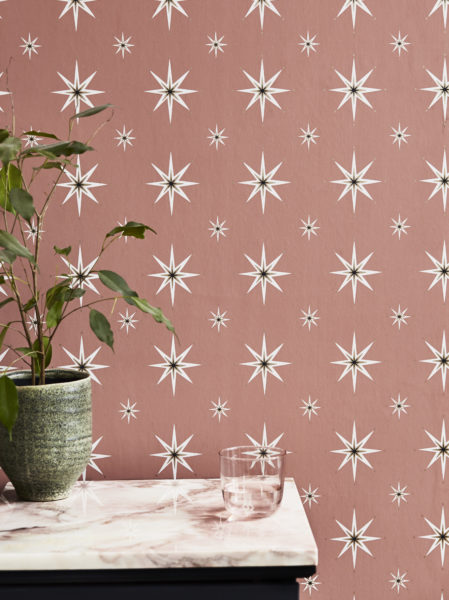 Where are your products made?
The collection is printed at an amazing family-run factory in the North of England. The colours are all mixed by hand and matched by eye. Some of the machines there are over 100 years old. I love seeing how things are made and meeting all the amazing people whose families have been in the wallpaper business for generations. For me, that's the best part of the whole process. My wallpaper is all traditionally printed – it gives the paper more depth and quality.
Can you describe your design process for us – from an idea to be available to buy?
Once, I have decided what I want the theme of the design to be, I start with a sketchbook drawing out rough sketches…I do it again and again until I have something I can work with. I then put it onto the computer and play around with it for a long time. One of the great aspects of the course at Leeds Uni is that they really taught us how to use Adobe like a second language. I then put it into repeat and make sure it fits down to the millimetre so that when it's printed it definitely fits properly. I create many different colour combinations on Adobe to get an idea of what it might look like. The designs in the collection are traditionally printed so once the design is confirmed, rollers are made for each colour of the design. The sampling part is the best bit, where I work with the sampling department at the printers to get the shade to how I would like it. Once I am happy with it, I confirm the print run and the lovely team print the paper. It's quite a lengthy process but really satisfying seeing it from start to finish. The paper is available to buy on my website as well as through various interior designers and stockists and I can send out samples for free to anyone who would like them.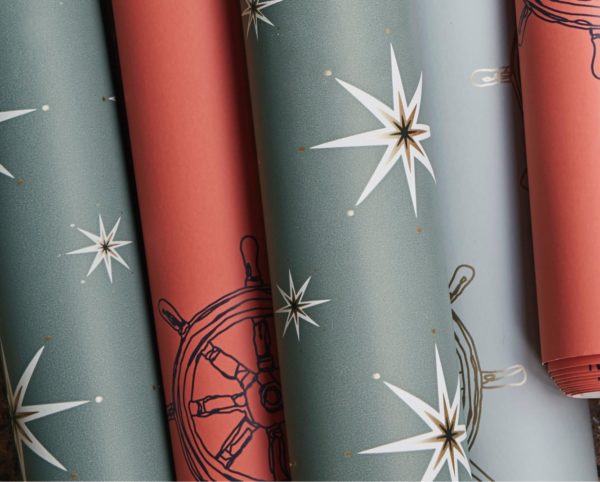 Where does your inspiration come from?
I get inspiration from many things I see. I always end up with so many photos on my phone of the most random things I have seen out and about and think that would make a great pattern or print. However, this collection is inspired by memories. I grew up in Yorkshire where you get the most amazing clear night skies so the starry design is inspired by that. My family spent a lot of time growing up in Mallorca so I designed the Boat Wheel design inspired by those memories and also the Salcombe Blue colourway too where my Grandparents and parents taught us to sail and fish. We spent a lot of time by the sea growing up.
What's been the highlight of your career so far?
I think it was the month I sold my first batch of wallpaper to an Interior Designer who's work I love and I got my first bit of press which was with Elle Decoration.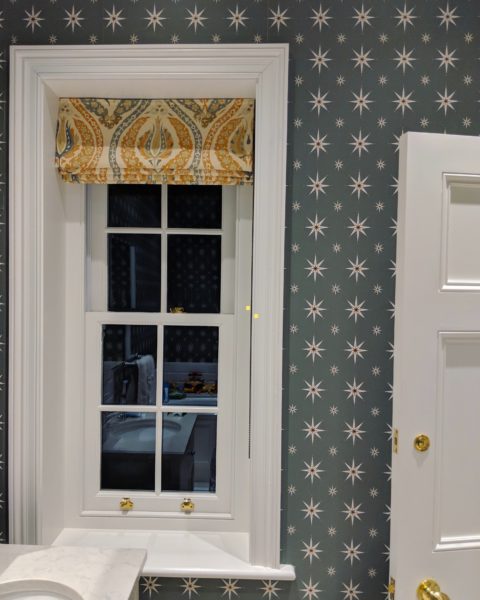 What advice would you give to an aspiring wallpaper designer?
I only launched the beginning of Autumn last year so giving advice feels a bit premature but for me the most important thing I think is you have to love what you are designing. If you love it and believe it in it then I think that will hopefully shine through when you are trying to market and sell it. I am not going to sugar coat it, it has been pretty difficult setting up a business especially when my boyfriend who I live with has also set up a business at the same time (not the best idea we have ever had to do it at the same time!) but being freelance
really helped with that as I had have more flexibility and fit in helping with his business too. I definitely could never go back to having an office job!
Who would be your dream design partner for a collaboration and what type of collection would you create?
It has to be English fashion designer Alice Temperley at Temperley London. Her clothes are truly magical. I love the bohemianism of her collections, the attention to detail, patterns, fabrics and colour, basically everything about them! I love how she says her life growing up in the countryside in Somerset is in the DNA of Temperley London and has played a big part in the development of Temperley London. There is something so authentic and quintessentially English about it. The Spring Summer 19 collection is full of sequinned stars, stripes, bold patterns and crazy colours – everything about it is so up my street. Sequinned starry wallpaper…what more could you want!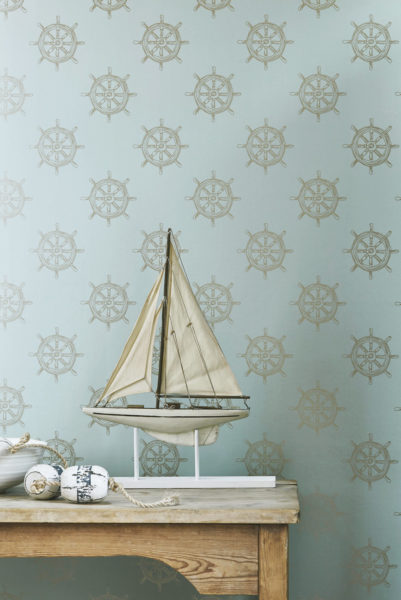 What advice would you give to anyone on the fence about using wallpaper in their own home?
I think if you are on the fence, you could always start with a small room like a bathroom or a downstairs loo for example or a room you don't spend all your time in. Feature walls are a bit of a no for me so if you are going to do it, definitely do the whole room, its so much more impactful and I don't think you would be disappointed.
Which of your designs are most popular and why do you think that is?
Dusky Blue Green Stars and Mallorca Orange boat wheel. I think the orange one because even though the pattern is really simple, I think people are being bolder in their colour choices. The majority of people who have bought it have used it in a bathroom. Dusky Blue Green Night Sky star design is proving the most popular especially in rooms like dining rooms or hallways. It really is such a statement when used on a ceiling and I think people love the colour, it changes in different lights and times of day, it can look dark green one minute or blue the next dependant on the light.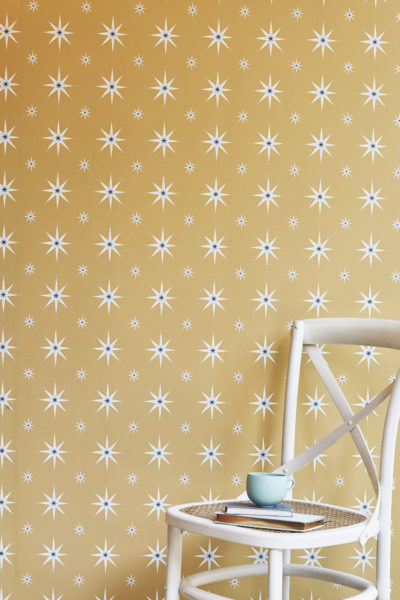 What's next for you?
There are a few exciting things and projects in the pipeline so I am really excited about the rest of the year. I am designing new designs at the moment and have just launched Night Sky in a dusky pink colourway. I am also starting the process of design fabric, all printed in Britain of course.
---
Find Jessica Osbourne wallpaper here