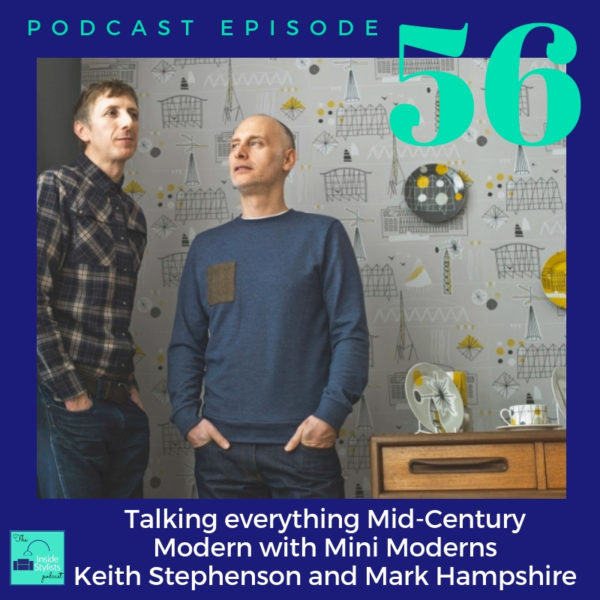 Talking everything Mid-Century Modern with Mini Moderns Mark and Keith
Pattern with a story
Today's guests are a design duo who have turned the mid-century modern design vibe on its head.
Launching in 2006, they started designing applied pattern across a range of products including wallpapers, fabrics, cushions, rugs and ceramics. With the first collection being snapped up by Heal's they knew they were onto a winner
Their design influences range from mid-century British textiles and vintage toys, literature to Travel from both at home and abroad.
Their style and ethos is instantly recognisable and their brand has grown from strength to strength.
With a spanking new book out all about Mid-century modern living, I can't think of anyone better to talk about this design style than with today's guests.
I'm very excited to introduce Keith Stephenson and Mark Hampshire of Mini Moderns
Today's guests
You can find here –
Insta:  @minimoderns
A few things we covered in this episode :
There are great second hand shops in St Leonards, Hastings & Rye
One Day design – Windows wallpaper 
Pleasure Garden design – the one that reminds me of my childhood
Paisley Cresent – Buddha of Suburbia
Yellow handkerchief vase – the replaced smashed one!
Great areas to source larger pieces, Milton Keynes, Hatfield, Harpenden
West German mid century modern pottery
New Wallpaper Culture  South bank center museum of london courtyard gallery Jeffery museaum
Listen to this weeks episode here or click on iTunes