Interiors inspiration from Maison & Objet 2022
Feature by Suzy Lawrence
After a two-year break Maison & Objet doors were finally open to visitors again this March, and while the show felt smaller than my previous visit, it felt so good to walk around and take in all the latest trends this interior design show has to offer.
With just over 1800 exhibitors, this was a show dedicated to luxury, sustainability and more cordless lamps than you can throw a stick at.
Popus Editions  Photo by Suzy Lawrence
Starting off at the 'Signature' hall
…where iconic design meets innovation, I noticed a strong presence of colour, arches and curved patterns in both the set decor and furniture where there was a continuing trend of lozenge-shaped side tables and curved sofas, some of which were featuring a new playful twist of Olive Green, Brick Red and Caramel boucle fabrics replacing the previous cream offerings we've been used to seeing in the last few years.
There was a strong 70s feel at the show, from bold prints to shapely curved lounge chairs. Large modular sofa sets styled with nests of tables in mixed materials of glass, warm wood and marble. Gone are the jewel-toned velvet sofas we have all come to know and love, replaced by sumptuous oatmeal fabrics and colourful jumbo cord, paired with warm wood.
I always love to see how the brands create their own story when styling their sets, and one takeaway from brands featuring modular sofa sets was the mix and match element.
Shown here by the PH Collection,  mixing materials and elements to create an inviting space for gatherings reminiscent of Californian Palm Springs homes of the 60s and 70s.
PH Collection
The light neutral colour palette we have seen of late has had an injection of colour on nearly all stands, most notably brick red and ochre yellows against warm wood furniture and wall coverings. After first spotting and falling in love with the natural grasscloth and sisal wall coverings by Mark Alexander during my time at Chelsea Harbour in 2020 it was great to see similar textured wall coverings being used in displays at the show.
These colours carried on through the show across textiles and accessories ranges, with rich Rustic Brick colours teamed with muted Forest Greens from Libeco showing how this masculine palette can be softened.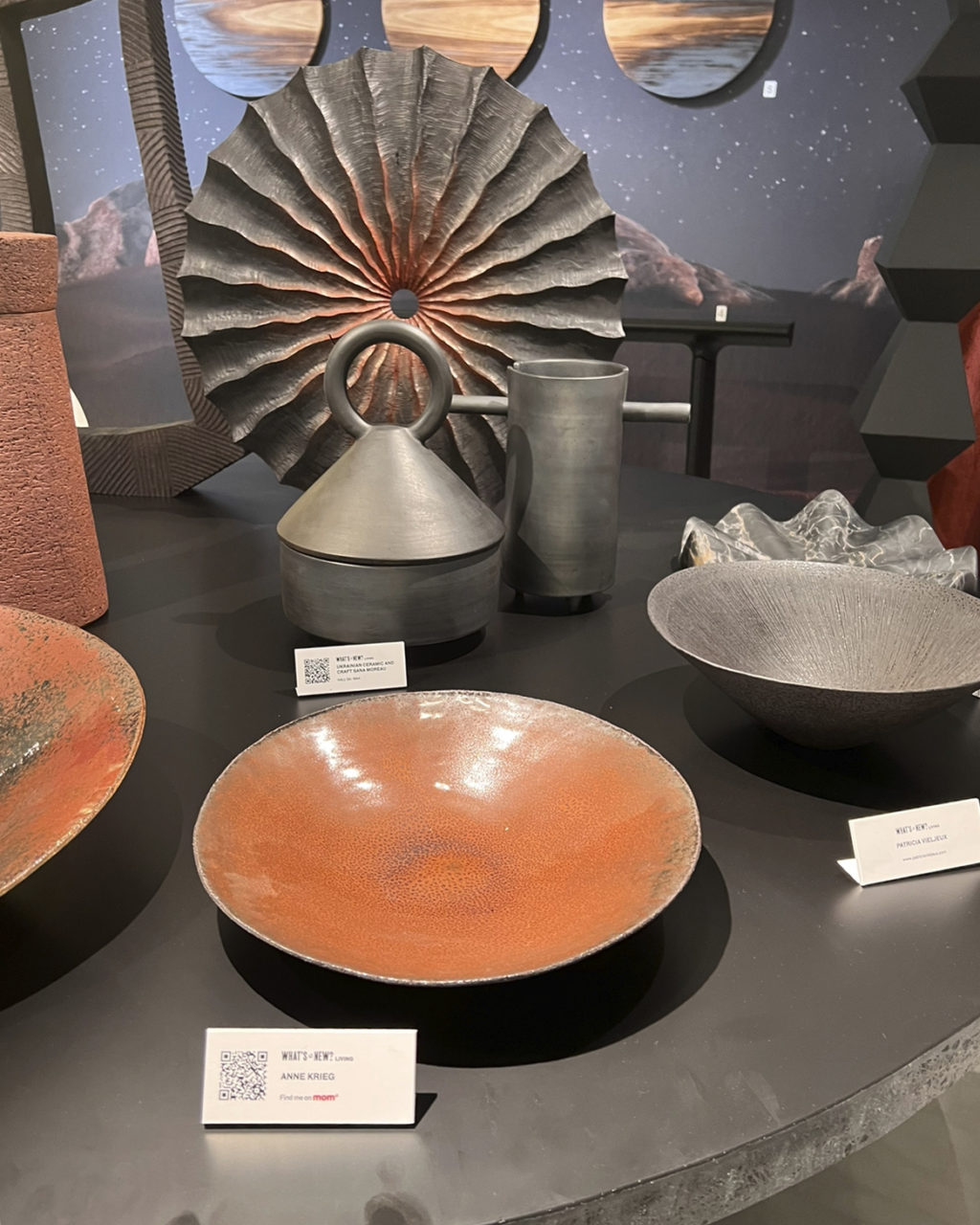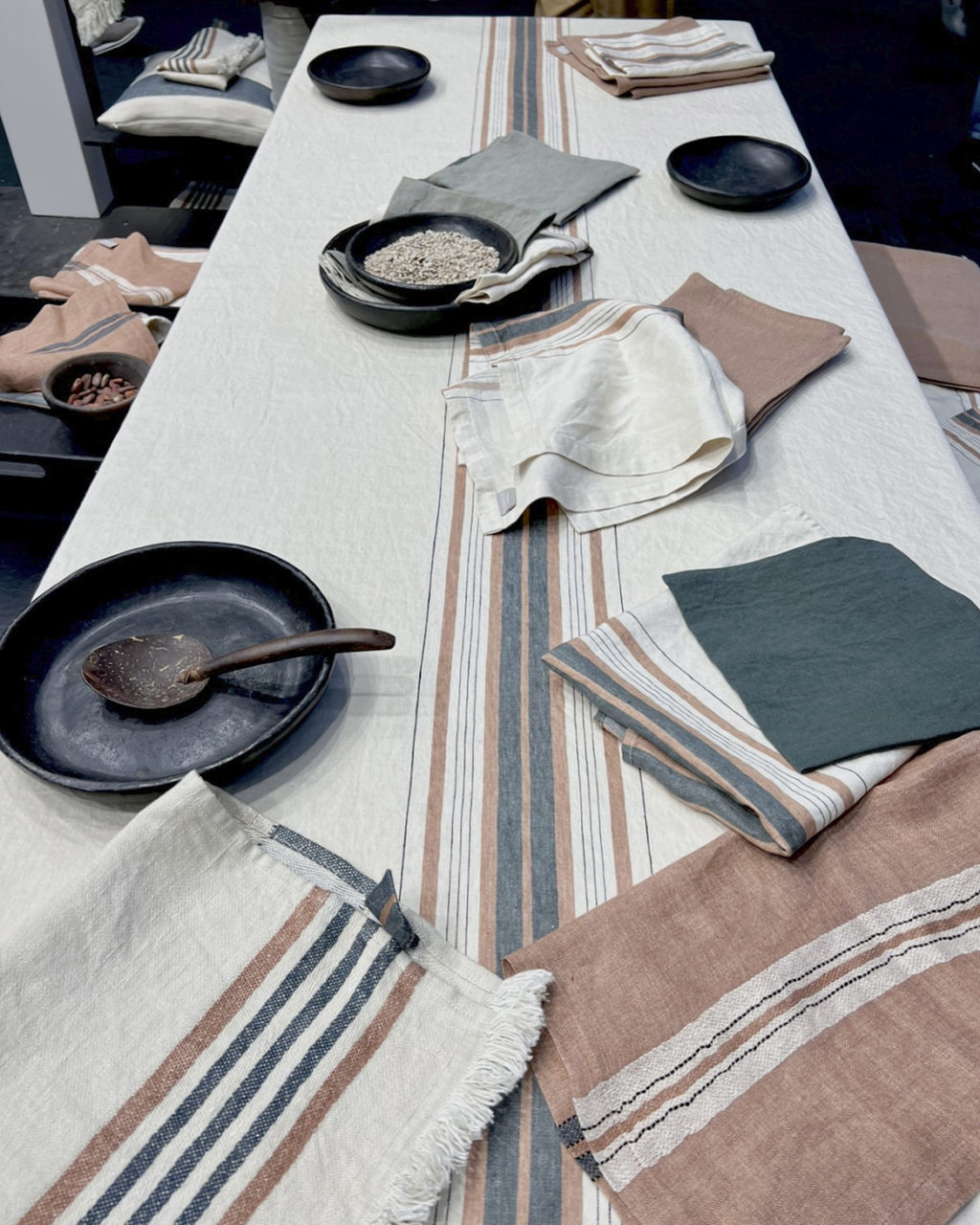 Broste Copenhagen
While the trends noted above in my opinion, seem to have more of an Autumn Winter vibe to them, Broste Copenhagen brought us some welcome ice-cream hues of powder blue mixed with terracotta and natural colours. I particularly loved the wavy beech wood mirror with its pattern and shape, lifting the wall space above the dining set.
From here through to other brands, I spotted the use of coloured metal being used throughout furniture and seating. But I'm sure you'll agree there is something quite striking about these single coloured Powder Blue chairs.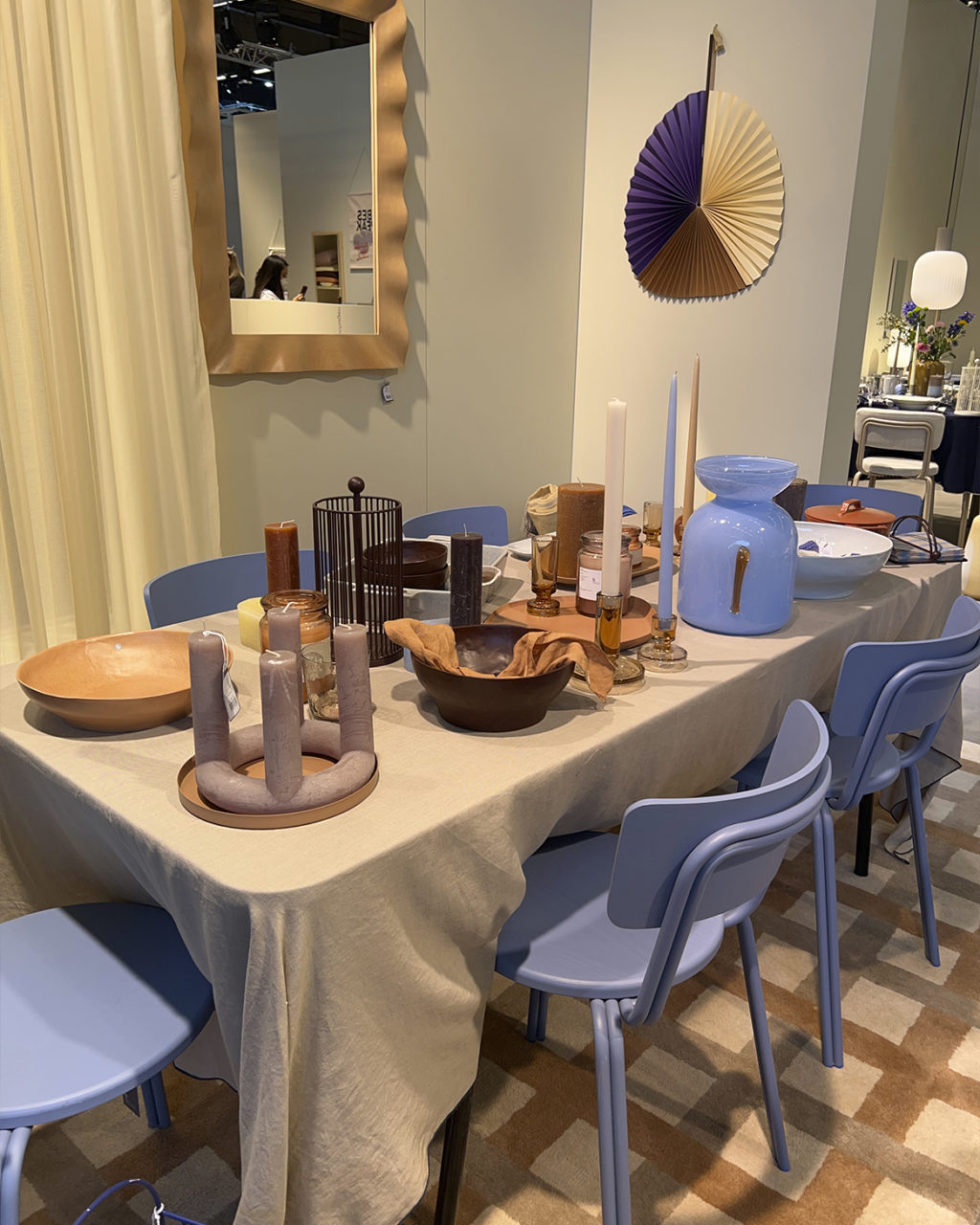 Umage
If there was a prize for the most comfortable chair, it would have to go to Umage   Their conversation piece chair with its curves and sumptuous fabric range, including their new teddy bear fabric, was a delight to rest my weary legs. Surrounded by the most gorgeous coloured goose feather lighting in light brown, this brand has textured covered when planning a room design.
* image  11 & 12 & 12.1
Innovation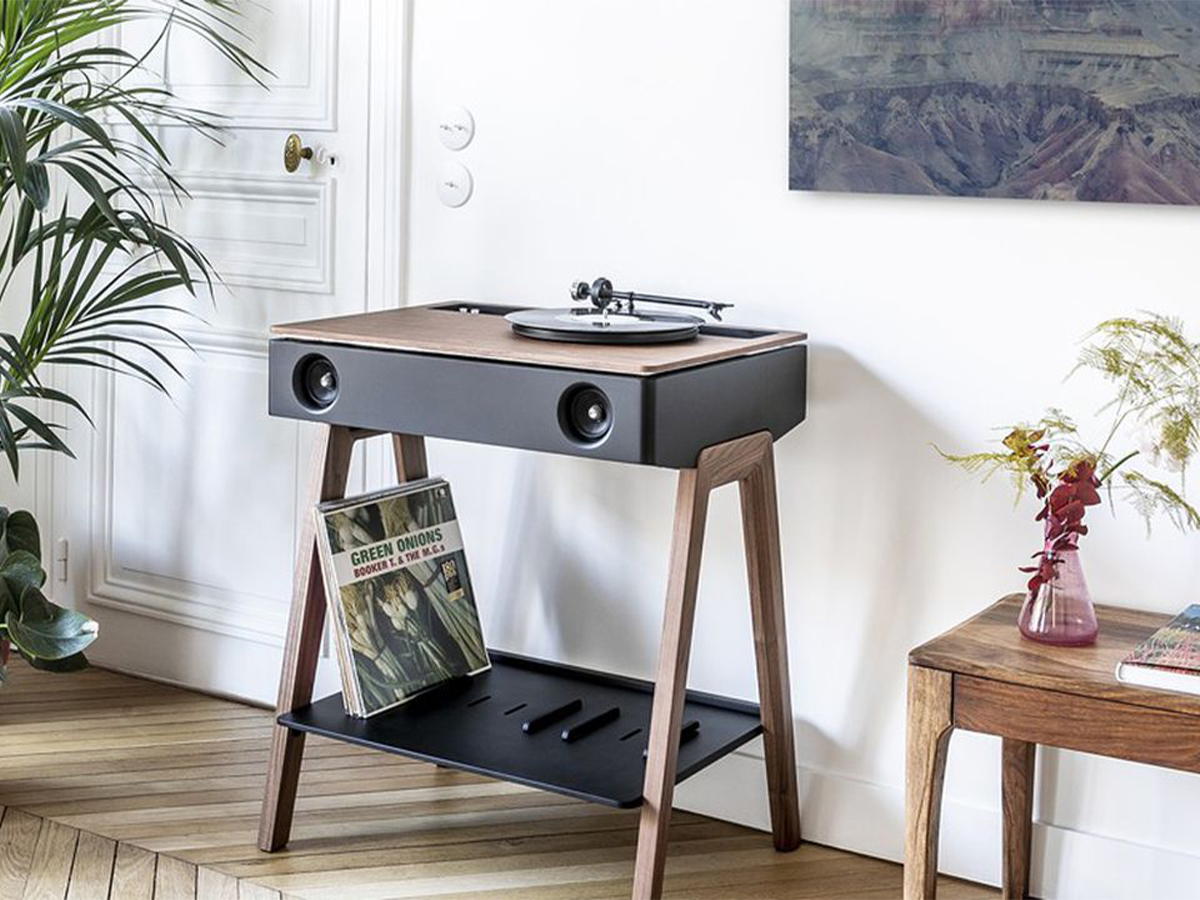 One of the standout new designs from the Signature hall for me was the stylish and contemporary wooden HIFI speakers from La Boite Concept. Arguably the most beautiful blend of artisan design and high tech. With its mid-century style and capability of playing wirelessly via Bluetooth, it would seamlessly fit into most living spaces. It even has a space to hold records underneath.
Wall Coverings
With the rise of the mural wall over the last year or two it was super exciting to see the introduction of ceramic wallpaper by brands like Wide & Style by ABK.  and Lafaenza
With large porcelain slabs up to 160 cm x 320 cm, reducing the amount of visual joints we get with tiles, brands like this have extended the idea of 'Wall Decor' allowing these tiles to be used on both indoor and outdoor walls making this range ideal for bathrooms to rooftop bars. The options are endless and really exciting.
Indoor/Outdoor furniture
Move over Acacia wood furniture and hello to the fabulous new coloured metal bases in fabulous colours like red brick and honey yellow. Two companies that wowed me with their designs were Some slow concept  and Honoré both with amazing colours and designs.
SOME offer a completely bespoke service where you can not only select the colour of the nylon and the colour of the metal base finish, you can also select the weave pattern from a choice of styles.
While Honoré Décoration's latest creation is the Eldorado range of two-tone armchairs which are removable and water repellent. With a pretty sun pattern or fish on the sides of these chairs, they are definitely a conversation starter. If only I had a pool to lounge by.
While I'm at it, I can not, not mention Honoré Décoration without sharing with you their ribbed velvet Carlo corduroy armchair, which has all the elements of the 60s/70s design brought right up to the 21st century. It was super comfy and got a lot of attention at the show.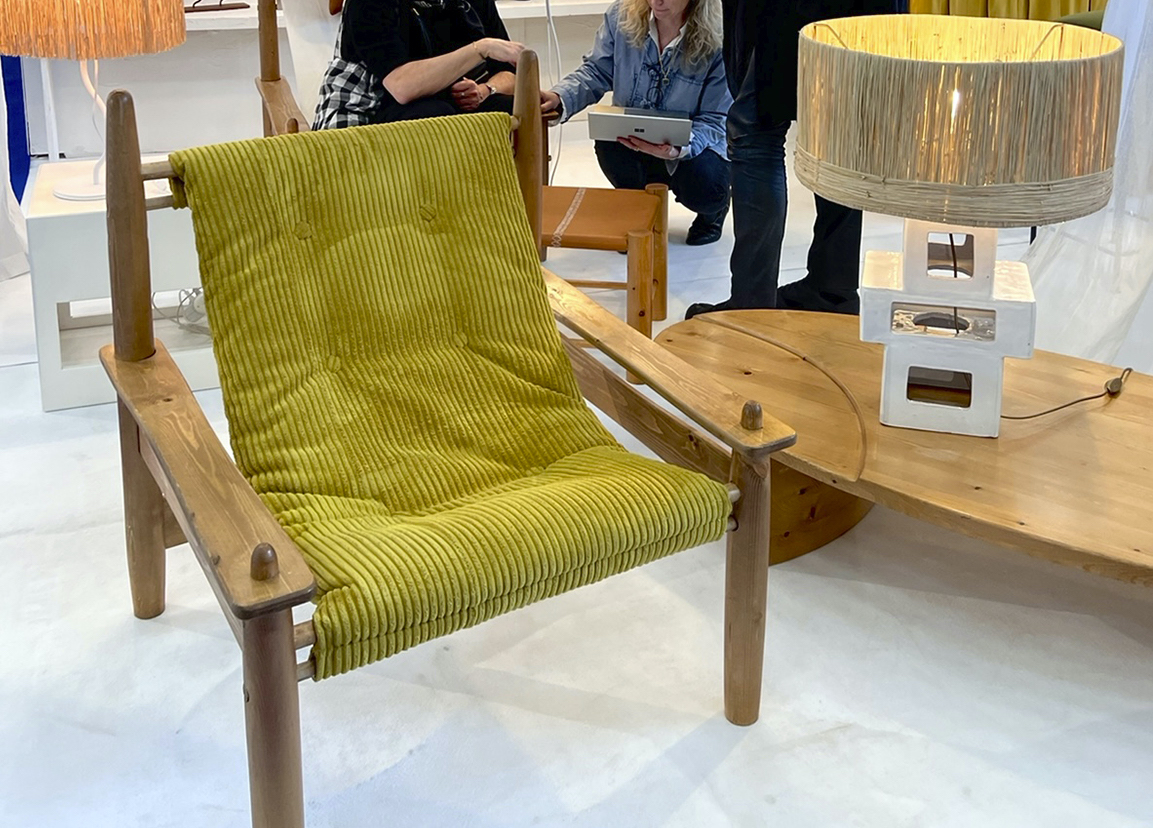 Lighting
It seems nearly every brand has been busy developing cordless lamps; they were in absolute abundance at the show. From the luxury brands like Hisle in the Signature section to my new favourite more affordable brand Humble  (first spotted at the spring fair in Birmingham) whose brand new Bee wall and table lamp was winning everyone over.
Packed with a big battery it offers an amazing 200 hours of light, but more than that, this clever little light fixes on the wall with a little plastic disc. You can easily twist the light on and off from it, allowing you to take it from the wall to the tabletop, Ingenious!!
Image 22
My image at the Humble stand at the show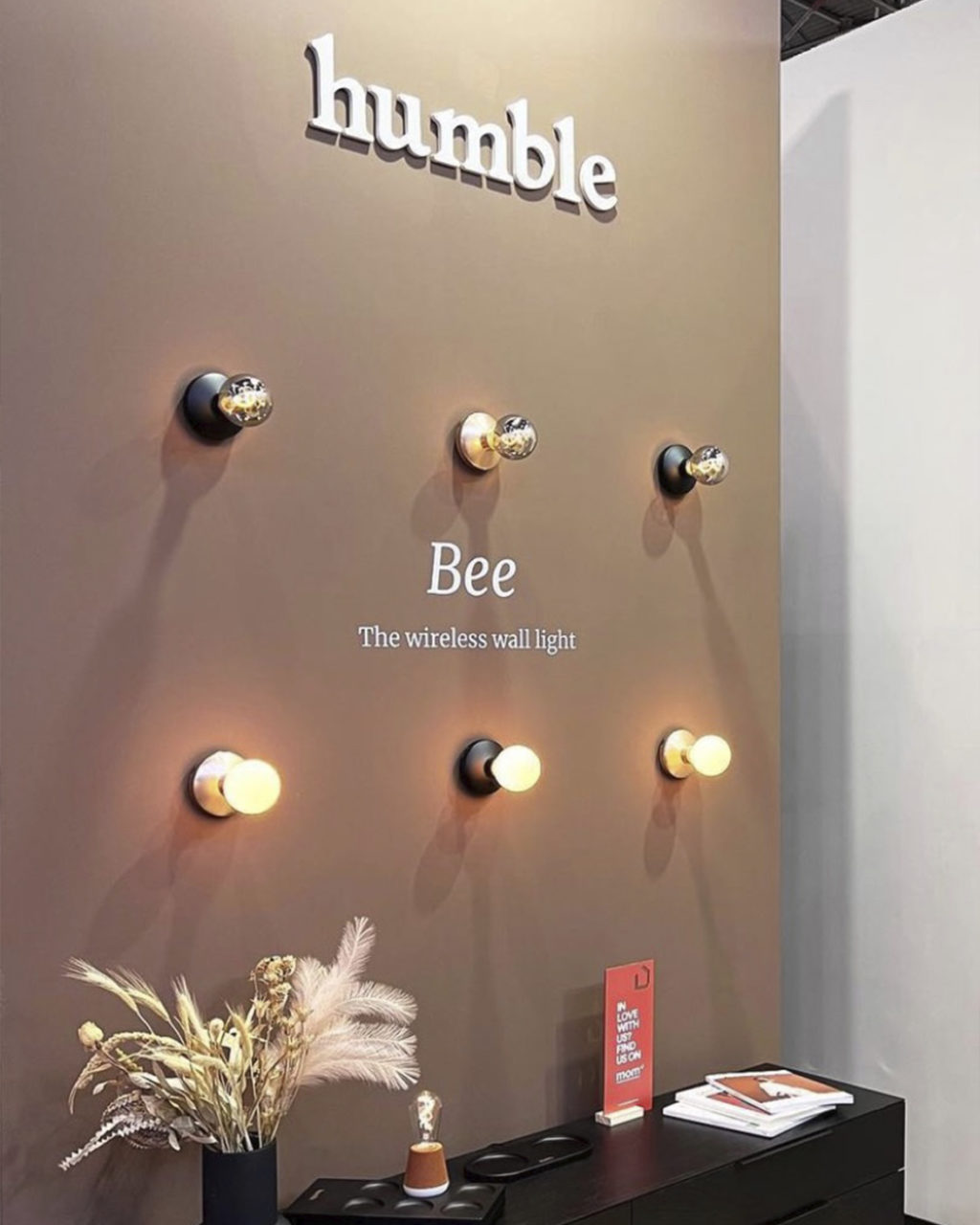 There were two other lighting companies that caught my attention at the show.
Firstly Patricia Lobo Atelier   a Portuguese brand designed and handmade by Patricia Lobo. The simple artisan ceramic shades are hand-painted in just six muted tones from flamingo to denim blue.
Second, is the Belgian brand VIPS and Friends for its collection of industrial style antique brass lamps. Its innovative designs of products like the Lamp Alaise initially caught my eye, a floor lamp that gently rests against the wall.
It was a real treat to be back at Maison & Objet in Paris, with the added bonus of being able to enjoy Paris in the spring.
Until the next time.
Suzy