Are we sad that the kids are heading back to school?  I'm always ready for life to go back to a routine but I hate not having the daughterlings around. Still, September is a time for the interiors world to go show crazy and we've got details on what's going on, what not to miss, what and where to shop and so much more. Come on. Dive in. The September water is nice and warm.

I couldn't rightly start this post without mentioning the huge interior shows that take over all our diaries each September. I don't know about you but I find it all a bit overwhelming! I mean first the kids go back to school – with their new shoes shopping and ironing name tags, then it's the Jewish new year – I know! It's a hardship, all those big Jewish family meals! Then all the design week dates just take over! I mean how's a stylist supposed to get any work done? Well, it is work. It's just a whole lotta fun and a whole lotta Fitbit step counting. I reckon it'll be an average of a 30k steps a day. What do you think?
So, here's a quick/brief/I can't possibly share it all just here- line up!
Bursting with high end, luxury interiors and design, Decorex, is a one stop show for all things interior design and is the opeing location for The London Design Festival. Check out all the Decorex highlights here
Who to look out for: 
Cocoon Home – podcast guest Angela Constantinou – episode 25 with her gorgeous new fabric collections – (Stand G22A)
Fisk – Launching at Decorex (see 'Website' below to see about their new furniture)
And So To Bed who have a brand new bed and Vispring's luxurious mattresses launching (stand E47)
Dragons of Walton Street (Stand H29a) who have some very exciting wallpapers to launch
2. 100% Design    19- 22nd September 2018, Olympia, London
One of my fave shows as it's good to see all the prs under one achievable roof, catch up with stylists en route and find great new places to feature.  There are so many brands at 100% design that I couldn't possible name them all so head on over to here to check out the brands the event think are the strongest! 
3.Focus/18 16 – 21st September 2018, Design Centre Chelsea Harbour, London
Who doesn't love to head down to those fantastic fabric filled, wonderfully wallpapered, giant domes?  Focus/18 is literally bursting with tons of events including design talks, workshops and speakers with Nina Campbell, Sophie Robinson, Giles Kime, Neil McClennan, Elle Decoration, Living etc, Homes & Gardens, Cabana, House and Garden and soooooo much more! This is the one that will put a halt to any work getting done that week!
4.Design Junction 20th – 23rd September 2018,  South Bank, London
Just a heads up- Design Junction has over '50 World class speakers' this year so get the Press Preview in your diary now , 20 September 2018, 09:30 – 11:00. You can see the lineup here 
This is where the die hard design fans go to find new, exciting brands, top architects, designers and experts. Can't wait for this one!
5.London Design Fair 20 – 23rd September 2018, Old Truman Brewery
Are you still with me? Just one last show but one definitely not to miss! London Design Fair with it's 550 exhibitors from 36 countries is at the Old Trueman Brewery- which I love as a venue. Not too big, not too small and pretty easy to get around and see absolutely everything. Register for your press pass here . Make sure you head on down to find some great new contacts. Check out the list of exhibitors – that alone is exciting! I'm heading on down to see Morsø who are joining forces with the Danish Embassy, Ecobirdy with their fun designs, Vantot's stunning lighting and the pavillions of gorgeousness.
See you there!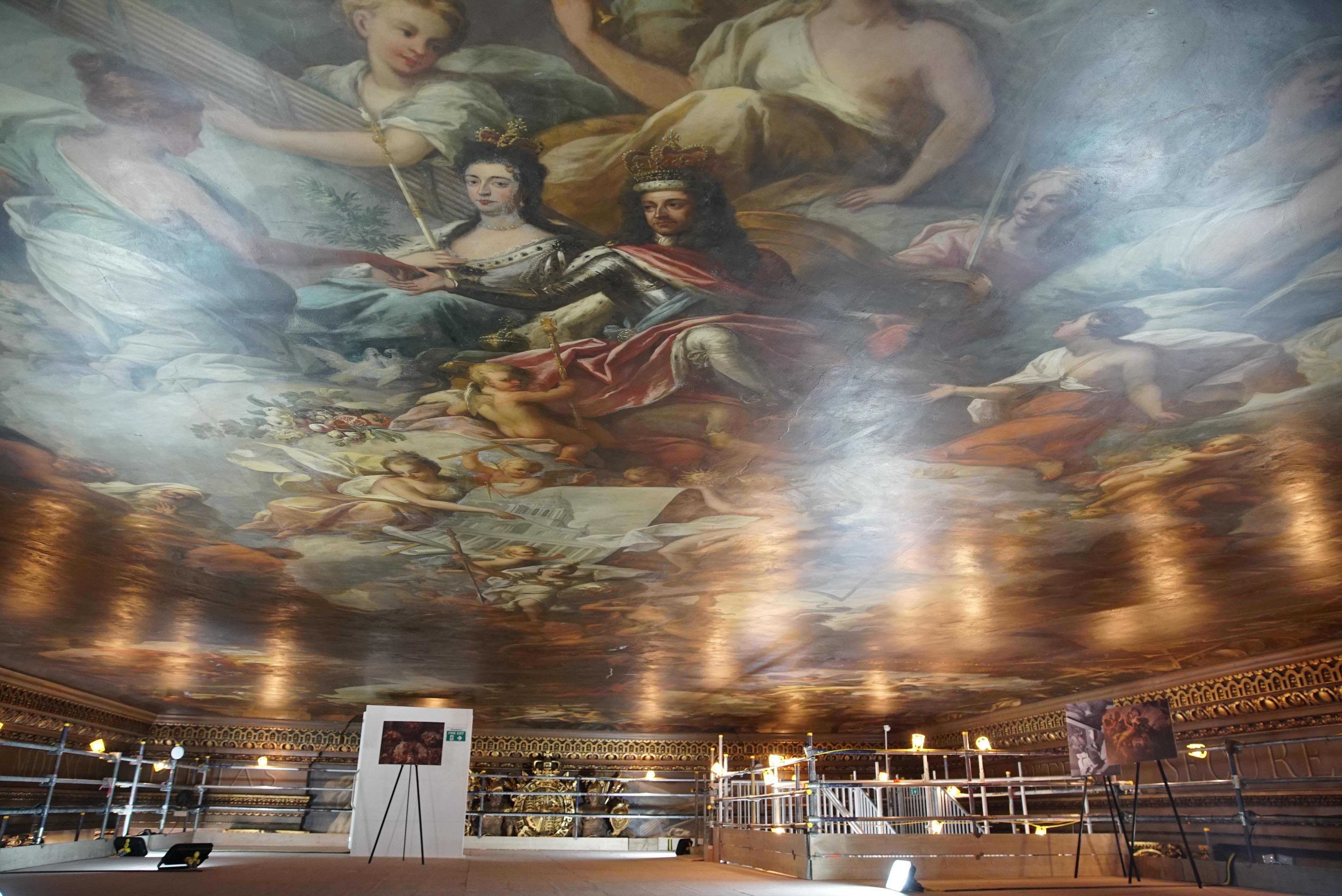 Do you know how many times I have tried to visit the painted ceiling in Old Royal Naval College's Painted Hall? No? Well, it's a lot. Whether it was closed on the day that I went, or I ran out of parking time – because we always park at the top of the park (as it's sooo much cheaper up by the Royal observatory – top tip) and we tend to get sidetracked by the Greenwich markets and the street food! So, when I got the email saying that time was running out I had to share it with you all.
The last chance to visit the painted ceiling is 30th September 2018.  The Old Royal Naval College is putting on unique tours where visitors climb 60ft to an observation deck, which places you within touching distance of one of the most spectacular Baroque interiors in Europe, known as 'Britain's Sistine Chapel' and the largest painted ceiling in the UK.
The National Lottery funded Painted Hall project has been live for two years. As well as the conservation work in the Hall itself, the Undercroft space below has been undergoing a major transformation with the creation of a new visitor centre, interpretation gallery and café, designed by Hugh Broughton Architects. The new developments will open to the public in spring 2019. So, you'll still be able to visit the ceiling – just from the floor!
If you visit before 30th Septemner you'll be able to see the masterpiece up close and to observe the conservators at work. The conservators, led by Stephen Paine and Sophie Stewart have been systematically cleaning and conserving around 40,000 square feet of painted surface, on the ceilings and walls, "bringing new life and vibrancy to paintings obscured by decades of decay"
So, next time I get to Greenwich I'm going to the painted ceiling first and I'll get food after! I'm going. Are you?
For more details visit www.ornc.org
Instagram @oldroyalnavalcollege

I'm so bored with food right now and I think what I need is a bit of a refresh. I fancy the Mexican Street Evening course being run by Demuths. The class is "bursting with hot, complex flavours and will get your taste buds tingling!" I'm in!
On the course you'll learn how to make traditional quick Mexican dishes, so different from Tex-Mex! You'll  make a selection of the following dishes:
Huevos rancheros or Tofu rancheros
Tortillas de Maiz
Frijoles Negros Refritos
Tomato Salsa cruda
Corn and Habanero Salsa
Mexican Rice
Then you'll finish with a Mexican supper of everything you have made, a pack of all of the recipes you've made during the day so that you can recreate them at home.
Check out Demuths Cookery School for more details

If you follow the Inside Stylists podcast – and why wouldn't you? You'll have heard Episode 22 with David Mottershead,  MD of Little Greene Paints talking about their latest paint collaboration with the National trust.
The inspiration for each paint colour is taken from a National Trust house or garden and after extensive paint research to find the best original colours to select to tell the stories of the people who first
enjoyed homes Little Green has whittled down their massive findings to 31 gorgeous shades.
The collection – which launches this week is all green and is a palette to cover all tastes from bold greens like Sage & Onion -inspired by Beatrix Potter's garden gate, to softer subtle colours like Hidey Hole, from George Bernard Shaw's Hertfordshire home- or rather the hut he used to write in.  I have to say that I have completely replanned my living room update after seeing these new shades. I'm drawn to the greeny blue shades of Goblin – from Snowhill Manor in Gloucestershire and Tea with Florence which is taken from one of the best examples of Chinoiserie wallpaper in Britain which is at Claydon House in Buckinghamshire. The room was used to 'take tea in' and as Florence Nightingale would have tea there this name is perfect – don't you think?
The National Trust green collection is available from Little Greene's network of distributors as well as via email and phone order and online at www.littlegreene.com
We also love it that a contribution from the sale of every can of Little Greene paint will be made in support of the National Trust's conservation work, to ensure the nation's historic houses, gardens and open spaces can be enjoyed for generations to come. In addition, Little Greene will be supporting the National Trust's conservation and restoration programme by donating paints to bring colour and life back to some of the UK's most loved properties.
Good stuff eh?
p.s. Don't you just love the styling in Little Greene's shots? Expertly done by the lovely Sally Denning. Hear about how she does it in her podcast episode 19 


You know that thing when you meet someone and you know them for their work and then on the side they have this other completely amazing thing that you knew nothing about? Well, that's what happened with Emma Price. I met Emma at a leaving drinks when she worked in the art department at Woman & Home. She's lovely and I had no idea that she was an artist and did pet and people portraits to boot.  She's just launched her brand new website. Head over there to see her style. I don't know anyone else who can draw with a coloured pencil and make it look like a photo. Do you?
I particularly like the way she talks you through how to take a good photo of your cat( to put forward for the portrait). Check out the one with the vacuum – it just makes me think of those Facebook videos where cats that jump when the vacuum goes on!
Emma's drawings are done with pencils – graphite and coloured pencils and are such a great representation of the pet it's unreal.
Find Emma here EmmaPriceArt.co.uk to get a portrait commissioned

It's always great to find a new website that has stunning and unique furniture, but when the stories behind each piece are as dramatic as where they come from you know you're onto a winner! Enter Fisk, where every piece in the collection is inspired by Scottish landscapes, history and architecture whether that's railings of the Playfair cabinet, the Rannock chaise with its dappled curly sheepskin upholstery and natural antler legs evoking a feeling of the moorlands of the Scottish Highlands or the Skye chair (my fave from the collection) with it's "windswept romance of Scotland's western isles". This armchair is upholstered in fine black long-haired sheepskin with a charcoal pinstripe sides and back.
You have to go check out the rest of the designs. They're windsweepingly good.

It's not often I bring fashion onto these posts but sometimes you just have to, right?
I first came across Carloe London when I was planning this post a few months ago and thought long and hard about an interiors angle – but let's face it we all love an accessory and sometimes it has to be a handbag. I mean just look at the straps and colours and detailing on them! And they are brand, spanking new – launching this month so here they are.
The collection has a small range of beautifully designed handbags that come with purses all in muted tones, destined to become wardrobe staples. They're designed and made in East London by a small team of craftsmen, designed by Hannah Ludnow, an artist with a gallery on Columbia Road  and you know how I love an entrepreneur.
Think thick hand cut leather, natural patina, quality and with an authentic London heritage. I love those straps. Which would you choose?
Have a great September 
Em x