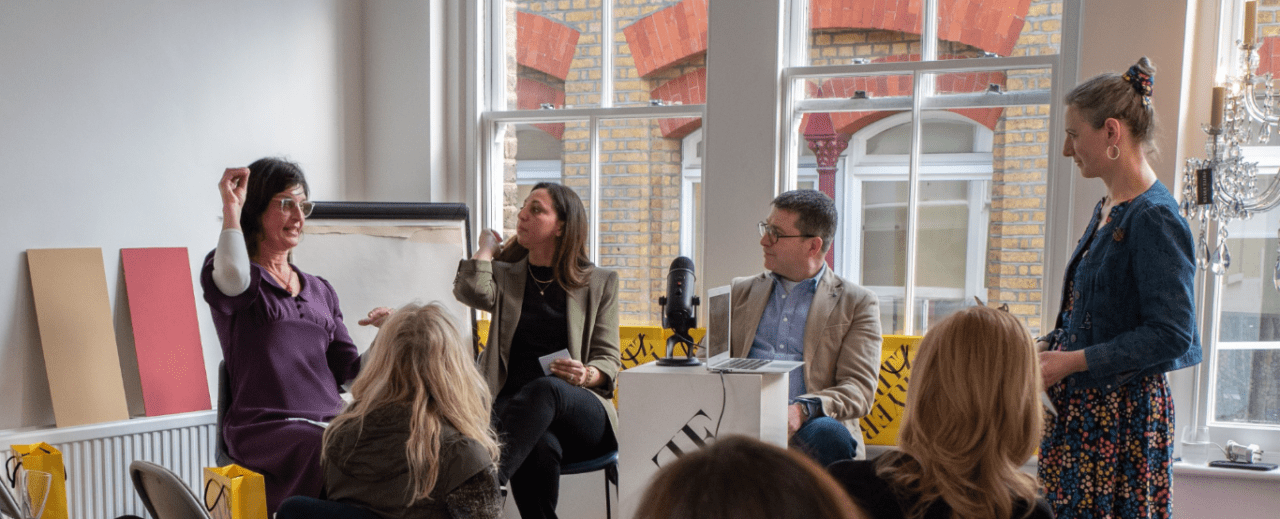 Illuminating lighting panel discussion with South Place Studio, Fritz Fryer and Francesca Wezel
Today's episode is the live recording from the Illuminating Interiors panel discussion by South Place Studios at the Fritz Fryer london showroom with Francesca Wezel.
During the chat we talk about everything lighting from planning and furniture placement to how paint choices make a huge difference and so much more. Listen in and learn – like I did.
enjoy.
EmmaMT x
---
Today's guests on the panel are
A few things we covered in this episode :
Planning lighting in a home
How to consider daylight in a home when choosing lights
Furniture placement – plugs and lamps
Controlling your lighting
Refurbished lighting – check out Fritz Fryers incredible refurbished lights here 
Fitting lights without renovating
Paint affecting lights
Tash's fab online shop. South Place Studio online shop here 

PODCAST TRANSCRIPT.
Hello, and welcome to the Inside stylist podcast where we talk all about interiors with interviews with interior stylists, writers and fabulous home wear brands that make a house a home. I also catch up with industry experts in the know and get them to share all their knowledge and advice. There's so much to talk about on your host, Emma Morton-Turner, an interior stylist and writer with a ton of experience I set up inside stylists.com So I can share all that interiors love with you. So don't forget to head on over to the website for not only the show notes from today's episode, but regular interior blog posts and a whole host of inspiration on the interior stylists and writers profiles. But for now, enjoy the show.
Hello, hello. today's podcast is a live recording from the panel discussion I hosted for TASH from self play studios at the Fritz for our London showroom with Francesca Vatsal who is from Francesca paints and it was all about lighting, planning lighting things you can do things you need to think about how you can incorporate your color things you should think about with color, all that sort of thing. So as it was alive it's a little bit echoey I have had had this podcast edited but it isn't quite to the standard I would ordinarily hopeful but you can still hear it very very clearly. You can hear that one of the members of the audience had a dog that shakes sounds like I'm I'm really shakes there's also quite a lot of noise in the background. You can hear like lorries going by someone started emptying a skip it was very unfortunate timing, but just hang with it because it's a really interesting discussion and also hang around at the end because TASH shares a download that you'll be able to get for yourself. Okay, so enjoy today's episode.
So my name is Morton-Turner. I'm an interior stylist and the founder of a website called inside stylist, which is promoting interior stylist writers, features, photographers, for events and shoot and I'm here because I'm friends with Fritz, this is why I'm calling you now. So I'm going to be hosting the panel but our actual hosts are attached. So TASH South is the owner and creator I'm reading this so don't miss touch staff is the owner, Creative Director of South play studio. She has worked in the design industry for over 24 years starting off in Advertising and Graphic Design in Cape Town, South Africa. She then branched out into interiors and renovation consultancy, after a view of her own successful renovation projects and her North London self build. Tasha is on the faculty of Elle decoration and has taught that online interior design master's program she contributes to podcasts
and articles on home renovation and writes extensively on interior design and styling on the award winning self placed studio. Sound play studio philosophy is to design beautiful, livable modern spaces with highly functional with a highly functional base, which brings ease to their client's busy daily lives. Simon Wallace Smith, were in his house. Simon is the co owner of Fritz fryer with his wife Karen, who you might have seen downstairs. Simon leads to the design side of Fritz fryer working on everything from bespoke Commission's new product design through to commercial and residential lighting schemes. Simon is also responsible for the acquisition and curation of luminaries
within the antique side of prints business. Simon, much of Simon's design inspiration comes from the operation for the intricacies of clock and wash design which can be clearly viewed in his Aston and Grafton LightSwitch. downstairs for its rise unique antique restoration service and beautiful contemporary designs are testament to Simon's love and passion for all things lighting.
And then, last but not least, we have Francesca Francesca Faisal and my VIP salon
paint brand Francesca's paints in November 1996, and was one of the first eco friendly paint companies in the UK. eco friendly products include line wash, the oldest form of paint note huge and eco emotion. She also has a range of traditional paints as eco paints can't be touched or scrubbed. She cares greatly for our planet and is continually evolving her production techniques, coloring and packaging, creating and making colors give her joy. It's no surprise people use the hashtag hashtag to color woman hashtag don't be afraid of colors and favorite queen of color when talking about her. So you've come here today to talk about lighting and everything that's involved. So the panel here is we've talked quite a lot extensively about what we're going to answer what questions we're going to answer about lighting here. But it all starts with planning. So Simon Do you want to start by explaining how you plan a lighting scheme when someone comes to you? Yeah, sure.
So from a lighting design, there are usually three deliverables at the end of the process and they consist of a schematic drawing which is usually overlay
You don't have sort of a set of architectural drawings that describes where the lighting is Gary links up the circus, you then have essentially a spreadsheet, which consists of the lighting shedule, which will describe what lighting, light fittings are on the drawing. So let's say from kitchen, we might have some some recessed lighting, and some under counter lighting and some pendants over the island, we would describe what they are. And we would put hyperlinks into that document, to give the client an idea of the sort of product they should be looking to buy, you then have a document which is another spreadsheet, which ties the lighting shedule to the drawing with control points, switches, and circuits. So you have three sets of documentation, that then only diagrammatically describe where the lighting is going. But also one document that describes the type of light fittings there are loadings, color temperatures, things like that. And then the document describes how you're going to control it and switch it on and off, essentially, or dim it. And they all have cross referenced unique identifiers to identify each circuit, each link, etc. And when is the right time? Is that another thing from a sensor? Yeah, go for it. Yeah, as early as possible. So often when we were invited to look at a scheme, and it's still in the ground is not built, it's a new build. And we recently worked on the spa facility. And when I arrived at site, it wasn't built yet. And it's perfect. Because you can walk around the space where the footings have gone, you've got the drawings, and you can get an initial draft onto that you can talk to the client about how they're going to use the space, what's going in it in terms of furniture and the way people are going to move around it. And you can start to put something down on paper, then a little bit later, when there is something to walk around, you can then go and visit site again. And you can fine tune those ultimately that three visits and you've got a drawing. And a set of drawings can then be handed off to either a bunch of electricians to tender for it because it's they're all tendering for the same thing, which is very nice. So you can apples with apples, or you basically just hand it off to your electrician for prospects search for work. And it also gives them a shopping list of things.
That's very interesting that they get you in collars, even anything on to look
a bit early. It's a bit early, but it's quite nice. Yeah, because certainly for things like interest in architectural features external to the building, and you want to light those, that is the time to get that in because they've got to put something in the ground. So as a conduit, camera, cable, and light when they start to pour concrete floors, it can get a little bit late. If there's anything going in the floor, such things a floor sockets and in ground lights, if they've already poured a floor on top of underfloor heating system, you're a bit that's an option that's then been removed in
touch when people come to you, they probably don't know any of that they are thinking I want pretty lights, I want a big chandelier over my staircase. How do you plan for lighting as an interior designer specifically? Okay, hi, everyone. So um, usually I start with kind of discovery conversation with the client. So again, go right back to the start, like Simon saying, so we'd have a meeting, we talk about the space that either exists already, or that will be created. So we start right back at the client, how they want that space to function, what they want to do in that space, the different lights they might need for the different tasks that they need to perform in space. And then that then leads on to the floor plan or the layout, which I would produce. So once I've got all the kind of brief from the client, I'd then go away and do a floor plan. And that would generally be the kind of basically what the walls would be on the basic floor plan. Just arrange your clients in some time. So they will greatly scheme that you think isn't going to work. And they understand the restraints of lighting.
They do. Like sometimes I think people haven't thought about it enough. It's almost the opposite. So they more thinking about, Oh, I want this lovely kitchen marble countertop. And they're not really thinking about the function just Yeah, so I guess my job is to kind of talk to them about the function of the room, find out from them how they want to use the space, and then make sure that it's going to be lit appropriately. So we kind of first step is to get the information from the client. The second step I do then is to prepare basic floor plan. And then that then leads on to the furniture layout. So once the walls are in place, where will they have their sofa? Where will they have their bed that then determines eventually, the lighting plan, which is the schematic that time it was talking about? Yeah. So I kind of do full circle back around to that point. So that's how I would approach it and always as soon as possible into projects. Yeah, we're talking about essentially artificial light but natural daylight comes into how you light your home. So Simon do what we were taught but when we were planning this discussion we were talking about your kitchen
What you need to think about with natural daylight when you're planning your lighting scheme, if you're going to want a glass in your kitchen,
it's wonderful because you get a lot of natural daylight coming in. But in the evening, it turns into sort of big flat walls that are very reflective, quite harsh, you know, and I think it's actually quite tricky, creating a right lighting scheme in a heavily glazed area. I mean, if it's, I'm working a lot in Herefordshire. And if it's a property that's got like oak, oak framing, you can make a feature of that framing by doing framing. So for example, we've got a license the room and it's a double high drop, and it's got an oak frame, sort of like in the barn. For example, if you architecturally like that from the floor, up or down, preferably the floor, you can create some illumination at that end of the room where there's otherwise just a big dark handle of wall, which I don't like. And I don't know that in my own kitchen, and I've struggled to do that. So I don't have any glazing bars, which I can illuminate. I mean, you have to think about filling it in, and you have to think about the reflection of it. And conversely, I think in the course of in the morning, you can't actually work at a laptop or something on your kitchen island, because it's so bright. So you need to think about shading out the sunshine. And in the evening, how do you actually warm up that space because it can be very difficult tonight
it's actually a really good solution for kind of lighting in that space. So we when we were talking, we were talking about Simon's kitchen, so he's kind of got walls across the end and across the site that's right corner taken out dark
to remember.
So something I found that works well if it's something that's built already and you can't really make any internal changes to the lighting is to actually like the outdoors. So for example, if if you have any kind of overhang or any kind of walls and protect beyond your glazing, if you like on the exterior with squats, or any sort of outdoor light with kind of a warmish glow, that really helps to if you've got light on both sides, it just kind of takes away from the kind of reflective and just makes it not into that kind of Black Mirror feeling slightly enhanced lighting. So if you've got some landscapes on planting out there, you could make a nice feature of that and it extends the Inside Out definitely if you have anything in your garden and amazing tree or something if justice and garden lighting is something you can add quite easily with cabling along your fence. And so you could light beautiful tree or some of your planting there so your flowers and I think that just draws the eyes out into the garden and takes away from the fact that you're looking at anything I shared this when we were talking about I got quite small ended terrace house and 1930s is slightly he 70s and 80s a big black we'd go dark.
So my husband strung up festoon lights all the way along our very small garden that is like Blackpool illuminations
bedroom which is in the loft, the light still shines up into the loft, which is great because
yes, so we can you are an expert in pain and I love listening to you talk about pain when we're talking about natural daylight. And then when in the evening it's dark and got artificial light. How should we think about paint choices when it comes to that kind of paints and one is glossy and shiny and the other one is matte and chalky. So obviously the glossy and shiny paint reflects the light and so the light bounces back. So it creates more confusion, let's say So perhaps it's better to have some some light on the wall the diffuse instead of directly pointing on door because it would bounce back and we chalky paint instead he creates a lovely deck.
So again,
a very soft light can change completely. The color and the atmosphere of the room so is really to keep in mind on what you want to create. And I think in a glossy situation, perhaps is better a kitchen or dining room where there is more it was so more of a social event. And a chalky paint is better perhaps in a throw your own the bedroom where things are ready to become
three inch interesting when you talk about paint. I painted a room a gray, but it was very brown gray and I needed a blue gray and it looked terrible. But when the lighting is you've got different like temperatures haven't even that affects the colors. Yeah, do you want to talk a little bit about Yeah, lighting temperature is very expensive.
So there are two considerations. Here we've got the obvious one and the most commonly understood which is the color temperature and what we really want to be
targeting is around 2700 Kelvins, which is a warm white 2200 carbons is very warm white, much over 3000, it's starting to get a bit cool. And I definitely tend to stay away from anything above 3,000k. Because it can create a slight laboratory feel like in a kitchen, and 2200. Mostly we're using 2200 Kelvins in the fittings you see in our show, and I actually really liked that sort of very warm, ambient light, but some people find it a little bit orange. So typically hospitality is 2700. And that is a safe bet. I tend to if I'm stressing a commercial job, I will normally suggest 2007 For Calvin's can't go wrong with that, you know as the top of the head? Well, yes. That two to 2007. presteigne.
That's really visualize what you're Yeah. So the theory is, the lower the number the closer it is to sunlight. And the higher the number the closer it is to moonlight. Is January and why Yeah.
Yeah. And then the other one is CRI, which is relevant to paint colors and things like that. And that's the color rendering index. And anything below 90. So when you're looking at a box with a light bulb in it, I'm looking at is the color temperature 2200 or 2700. And I'm also looking at the CRI anything below 90 is meant to be okay. And anything above 90 is excellent. And if you typically the welder product that we use in our fittings is a 95 CRI, which means that the color of what you're looking at is a true representation or as near as possible to what it would be if you were looking at it under natural lights. So the lower the CRI. So typically, on a food counter, we did a lot of work with Cafe Nero, and they want to really high CRI above the food counters, because they want the chocolates to look chocolatey. And I don't know the lemons. Lemon.
Uh, yeah.
Yeah. So, color temperature, which is cow NCRI color rendering index, both very important. And then of course, how bright it is. And dimming things important. Dimming is important, but only for certain circuits. There are circuits where people put them in dimmer switches in the main controls, and in my opinion is just unnecessary. pick where you want to be did this sort of conversation panel sort of thing last year, and I actually didn't know that on my lights, we had a dim switch in English flipper. And I didn't know that actually, that was looking because it
didn't switch and we changed the switch.
And now I think it's demonstrating is, you know, when we're working with 60 Watts and 40 Watts, you had a much broader range, you know, to dim it down to 10% or so. Whereas now we're dealing with threes and four watts. So it's, you know, the dimmer switch just isn't sensitive enough to get down to these lower levels. And what I find is with most dimming have led, in some instances, it works well depending on the product, but in others, it's such a blunt instrument, it's sort of like either on it's down a bit or it's off, or it flickers, which is the worst thing.
So when I'm scheming up a design, one of the considerations for the spark is whatever dimming system specified, you want to make sure it's compatible with the lamps. So what we do is we supply the specification of the of the lamps be it like a bell CI utenfor, recessed downlight or something, or a well lit Edison skateboard for one of our fittings. This is a specification, this is the list of numbers which is which is compatible with. If you don't use one of those, there's no guarantees on a flicker. But I also try and edge away from too much.
Damage is really relevant in certain areas.
To Be careful where you Tashimentioned about furniture placement with your lighting. Do you want to expand on that? Yes. So furniture placement is really key to lighting scheme I think and you wouldn't really think about that when you're doing a new build or renovating so for example, if we use a living room example if you know the size of your room and the size of your sofa and where exactly in the room the sofas going to be that can then determine where your lighting might be. So let's say your sofa is placed up against a wall you might want to wall lights on either side of it and you might want artwork placed in the middle of an artwork is another thing that I love to light. So at that point you can even start thinking about artwork and where it like tastes. How would you like to do you want to light it from above?
Do you want to light it from the ceiling with a directional so I think all of the placement of your furniture artwork can really help you it will just make it easier to plan your renovation and plan your lighting because if you want a floor standing lamp let's say for example next to the sofa. You then have the opportunity to at that stage put a floor socket underneath the sofa to hide the plug. Or if you want to read in corner in that room you can
Point decide on floorplan stage, where your reading corner is how you'd like to light it. That's an overhead light that kind of off center pendant, a table lamp and make sure there's a socket nearby. So it's really key for planning your lighting well, and even in, if we think about in terms of a kitchen, we think about the cabinets as furniture. And where is your island going to be? How do you want it lit?
Do you want it lit from the pendant from the top? Do you want LEDs around the bottom? Do you want LEDs from the bottom of your, your kind of main run of cabinets. So think just thinking very carefully about how you will use this space, the size of your furniture and where they will go inside the room will really give you a head start on your lighting sign. And I find that once the electricity comes round and you build and everyone's kind of really stressed out at that point in the renovation, and the electrician is going where do you want your light switches?
Where do you want your pendants, and it can be quite stressful and intimidating to make those last minute decisions. And that's generally where people make the wrong decisions. And later down the line. I wish like they're done that differently. So see, furniture placement for me is a big deal. I did that I had we had when we had our lockdown, we instead of having AIDS, we blocked it off and made them into the top kind of walking wardrobes.
And I put the switches in place. And to this time when we've been locked in years, I still go into turn the light on where it should be
expensive to remedy.
Just yeah.
I find it really interesting to my house isn't my thing. I'm pretty much restricted to where I can put furniture in my living room. So if I was to put clothes in the floor for the lights, they probably wouldn't nothing's going to change that on the furniture into a different place. So in bigger houses, does it does anyone have to think well, if I could plug them in finishing the plug, we could just be in the middle of the room? Do you ever come across problems, people just kind of stick with what they've got.
In my experience, I like to if it's a big room, and you've got no immediate wolf so to around you where you can have a small cable trading across and you you've got like a pair of sofas with a coffee table in the middle of it. And then maybe a like a table, a small table on the back of the like a console table along the back of the sofa where there might be two lamps are quite like that. And it's fine. But we have to either plug it in at the walls, or it's got to go in the floor. If you go in the floor, of course, there are sockets that go in the floor, which have got like a little D cutout of the lid. And you can put them in and close the floor. And it's even got a little bit of floor inlaid into the top but you've still got a hole in.
So yes, if and I can't be 16 gets more complicated or rugs. Still. I mean, some people have poked a hole through the rug and things like that. I think you've sort of got to commit to and if you want more flexibility, you perhaps have to lose that one lighting scheme, or just commit to having a trading cable, which we don't really want that there's no such thing in was in photoshoots.
I started with a photo shoot. Tasha, would you agree with that?
Definitely agree. I mean, it has to be really a really tight down scheme where you know that placement works really well for the client, and they're not going to go moving things around as soon as you finish the project for them. And kind of go, oh, you put my sofa here, but I think it will look better in the window and have the socket there. I think it's you know, you have to really think it through and, and know that that's a good place to put everything. And if they want you to do a job. So really there, I think you need to position this for me because I don't want to do it or I don't know how to make it work.
So
I often get the common that they basically want to use a space for a multitude of functions. Sometimes there'll be a dining room stroke kitchen, other times I'll have a party and they want to push the table back or the safer back. Okay, you can do that. But then you know, it does mean that we it's not so easy to introduce a fixed good scheme, you've got to go with some more flexible Yeah, that's fine. They work well in studies or kind of library areas. So we have designed two or three of the walls to have shelving and artwork and lighting integrated and the desk has literally got one place to go. Yeah, and you need somewhere to plug your laptop in or your desktop or whatever. Yeah, under the desk. So I find in rooms like that where they don't have they can't be moving things around. Once you finished that works that works well. Like that. I aim to have a room big enough to cover the floor.
Francesca when we were talking about this, you shared a story about numericals in a video about how the light changes on the rug Can you share because it related back to paint. Can you maybe share the story tell us how it relates back to paint.
Just looking for a color of light to know
They perform. And now they keep changing during the day, there is a place in spitzkoppe. And it's just
that if you go there at midnight, midday there is actually completely white because the sun's just about. And then as about two o'clock, four o'clock, six o'clock, she's just seated, the Europe just started becoming very colorful, and you know, it's four o'clock and becomes brown, and then six o'clock he becomes around, and is always obviously the same rock. And this is just showing how the light affects the color. So in a row where there is a lot of light is actually quite a good idea to use color. Because otherwise, you know, white example here of White can be very striking, and especially in light of England.
And actually, so it's always better to have where there is a lot of light, I think it's better to have color, because then at night, it becomes also much more interesting to me, the artificial light is much more interesting to have some colors than white.
And you go, I went to the Caribbean and I wanted to come back and I wanted to do this collection of turquoise and aqua. But they don't work here. Because again, in the Caribbean, there is a lot of light, and the deal was completely different light than England. And in England, it's actually very cold. So I make my own range of colors. And with all the views and all the cool the colors, I tend to add it to be to birth, which is and that gives that takes that coldness away. It makes the color much more interesting. Any, any, any becomes very usable also in his life. That's really interesting. So you're playing soccer around the world, mainly in England, when we have shipped them pretty much.
Yeah.
It's quite interesting. So I wonder how other people like if you painted one of your safe money, or turquoises here and someone had in another country, you could look completely different than I did a job in Ireland. And we chose all the colors here in England. And then when we went to the house, they were absolutely wrong. Because the light was so different. It's very clean. I mean, there are a lot of love in Ireland, because the light is fantastic. But you know, I had to live in the property and just every field
is what we chose was absolutely wrong. And then when we got the light and the house was fantastic. It was so easy to transfer color from one country to the and it's not even far.
Between anybody there's this thing that actually the client is leaving home. So the scholars have traveled the world and you know, Kong apparently they look amazing, ya know, she was so happy with it with them. But when we went there, they were all just not right. And it was just a question of
adjusting it to be adding something did you tweet, like you added colors to the existing codes to get it right for her? No, I don't need in my head. And then they come back here. Because you can make everybody can make a color. But if you don't have a color machine keeps the formula you can reproduce. So that is I think is the most important about somebody's base calorie, you're able to recreate your color because you have a formula.
And so I made my own colors.
But to make the whole thing I came back to London use like our machine in my mind my thing
when talking about having control over your life, so Simon, it's not just about choosing the right light for the right room, there's more to it than that you want to explain how you can have control over your lighting. Okay, so the key for a well, set out scheme is layers of lighting. So the use of picture lights, I love that they're often in a room you've got typically a location in that room, which will lend itself to a picture of some description, I think to illuminate that picture will give us one layer of light, we then get another layer of light, maybe off some table lamps, side lamps or standing lamps. And then that's more lights, possibly a pendant chandelier, and then recessed lighting if it's necessary, and I tend to use recessed lighting to fill in if I need to. I like using LED strip but I like to be careful where I'm going to use it, particularly when we've got like maybe gloss paints and things like that and it's reflective. So the key is to get as many layers in as possible. And I think if those layers are to some extent independently control what you're able to do take for example where I'm staying in Hackney at the moment I've got a an apartment and I've got a kitchen area with a dining area
Big glazed area, then with a couple of sofas in it. And then there's the bed off to the side there. And it's a really nice big space. And all of the materials the builders have used a beautiful is well set out, but the lighting is terrible. Yeah, so they've just got a handful of 13 amp sockets scattered around, where they've got things like angle poises, and things like that, which actually, when you've gone around and switch them all on, it looks really cool. But you've got to go round and switch each one on that should be straightaway on at least two five amp circuits. So they've got a switch on the wall, where you can say, right, I've got kitchen area, I've got sitting area, I've got bedroom area, and you've got 235 points. And then in addition to that there's some beautiful artwork, but none of it is illuminated. Now if we had some pitch lights in there, we would have that sort of more low level gentleman's club environment. And that works particularly well in a sitting area. So like where the sofas are, there is artwork on the walls, it's not illuminated, I've got an anglepoise lamp, which is pointing at the wall, which gives me that sort of like muted light, which I really like. It's just missing picture lights, and lamps on a five amp circuit, ceiling heights not quite enough to put any pendants in. Although there could be some over the dining table. There's no kitchen island, and they've used under cabinet lighting. But there's a reflective wall surface where the backdrop splashback if light from the kitchen worktop and it's reflective, and they've used LED tape without an extrusion. And you can see the individual dots of light reflected in that reflective surface.
So it costs much less, the application costs much less. And basically means that the lime is cured for a long time to make lime wash. If you take the lime stone, you're putting you in Reiki powder, you put it in an incredibly high temperature, and then you let it come down in water. And that process is called the hearing of the light motion, the more he stays in his water, it becomes an hour live also stay for about one minute, it becomes really sick and is really, really well. And yeah, it's it's a wonderful, I love it because it's just, you know, it's not a being defect is not created by a man who's gone with their heart, it's just brushed on. And then he dies, ladies. But it's not ideal in a corridor or somewhere where you crash again is because you can slide the powder off. So we created the Eco mansion, which is again completely plastic free, not so that and it's very, very, very absorbent of the light. So even if you shine a light on top of it, it doesn't bounce back as plastic paint or glossy paint.
So creating that velvety.
Line was on a bigger area, the color is quite uneven. But it's natural, like I I don't know if you remember, but color washes are now actually coming back like one color, one quarter one color and then you go off. And that can be a need to be contrived is that line wash is completely natural. It is for me, it's still one of my places of like most except for my corridor with a shaggy dog. And he's just it's just to complete it. The problem with this paint is that water like the line washing the equal also are fantastic in the bathroom, because they allow them. When you see a bathroom, there is a lot of moisture. Normally, if you use natural paints it bubbles up because it's the plastic that is not able to enter the moisture. So these paints are actually the end the end of water really well. Yeah, absolutely. Absolutely. Like the best thing to put in a bathroom is something that is. So yes.
You also have paint your color charts, yes, which there are some vaccines. So you get do this anymore. When people want to know what color looks like, when they see on your website, because
most of the time you see colors that then they don't correspond to reality. And I think is really important. We are the finance company ratchet introduced the a4 pages in color.
And then if you want you get sample board, but if you have a very large selection of color colors, the you're choosing from I think is better to start with something like an a4 page or the actual color. Because I hate wasting. I don't like when people are on the 25 support. Because obviously but then, you know a good idea with some reports, I always tell my client be the terracotta pot, you know, do something you know, you can paint the frame, and don't throw it out. Because it's a shame
I give my to an artist. I get a lot when we've brought in lighting schemes. If someone is maybe just doing a makeover on one room, how do you kind of recap you can't really rewire everything. You don't want to be ripping out carpets and things. How can you rewire with that will change the iris? How can you rewire without rewiring your cover?
No, you can't really?
How do you approach that? Yeah. So
I mean, there are things that you could do. So for example, if we don't have any more rights that we don't have in here, it would be possible to secure some more lights to the wall. And then you have a trading cable that you plug into a 13 amp socket. And that kind of on trend. Yeah, is Yeah. And it's that easy. You if you were to sort of ask us for any of our products, we could prepare them with a trailing cable and a 13 amp plug on the end. be no problems on Yeah, it's easy. There are also ways of like you can buy little things that you use a decorative flex and you take down a wall and you go to the left or the right to it and then round another one into the socket and actually almost make a feature of it. It still looks like you've had to Photoshop together. I think you can also use extension leads we can actually make an extension lead using the decorative flex so you could pick a nice flex and some charm Not to disguise it as easy. Obviously, if there's I was talking to Sharon earlier about putting a chandelier in a hallway.
And it's a lot easier because you can lift the cup in the floorboard upstairs and have access to the lighting feed that's in there. And that isn't too much work really to get us closer. Sometimes it's more complicated. If that like board it out as well, that can be quite complicated. But if it's floorboards, you can lift them up, you can see the joists and you can you can basically just rework it from there and fairly cheaply, I think to do the same with the floorboards as well as on the ground floor. Yeah, you can Yeah, no problem at all. I think the other thing to do think do is, and this comes, maybe there's a bit in terms of product selection, when you're first setting out is if you use recessed downlights and if you use something like a Gu templating, where you can actually replace the lamp if when you finish the project, you don't like the color temperature in there, you could re lamp it with something much warmer, which will alter the ambiance dramatically. So those are my only terms so that you can do it, you can do it it's just a bit of a faff we talk
a lot about lighting and we talked about paint but I think the same to you guys if someone is really stuck How do you help someone choose to paint color that's right for them with the kind of the light in UK we're saying it's very gray here and is there a way I mean you probably have different aspects. So Francesco How would you help someone when they come to you saying I want that color,
I always think that your colors are so important.
It's kind of like that from the past is that
so I don't really in France and I be a color must make you feel comfortable. And I think that as a kind of consultant when I go out and help people out I always ask them what do you like and then we work with that. And I always think that the important thing about a color scheme is that the color flows and it's important not to create too many contrasts. So if you use something LEDs, if you like strong colors is much better to carry through colors of the same tool rather than using a very dark color and a very pain color because that can be quite tiring and so it's better colors go you know they it's all on the same tool and that creates a much more peaceful environment. And you know then there are so many like the skirting boards now, you painted the skirting boards the same color of the water in paint them off why to what do you do your depends what you want to achieve I personally like to use be very simple colors. So I like to paint everything the same because you create a much calmer environment and then you can do the talking with art we can be talking fabric textile, you know refer each other if I keep it even using very strong colors but keep it or follow the correct for me that is the most important thing. Whether or not trends as such because like
like painting the ceiling not painting
the ceiling is actually it's great. I love it. But just to say no,
I was rather ridiculous when you say you know this is this year the color is green. What if I don't like green and I am Friday? You know, like for me that is a little silly.
And it's much more what makes you feel comfortable. And you know, I've seen I have local designer that the order colors that I was literally horrified that he so beautifully and especially I've worked with a designer, she used this strong scatter colors ever but they are all of the same strength. So actually to go from one room to the other there is absolutely no style. Everything flows beautifully.
We talk about the same time you mean like if it's it would be all
pastels or it'd be all Yes, yes. I think that that is very important because usually if there is a wow factor you get bored you know if you go wherever you go, wow. Wow, this is awesome. You know what I mean? Like it's lovely at the beginning and like I went I went for a consultation not long ago and I when I went in I was like wow. And then I realized that everything was wrong. Because there was so much contrast and also
try to simplify recovery closely
to you know to clarify, you know, it's it's much better just to be simple and because then you can get again you can get people to buy a lot of colors. I have some kinds go okay, let's do this is the view of watercolor nice and Number two, it becomes quite complicated and I think that exception for everything but I think that normally you want to simplify make it just make it very relaxing. Yeah.
Did you tell the client that there?
Well
remember when he told me that he wanted to have a you know, it was a huge kitchen and he just, we just simplified. We just use two colors. Any Californian island for the island was wonderful. But they had about seven colors. Just to know what what to do becomes too much.
Yeah, it's like when people aren't sure how to brighten up a space and they got off at yellow because the only color that can brighten up the space like people don't always know how
it's a fantastic color, but you can also be terribly wrong. The wrong shade. Oh, yeah. approaches. Yeah. And you know, like for instance in the bathroom, it's a very good idea to use colors that are flattering. So yellow is not the most flattering color. Or you know, as it is. You just have to think about you know, in the morning you know, so orangey shocking, pink, pink, that something that makes you grow like like sunset time there is the best lighting features and yeah, no, yes, that pink you go going back to the spitzkoppe Rocky, Naveen is something that is flattering, I think is very important in our form. And, you know, I was again discussing with a designer that she used in Nasik for me was how in which was in the bath in the bath. And it was one of the most acidic Canada I saw and it was like chemo. It's a project. But the house was wonderful, except Well, I have quite strong colors. But again, they're all totally correct. Like my room is brown. My bathroom is essentially grayish.
But it's lovely. My bedroom is green with an orange news of bad news by
envisioning your tiny little being Yeah.
During the 16 hour that I am not recording, it's a good idea to use types horizontally stripes, three stripes, they make my corridor much wider. And the striper again, it's pretty much the same strength of all the other roads the only rule that I would not even I mean it's completely personal. Now there are a lot of people who love to work in kitchen or are very loud kitchen. I personally my taste prefer to have a kitchen to be quite quiet because we food. I think that that is the colorful part of the of imported kitchen. So I prefer more stone like earthy color teachings the future too because most of the food come from the earth. So it's quite a good idea. But I personally have not made about Blue and food. That is why things like okay, is such a personal I mean because we all have opinions
it's the beautiful thing.
You know when I say a word because people go oh, you should never do that. I even need the calories. Why am I to tell you what to do if it makes you feel good? Do you have go find you always ask watch. First question is What is your favorite color? Because if I tell you right. Always go. Yeah, go Yeah, do you like and don't be afraid. And another thing, never ask too many people about opinion or color because I was more in the client in Chelsea. And we have covered all the counters, because she would okay. I usually like to set it off on passive antastic and then she would call her two girlfriends. They didn't like so we couldn't tell you anymore. So we were we flew and then they didn't like blue house.
That's quite interesting, actually. So I'm going to ask you a question about that thing. When you have a client who say they're a married couple and And the woman is gonna really like these colors and then the husband comes in says I don't like those colors How do you
do it sometimes I like for the husband to be the government citizen so we can have a peaceful because yeah like it's quite important Yeah, most fatalities
I'm not going to ask you what color your mind brings, I'm gonna ask you what your lighting is like in your kitchen, we're it's got all the big windows. Yeah, so
we have under cupboard lighting in the large kitchen and I've got like a whole corner of it, which is low level cabinets and high level cabinets. And I've actually one side of it, I've illuminator under that, which creates a nice light across the worktop pairing food. And then I've got a large wall where there's no eye level cupboards purpose didn't put any on there, but I wanted the worktop lighting to be similar to that where there is the eye level cupboards. So we've used a different Industrial Light, which is one of ours, and I've overused it and space them at like 4050 centimeters apart. And I think, if I'd have been just looking at the plans is obviously not necessarily to do but I really like it. So there might be five, I can't remember how many might be four or five of these in a line. And they're sort of abnormal, like height, but pointing downwards and they're creating a similar glow over the worktop as is the under the LED strip is on the cabinets. And then I have an island where I have my island is square. And I struggle with a line over a square.
So I have a cluster chandelier over that, which is probably about six centimeters round. And I can't do a line and a line, you can have a cluster in a chandelier, one description, and then it's okay to have a line of pendants over there. And I have woven Willow pendants over the dining table. And I love the intimate linebackers. So the bright light is down that the kitchen end. And then over the dining table has been more muted. But what I've done, which I really love to do, and to do near our home kitchen projects is where you've got a line of cabinets, and there's some degree of symmetry to it. Just out from the face of the cabinet by about 150 millimeters. You put a one watt LED recessed downlight that is adjustable, and you just tilt the head so throws a scallop of light down over that cabinet door. And you can do that like where you've got like double door refrigeration, you can do all ovens. You basically in the ceiling just in front of them, you throw a sculpt of light and the front of the cabinets. And that light bounce back into the room is you get it's a lovely color and it creates a nice ambience. And then of course, I have a big recess where the weapon, auguries and there's extraction in there. And I don't really like the light that comes out of the extractor. So I've replaced, I've not replaced it, I've left it in place, but I never use it. And on the same lighting circuit, I've actually put some recessed lighting in there. So that when you come in and you switch for the lighting that is underneath the cabinets, and these wall lights that describe the recessed where the arguer is that comes on to. So you get this like, non obvious lighting coming on. So I tend to group up my circuits like that. And I like it. Karen says it's not bright enough.
I'm very aware of the time so I'm just going to move one person's touch. We have already talked about bathroom lighting. Do you want to maybe touch about how you would do bathroom lighting scheme when you're doing project?
Yeah, sure.
So I'm going through quite quickly, I think just the kind of main things I look at or do when I do bathroom. So I think in a bathroom. This is where I do actually like recessed down lights, because you do need that bright light a lot of the time. And again, I always put that on its own circuit. But in terms of kind of practicalities, what I always like to do is like both sides of a mirror so where you're doing your makeup or whatever. And the best way is to light both sides so you don't get shadows so that really lights the face well for anything you need to do shaving or makeup or whatever. So those are the two things I always try and include if possible.
And then when it comes to the kind of more luxurious things I do love recessed shelf in a shower or next to a bar for all your products. And I do put the recessed led in there usually, I think it's sometimes he will just stop on its own if he can't put that on its own circuit is enough if you want to kind of have a relaxing bath or just go in there for a short amount of time or whatever you need to do. Just do it. and not bump into, is to just have that kind of one lovely glow, that's quite relaxing. Actually something else that I do like to do and bathroom design is if there's a really nice bath that touches the floor as it not on legs, I do you like to light the floor behind the bath as well. So whether that's, again a nice warm glow led, or I have even used in my own home, I used to kind of outdoor, you know, lights that you put on decking, which is used to have those I had a really nice kind of where the brass look. And so those are just kind of in the floor, but hidden just about hidden behind the laptop. And again, if you just want to kind of have a relaxing laugh, that's, that's quite a nice glow going upwards. And then like someone was saying, as with the recessed light, and that if you have tile, it doesn't reflect the kind of strip light into the title of the title. So those are my top margin lighting things
I've tried to do, so that
everyone has just gotten one little tip on the bathroom knows that a lot of people will specify IP 44. And it's generally not necessary that there are obviously signs in the bathroom. And it's very easy to work out where they are. And a lot of people just say overnight people's full scale in a bathroom. And without fittings, they send five pounds more the ipv4 version. So the rule of thumb is, is 60 centimeters outside the top of the scene, which is where they should be anyway. You don't be don't be fooled, unless there's an open shower here or a regular.
Actually, something I looked at my list is in bathrooms, I do like to include something a bit unexpected. So I've actually put a few 100 lights. So again, as I'm saying if you get one, that's the correct, you know, hasn't quite to use for bathroom is to just put something unexpected like a pendant, maybe like the bath or by the mirror or something and just something a bit unusual. And I feel like it's the room quite a nice feel not to just have the kind of clinically required lighting, so it feels a lot warmer cannot be bumped into a couple of questions.
I'm very well, we haven't actually talked about any of your new home wares that you're just launching on the website itself place studio.com Yes. So do you want to just talk about that before somebody downstairs so you might see them already? Yes. So
it's, it's brand new, I went on the website just a couple of weeks ago. It's a combination of my own design. So the artworks I've designed myself as a sort of graphic design. So I still kind of like to glue that into my work. And then we've also got the two new candles, which one is Cape Town is kind of fresh, and bracing and the other one is called London and it's cozy and warm. And then it was just a mixture of really small collection of curated products, which I sort of love and work really well with our world with the interiors we design and you get 10% off today if you want to buy anything else
questions, Sherman is off
Francesca, your pace, you mentioned the velvety one. The hallways is no longer yes
or not scannable. So and I love it when you go to a restaurant and there is a glossy plate anyway, because if you chip the wall you cannot read. So like if you go with a piece of luggage and attach it and there is that black stripe even with a glossy page or with a soft sheet page, you see them that problem. But the negative side of these kinds of products is that they're not they're not paying for it well you cannot touch them. That is that is what you seen photos for European people to wash them or is unconceivable is very much of a big thing. In in Europe, most of the times are ladies anyway, that all kind of ecological not plastic things. So just allows them to kind of weather a little bit of Mark and actually the first time it happens if you kind of leave with it. But eventually if you want to touch it up you just have to redo coal on that. So you know that is the thing that probably Yeah, it depends very much what what you want to achieve. you normally eat like I sell my sample boards and my kind of charts online i don't actually sell my paints online because people love the idea of the limewash at the moment that is not possible if just go for the most unequal logical
glossy when you just want to show here in lovely
now you just different because I do I use them in every room except from passing points
well then you can you can go yes yes
I'm currently doing a lot in my last project, when deliberately for very safe color. Because I was worried about the irregular sheets, ceiling shapes, how to add them together. So repaint is safe. It's very pale color. I like to go to something dark. cozier is time round in that situation obviously.
Everything just go all the way.
Even if it's as strong as a dark option you have question? Lisa? Oh, yeah, just Tasha question. Some might weigh in as well. It was around right at the beginning you asking about you know, clients, whether they ever came to you with their thoughts. As an interior designer, my experience, clients never really think about lighting unless they've seen an amazing light they want in a hallway or near this independent design tech, they don't think about lighting. And we talked to them about how we want it to look and feel and the ambiance of the different scenarios. That's how we get our there is a lighting in that because they haven't thought about that. There's obviously a cost to lighting. And whereas in their heads, they might be thinking now I'm watching for the sofa and the flooring, the paint, and overhead lights. And then we come in and we say, Leslie, I think you need for wall lights, picture lights. And I'd quite like to do this, I hope you know, so we can't we have a more complex scenario, which is more costly, because we want, you know, actually incorporating scheme. So okay to a question. That is what generally happens. How do you tackle that budgetary side? Because I have had occasions when clients will then be like, Oh, but we don't need that. And you're like, No, you really do because it will make or break at all the other work that you've done, do you come across that? How do you tackle it and explain to them how important the lighting is?
I think me It depends on what stage they're at. So in this scenario, they're doing just kind of interior design or they're doing a renovation or they're going to be breaking into walls anyway, just in
general kind of how you tackle the budget side of it when it's not something I think a lot of times think about.
Yeah, I would usually bring it up right at the first meeting and make sure that they're aware that you are going to include lighting and