Going to a prop house for the first time can be a daunting task. Have you ever been? They're pretty amazing places full of random homewares, all kinds of furniture and every conceivable style of china, glassware and cutlery- not to mention life-size Shergar  (yes the horse!) Jukeboxes and Elvis models!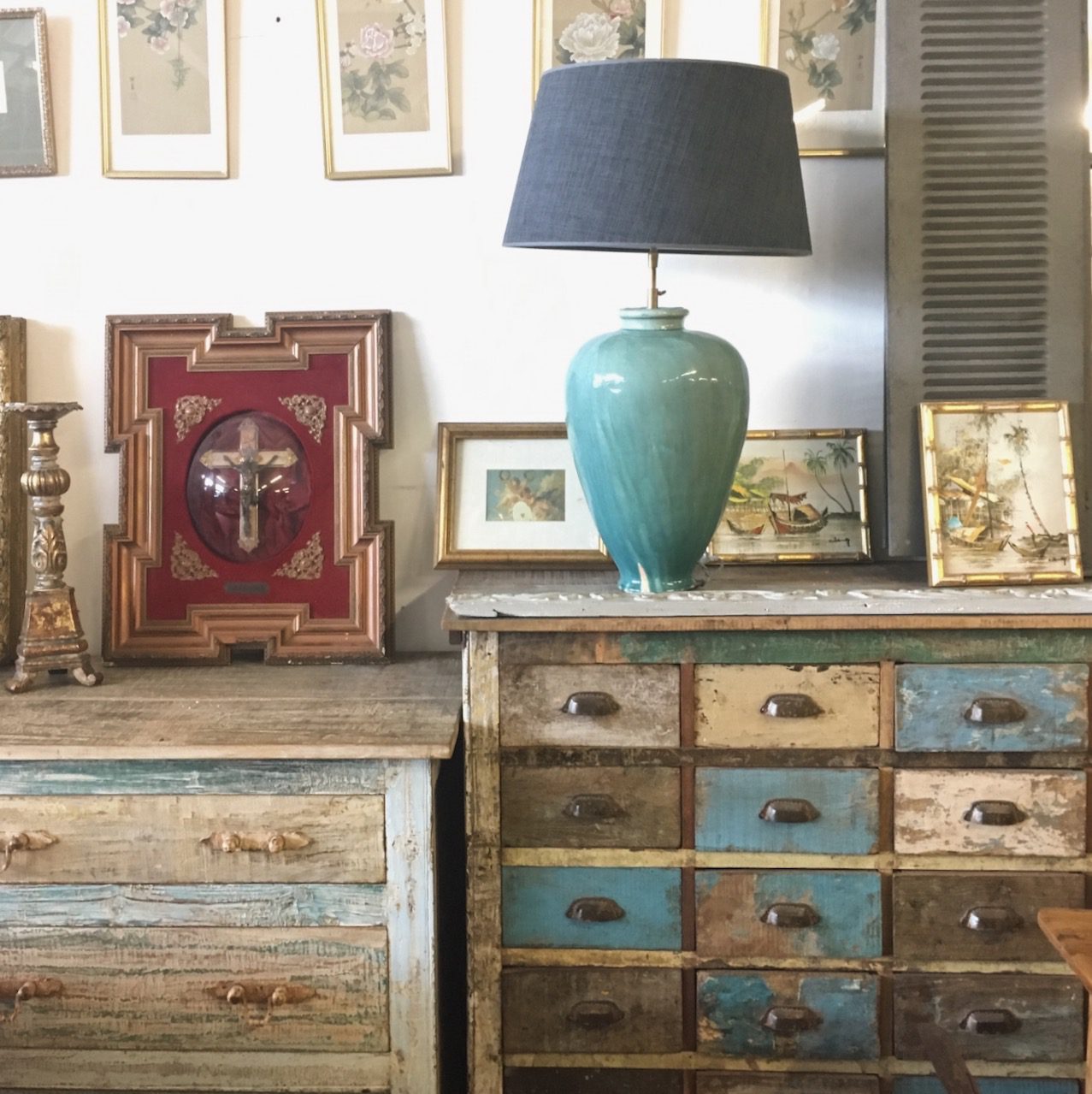 After recording a Freestyling Friday Facebook live session with Sara Bird last Friday (coming to a podcast near you soon!) the topic of how to visit a prop house came up. As we had limited time I thought a blog post would be a better option for explaining how to visit one, so here it is. 
My first time.
It's funny how quickly you forget about those scary emotions when you first go it alone. I remember how nervous I was on getting a fantastically big freelance job a month after I left Woman and Home. I was commissioned to style a pull out magazine for The Mail. It was all homeware offers and it was a massive ten-day shoot covering most rooms in the house. I was nervous about the size of the styling aspect but the prop hire was one of the things that were freaking me out most.
The budget is HOW MUCH?!?!?!
On being told I had a budget of £6,000 – yes £60000! I had no idea how I was going to finance this. I must add that this was the first time I was given such a whopper of a budget. Having never done this kind of shoot before I thought I had to lay out for the props myself but it turns out I should have asked for an advance – something I didn't find out till later and once I had put it all on a credit card. (They did pay me the advance quickly so my credit card would be cleared in time after the shoot – thank goodness!)
Up until this point I'd paid for prop hire on a credit card. I just assumed that was how things were done. They are not.
Get an advance or get them to pay!
Now I don't pay for prop hire at all. I always ask the client to pay. It's so much easier and makes the expenses on a shoot much more simple. Some clients who use a particular prop house often have accounts and you literally organise the loan and their accounts department takes care of the rest. 
So what's the deal?
 I've been asked how to go to a prop house a few times over the years by other new freelancers. It can be a kind of a confusing place. There're so many forms to fill out, payment to organise, couriers to be booked and that's not even mentioning how you actually get the products you want. I thought it might be useful to do a video while I was at the prop house. A kind of walk around so you know what to expect when visiting for the first time. You can see that at the end of this post. So here's what you need to know.
10 tips on how to hire from a prop house
Get an account : The first time you visit a prop house you will need to set up an account. This is pretty simple. They just want to know who you are, what your company name is, address and contact details. They may ask for all of this on headed paper. You have to sign their T&C's form which is basically once you're set up and hiring you'll be asked 'Who's the hirer for these props?" and you can just say your name rather than the company you're hiring on the behalf of as they probably won't have an account.

Sign in. When you arrive at the prop house don't forget to sign in – and then out. It's a safety thing. You can then walk straight past the reception desk and have a look at the props.
Trolley's: Most prop houses have trolleys or baskets for you to put your props in. It's a bit like shopping where everything you need is in one place and you have to give it all back again afterwards. At Superhire there are trolleys that you fill. Once you have selected everything you need you park up your trolley near the desks at the front where the guys who organise the loans sit. On their desks are stickers. Write your details: Name, job reference, company hiring from(client), loan length and the all-important collection date on it and place it on your trolley.There will be a LOT of trolleys. Park up then bring your props to the attention of one of the staff. They need to know that you are there or they might not realise there's a new loan to be arranged. Usually, they'll just acknowledge you, ask which trolley's yours, ask who the hire is for (you/client) and when the collection is for and then you can leave.
The paperwork: Once you've left the prop house the staff will go through your hire and list every item on a hire sheet. This is then emailed to you and you can see what the loan is going to cost. They charge 10% of the value of the item. This is where you agree to it or ask for items to be removed. I have had to remove super expensive items in the past as they're cheaper to buy. Ask for an updated invoice if you remove items.
The payment: Once you're happy with your hire list the prop house will need a PO on headed paper to be sent. This is an example of a PO. It needs to say who you are hiring from, the date you are collecting and the date you are paying and the total amount including any credit card charges. The client must be the one who sends this on headed paper. It is basically the hire company's

  

t&c's saying that you will take care of the props and are insured and if anything gets damaged you are responsible for repair or replacement. This is why the client MUST be the one to send the PO. They must be responsible otherwise that £1000 antique vase that gets knocked off a shelf is your responsibility to pay for.
Once the PO has been sent the hire can be paid for. This is usually done over the phone with a company credit card. Most prop houses will charge £5 for paying with a credit card. Payment can also be made by a BACS transfer but make sure that it will clear before your collection date. It's also good to know that there's a minimum hire fee of £25+VAT so if you only need an item or two it can be less expensive to buy it – especially when you take into consideration the courier costs.
Get your timings right . You can hire props for the next day (or even the same day if there are only a few items and you're taking them away with you) but the guys who check it out won't be very happy with you. Always try and leave at least 2-3 days between selecting the items and collecting them. You can organise loans a week before your shoot. Stylists who set up TV programs book whole room sets months in advance.
Be organised: Make sure you have a list. Pretty obvious I know but in the beginning, I went with one long list with everything I needed for each shot on it but now I put everything into sections so all the china on one list, furniture on another, random stuff I need in another-  not all jumbled up. That way it's easier to walk around and find things without it taking all day. I learnt the hard way.
It takes time: Expect to be at the prop house for a few hours. Prop houses are like time warp machines. I don't think I've ever borrowed something and it hasn't taken me at least 2 hours to get it sorted. If you're borrowing furniture AND accessories it will take some time to plan and organise travelling between different floors.

 


Hiring furniture will often mean you will need to source from one floor then go and physically get someone who will organise your loan from another floor, take them back to the furniture so they can label it up then go back to their desk to see what it costs to hire. There can be a lot of to-ing and fro-ing!
Returning props: Most prop house loans are for a one week hire. Go one day over and you have to pay the whole hire fee again. I've negotiated discounts on a second week's hire fee when props were returned on the 8th day but it was tricky!
Share the costs: Make sure the client knows what the courier fees are going to be. Clients who are new to prop hire are often surprised by the additional costs. As a very rough figure on a recent shoot, my couriers recently charged £475 to collect from Superhire prop house, hold overnight, deliver to a London location in the morning then collect from the location later that day and return to the prop house the following day. Sometimes it's just cheaper to buy the props.
So I hope that gives you a clear idea of what a prop house is like and how to navigate around one and hire your props? 
Superhire have recently moved but here is a video I did at their old premises a year ago. It will give you an idea of what the prop house looks like.
Still got questions? Just ask them below and we'll do our best to answer them.
Till next time
EmmaMT x