Divine Savages X The Natural History Museum: Exciting new wallpaper collection
Every now and then a new collaboration comes along that is just perfect. This is one of those times. Let me share how it all came about…

How it happened
When Divine Savages dreamed of who they would most like to do a wallpaper collaboration with The Natural History Museum was top of their list and never ones to sit on their laurels they made it happen! 
They emailed the museum with some ideas and of course the museum loved them, snapped them up and the rest as they say is history. After visiting the museum to gain access to the archives and view the building seriously up close the designs were finalised and now they're here for you.
I was lucky enough to be asked by the lovely Jamie and Tom from Divine Savages to help host their house tour for the launch of this collection a few weeks ago. So I've had a look behind the scenes, I know the research and I can tell you every colour way each design comes in. But don't ask me which of the five designs is my fave as I just can't decide! Let me introduce them to you and see if you can choose just one fave?
But first…
Wallpaper styling tips from Tom and Jamie of Divine Savages
Before the house tours launch I asked the guys for their thoughts on how people can best use their new wallpaper collection in their own homes and here's a few of their great tips..
How to use wallpaper the Divine Savages way
Ditch the standard feature wall, it's old news – embrace wallpaper a little more and think about wallpapering a corner of a room. It helps to zone a space

Utilize architectural elements of a room – highlight these quirks with wallpaper, maybe a sloped ceiling in an attic space, or a quirky angled corner

Use wallpaper on wardrobe doors/built ins, or within cupboards themselves like House of Hipsters did with our Crane Fonda

Don't forget about the fifth wall – wallpaper the ceiling

Bathrooms or cloakrooms/WC – the perfect place to go bold and make guests smile – just avoid using areas that are impacted by showers and baths.

Cushions – layer up on sofas or beds for that maximalist look, or instantly update a favourite chair 

Fabric – endless possibilities in upholstery, fashion (like my Extinctopia skirt and Jamie's and Tom's shirts for the house tours- seen below) and curtains. Our fabrics can be treated to be fire retardant for upholstery.
---
Introducing the new designs …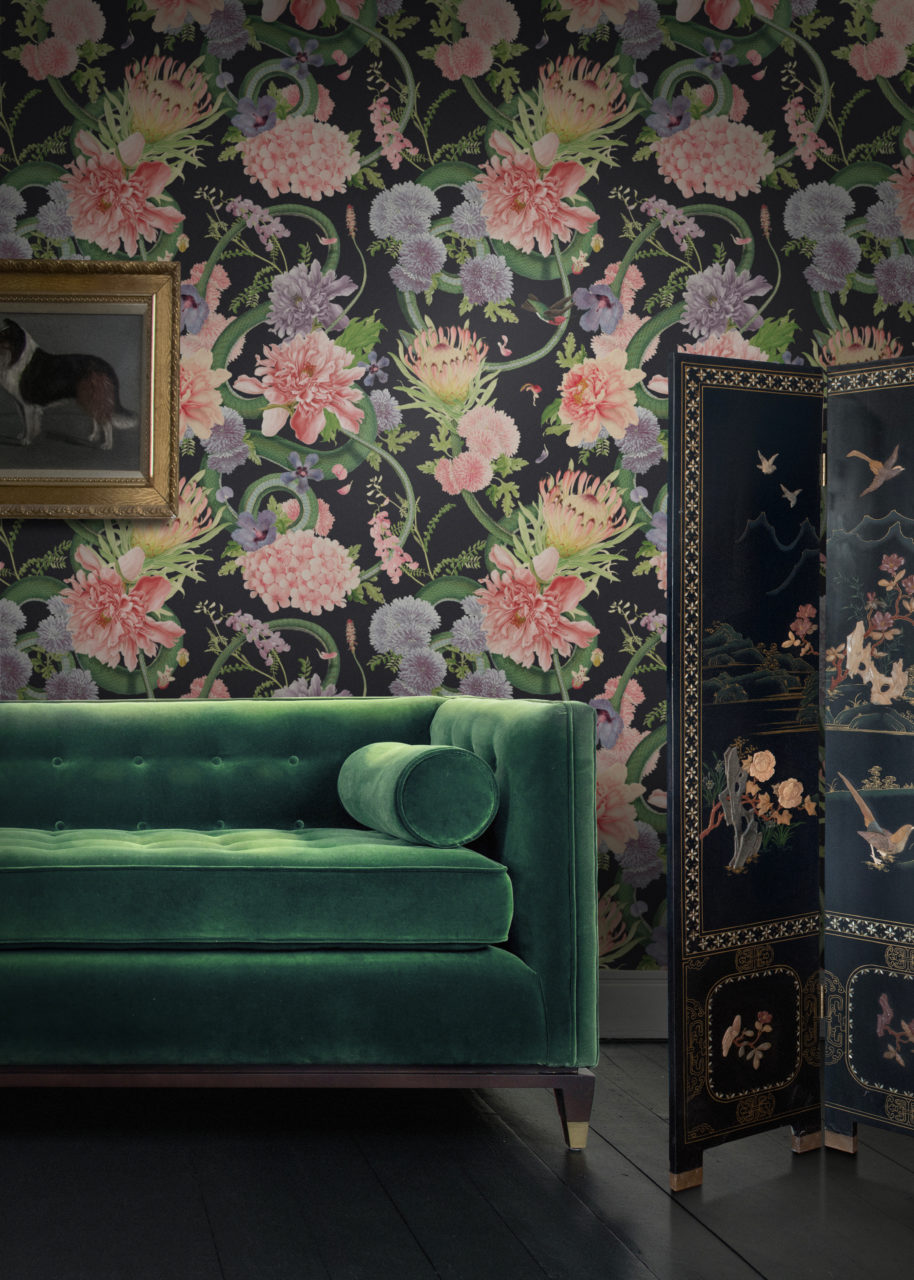 This design is a blended mix of botanical and reptile collections. The flowers are taken from illustration by the Austrian Bauer Brothers, Franz and Ferdinand who were two of the greatest botanist illustrators of all time. The Bauer brothers were artists back in 1700's and traveled the high seas to discover far and distant lands.
They did detailed drawings of specimens that were discovered on their travels including flowers, fruits and plants. Each drawing detailed the specimen from seed, to buds into full bloom. The brothers became very accomplished artists and produced thousands of  pieces which today are in the NHM archives. One of the brothers went on to work at Kew for the rest of his life and the other went on board the HMS Investigator to explore Australia. Their illustrations inspired the Forbidden Bloom design. 
Some of the blooms included in this Forbidden bloom design are the King Protea which is a fave of Jamie's and the China Aster.  Tom and Jamie had been wanting to do their twist on a floral design for some time and they  couldn't help but play on the vines and leaves with the serpents, can you find the serpent's head?
Forbidden Blooms available in black, deep blue blush and peppermint
Styling tip
This bold design looks completely different in each colour and will work well across many spaces but the oversized blooms with the serpents head will create the biggest impact in a small space – a cloakroom or bathroom is perfect for adding that wow factor.
This beautiful tree design is inspired by drawings dating back to 1786 of botanical specimens of Oak, Palm, Weeping Willow and Cedar. Arboretta consist of long lost archive drawings. Tom wanted to bring these illustrations to wallpapers for the very first time, keeping them as true to the originals as possible.
"It's all about having a love of trees and the way they balance our fragile eco system"
The original calligraphy was also an important part of the drawings and they decided to incorporate this into the design too.
This design has textured paper as the guys wanted a tactile surface to bring a new element to their collection, making it feel very natural and in keeping with this delicate design
Arboretta is available in  Charcoal, blue, berry, Sage
Styling ideas
Arboretta is screaming out to be placed in a study or garden room given the academic and botanical references. It would work perfectly paired with heritage paintwork, wicker or cane furniture and plenty of house plants! There's always room for more houseplants don't you think?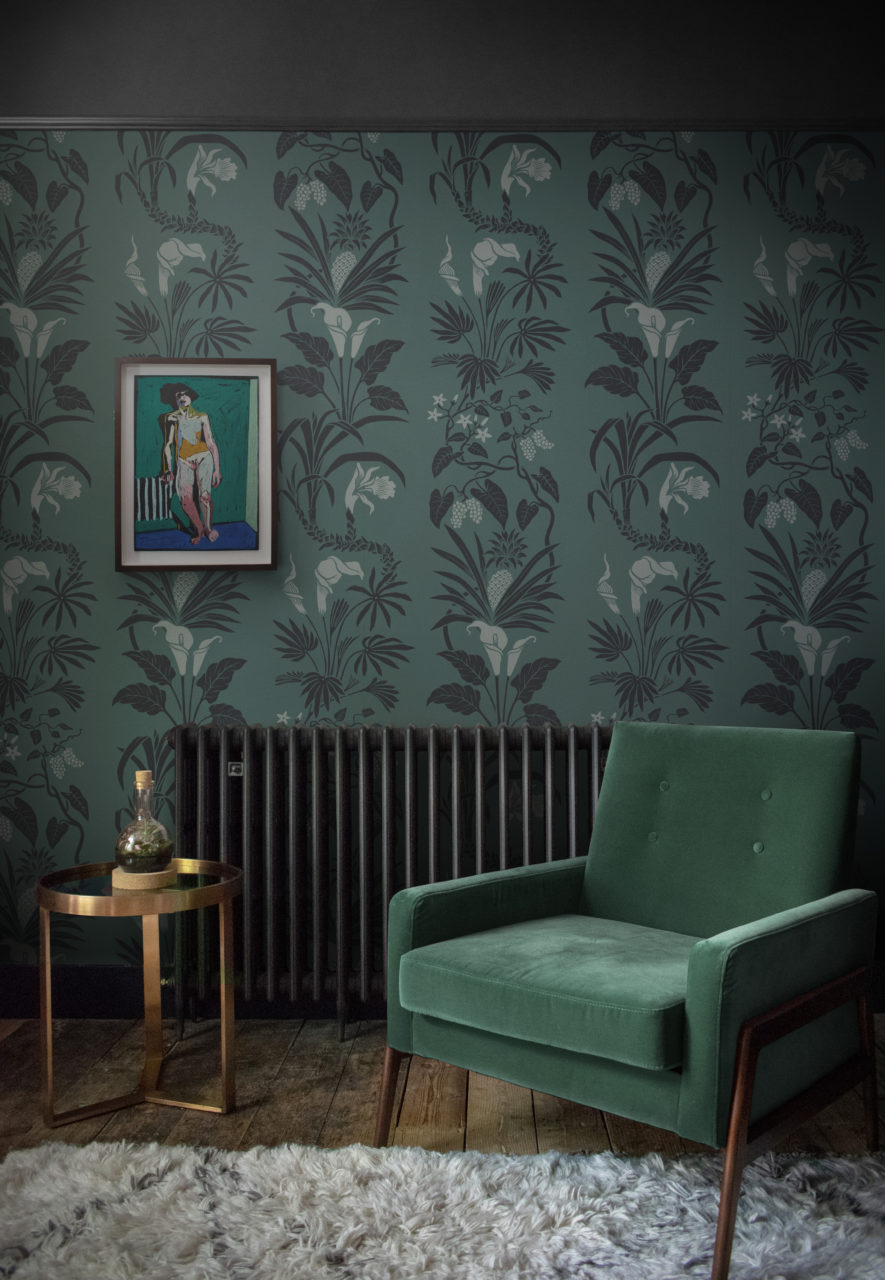 When you first walk into The Natural History Museum the last thing you think to do is to look up but if you do you'll see fantastic paintings and carved tiles on the high vaulted ceiling. The 162 pieces of art show plants from across the world which were discovered by explorers. They were all hand carved and painted and have been there since the museum first opened in 1881.
The Botanize design celebrates these illustrations which are all about the diversity of life on earth and those working to protect it. This modern version of the design includes a subtle crackle glaze effect which alludes to the aged tiles and panels of the grand ceiling
Botanize is available in  Blackberry & Fern green, Heather & Lily Blue
This Botanize Heritage design is similar to Botanize but with an intricate detailed border inspired by the border found around the painted wooden tiles in the museum's grand hall. Divine Savages wanted to embrace the heritage of the museum and it's treasures inside.
The texture of this design is perfect with it's crackle glaze effect.
Botanize Heritage is available in Palm green & Plaster pink, Whale Blue and Peppermint
The beautiful Boranize Heritage Grasscloth design is printed on a rich, textured 'metallic grasscloth that's reminiscent of grand tapestries. It has a depth that alludes to the history behind this design and will bring real luxury into any home
Available as a luxury bespoke mural with extra wide panels at 89cm which can be printed to the required drop size making it made to measure.
Botanize 'Heritage' grasscloth is available in- Whale Blue, Palm Green, Plaster Pink andPeppermint.
Styling ideas for the Botanize wallpapers
This design has a huge nod to the glamour of the 70s and with that it's hard not to set it with rich textures, velvet curtains for a bold boudoir feel, herringbone flooring, vintage sofas, big guilded framed paintings, ornate wall sconces. This will help to embrace the heritage of this gorgeous design.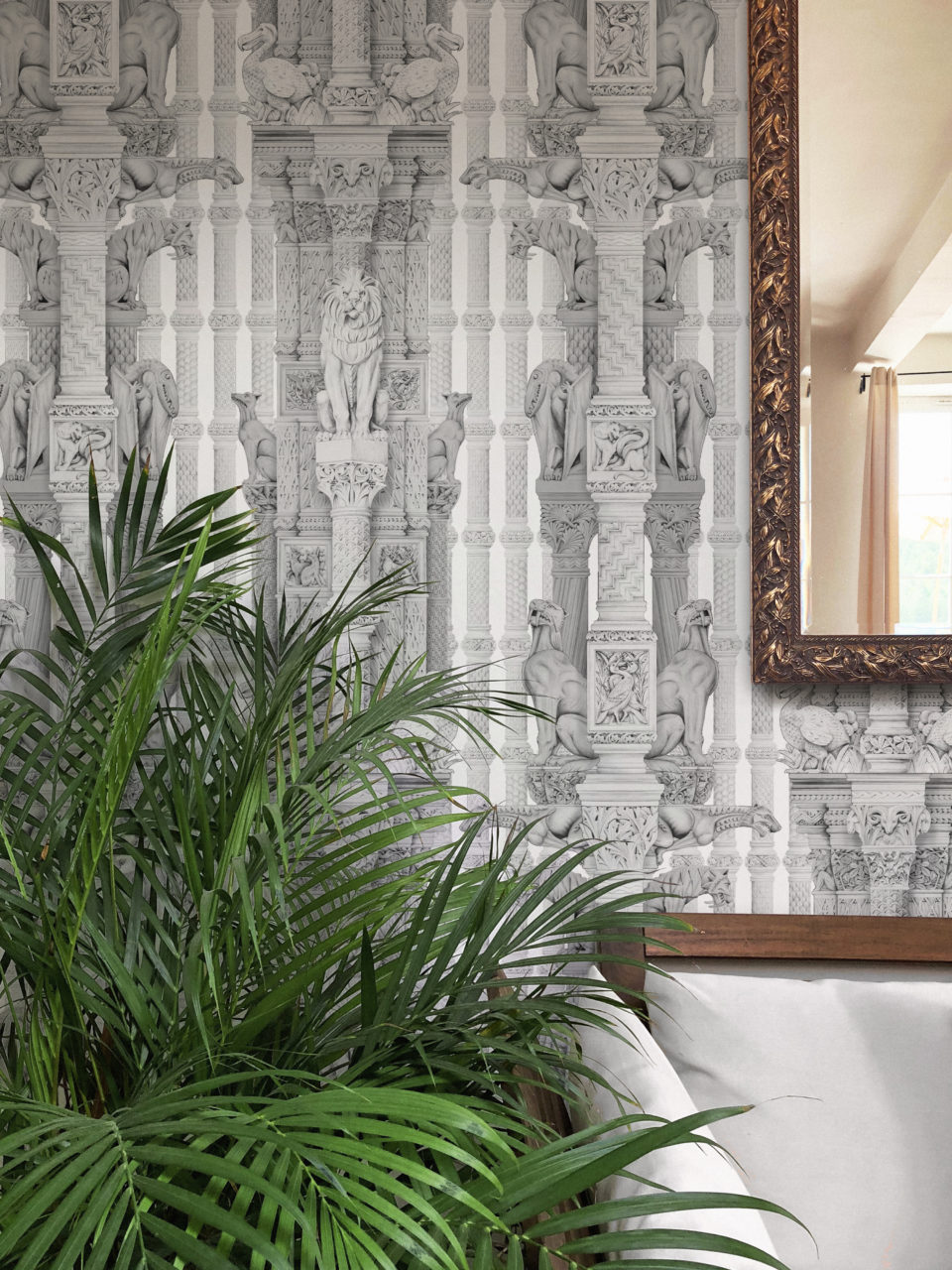 Divine Savages really wanted to include intricate designs that were as much about the NHM building itself as well as the incredible artefacts that it houses inside.
The Hierarchy design is inspired by the intricately carved stonework that adorns the exterior of London's Natural History Museum. It's the perfect architectural design
When Tom was visiting the archives he was shown to the top floors of the museum where the members club is. Here he could see the gargoyles outside the windows really up close. It was the stone carvings and statues that inspired him in this design.
Hierachy celebrates this iconic 'Temple of Natural History' not just for the treasures that it houses inside, but for the wonder it conveys to all that take the time to look up when arriving at South Kensington
Hierachy is available in -Mustard, Pencil Grey, Blue & Blush
Styling tips
Tom and Jamie think this would look fabulous styled with some mid century, structured furniture – think classic lines, wood, leather. accessorise with architectural sculptures and soft linens
Inspiration for Extinctopia came from close to home – the Victorian dinosaur sculptures of Crystal Palace Park, South-East London. Unveiled by Benjamin Waterhouse Hawkins in 1854, they were the first dinosaur sculptures in the world and these models represented the latest scientific knowledge at the time. Incorrect by modern standards, but loved even more so for that fact.
I live near Crystal Palace so as a child I was taken to see the dinosaurs many times and then I took my daughters when they were little too – hence this is probably my favourite design and why I chose this fabric to make my skirt.
Extinctopia is the Victorian version of Jurassic Park! Prehistoric beasts in bushes and water. You'll also spot the Victorians of the time as they wander through their Jurassic fantasy world. Policeman, lady and gentleman, poodle and not forgetting the pigeon!
Having already done their take on a Toile (Safari Soiree) Divine Savages wanted to do it again in what was a great opportunity to have some fun in the design!
This large-scale wallpaper is available in Peppermint, Glacier Blue, Blush and Slate.
Styling tips
Mix palms and ferns for that prehistoric look! Emphasise the playfulness of this print like Tom and Jamie have with quirky vignettes like a vintage bird cage with dinosaur figures inside!
Great for a kids room too that they can enjoy well into teen years. My sixteen year old daughter can't wait till we get this up in the family bathroom! 
---
So there you have it. Five stunning designs which are all available in wallpapers, fabrics and other fab accessories to adorn your home. Head on over to DivineSavages.com to get your hands on your fave.
Which is your fave by the way? I'd love to know. Leave a comment below to share.
Till next time bye for now
Em x