15 fab finds from Design Week :
The wallpaper and fabric edition
We share with you our top finds in wallpaper and fabrics from this year's Design Week… remember that all those weeks ago?
Feature written by Claire Parkin 
We are HUGE fans of Design Week here at Inside Stylists – as I'm sure you would expect. The opportunity to peruse so many fantastic and innovative interiors brands under one roof at the Design Centre at Chelsea Harbour is too good to miss on most occasions, let alone when everyone is showing off their new collections for Spring/Summer. It has to be said that this year seemed a lot quieter than past years, as the news of Corona virus was starting to take hold in the UK, however that didn't stop the brands involved showcasing their fab designs with gusto and it was great to be a part of it all before life started to become quieter…
If you weren't able to be there in person this year then don't worry, we have a round-up of fifteen  of the best finds in wallpaper and fabric to share with you from the showrooms.
Andrew Martin
Andrew Martin's latest collections for this season are big, bold and simply stunning and we loved seeing them in their sparkly new showroom at Design Centre Chelsea Harbour. Apart from the furniture on show – including the most squishy, 'I'll never leave this amazing sofa again' set up, we also got to see the new designs.
Some that stood out were the Latitude mural wallpaper with its vintage map design, the fabulous neon cushions – brought about due to the success of their neon artworks and the larger than life, giant tulip wallpaper – which are cleverly designed with plenty of space above and below the flowers to make them fit any wall perfectly.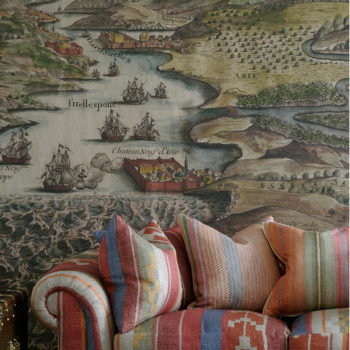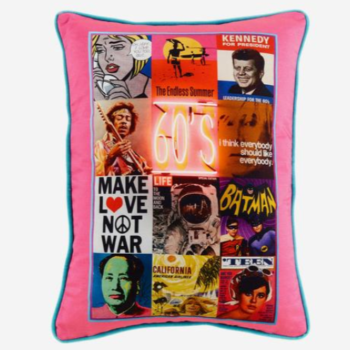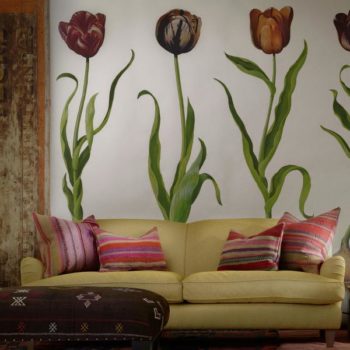 ---
Baker Lifestyle
Baker Lifestyle, the diffusion range from GP and J Baker, have three stunning new collections out this season. They are the Fiesta Collection, which is characterised by the vibrant colours and exciting spirit of the fiesta; the Carnival Collection, a striking mix of botanic and ethnic inspired prints and finally a third collection with Homes and Garden, which marries simple designs and beautiful colours via the production techniques of embroidery and block printing.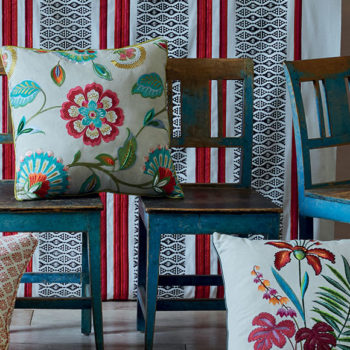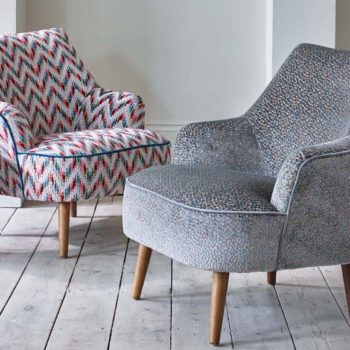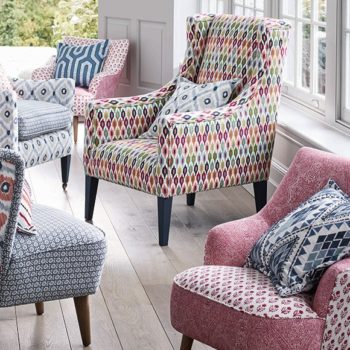 ---
Brunschwig & Fils
Brunschwig and Fils has the most gorgeous range of fabrics across their three latest collections, Summer Palace, Les Ensembliers and Cevennes. The colour ways are bright and bold, yet also calming and tranquil – in short there's something for everyone. Each collection tells it's own story, whether that's of ancient summers gone by in Chinese gardens (Summer Palace), or rolling hills and the splendour of the natural world in the mountain ranges of southern France in Cevennes. If you're looking for something a little more dramatic and inspired by the fashion world, then check out the collection by Richard Ouellette of Les Ensembliers, a Montreal based designer. Richard's design style is influenced by his experience in the fashion industry and it shows – check out the rather fabulous La Panthere in Petal or Teal. You'll see what I mean.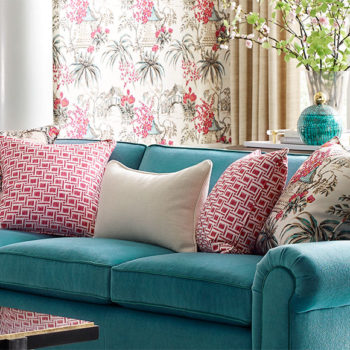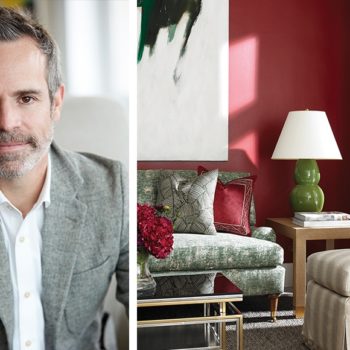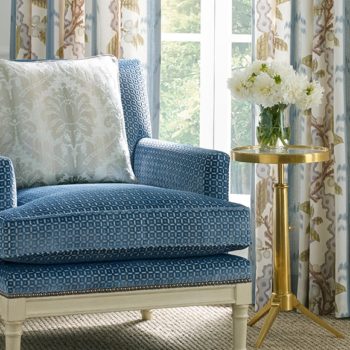 ---
Cole and Son
If you were lucky enough to be able to attend Design week in person, then I'm sure you spotted the bright and vibrant offering from Cole and Son's installation on the top floor of the South Dome and also in their ground floor showroom – complete with flamenco dancer! Their new Seville Collection is just stunning. The collection is rich in history and fuses together centuries of design influence within Seville from the diverse people groups and religious traditions that have settled there over the years. It's a collection well worth dipping into.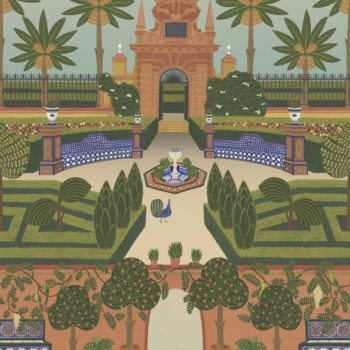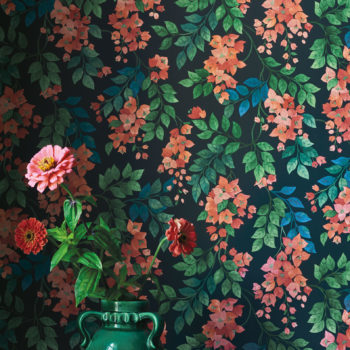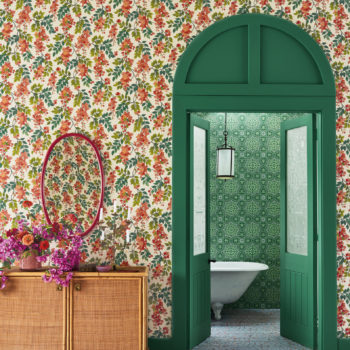 ---
Designer's Guild
I am loving the new designs coming from Designers Guild this season. The Spring/Summer 2020 c0llections are inspired by the natural wild planting techniques used by early twentieth-century garden designers, most notably Gertrude Jekyll and William Robinson. The result is a stunning range of fabrics containing a glorious mix of bright colours taken from English country gardens and also some striking Chinon textured wallpaper, which emulates natural surfaces such as woven silk or coarse linen. I find myself particularly drawn to the Tarazona fabrics, in their bright hues and the fact that they are an easy clean velvet makes them all the more appealing for using in the home.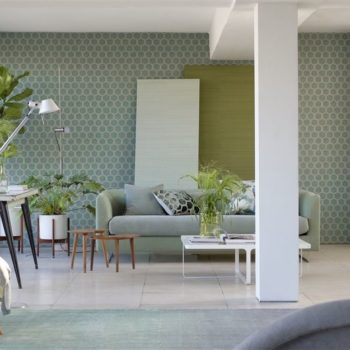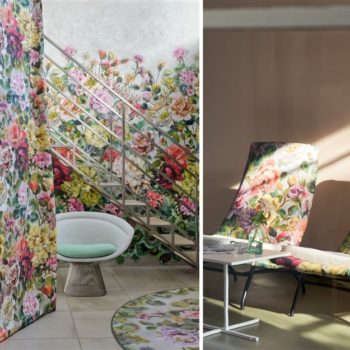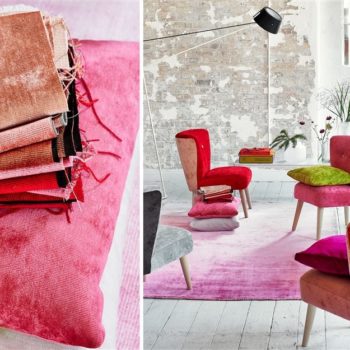 ---
Harlequin
Harlequin's Mirador drapery is new for 2020 and has been inspired by Spanish and African interiors. The rather fab Nirmala fabric caught my attention straight away with its gathering of zebras and I've been on the lookout for a project to use it in ever since!  There's a wonderful range of colour used in this collection and there's something for everyone – whether you're looking for muted pebble tones taken from the natural world (also found in the Nirmala fabric as a second colourway), or perhaps you'relooking for something more bold with impact, such as the beautiful Habanera fabric featured below.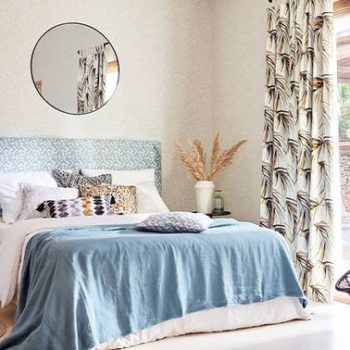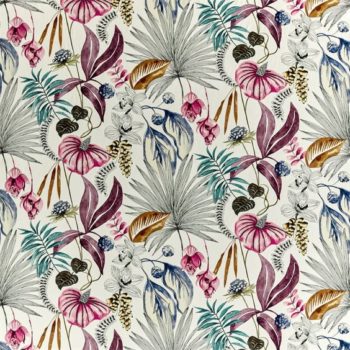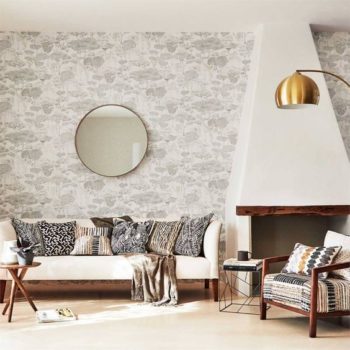 ---
Jim Thompson
We've featured three of the new collections from Jim Thompson here on the blog but it's fair to say that their website is well worth a closer look as there's loads more to see! As you would expect, the collections from Jim Thompson are decadent, luxe and sophisticated. Animal Magic is a bright and fun collection which works superbly for both modern and classic interiors (the playfully named 'cat's pyjamas' is my personal favourite), whilst Jazz Age and the Medina collection are perfect for creating luxurious and relaxing interiors.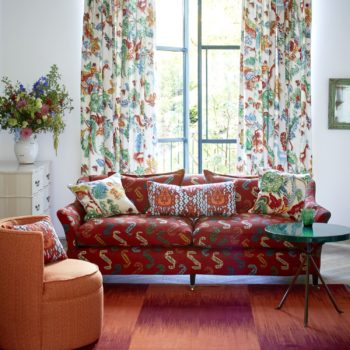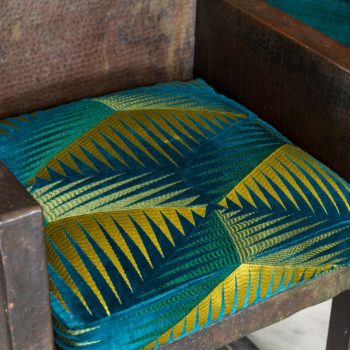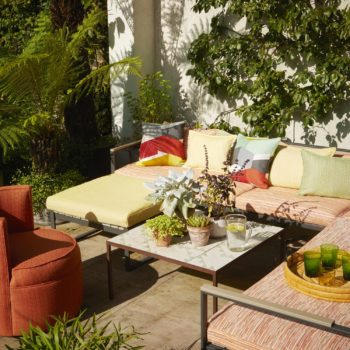 ---
Larsen
Larsen's new fabric collection is striking in its simplicity and effortless luxury. The natural hues, ethnic motifs and tactile, organic designs have been inspired by the Bardenas Reales de Navarra, one of Spain's largest desert regions. The collection features colours such as clay, ebony and tobacco and looks stunning when paired with sculptural interior accessories.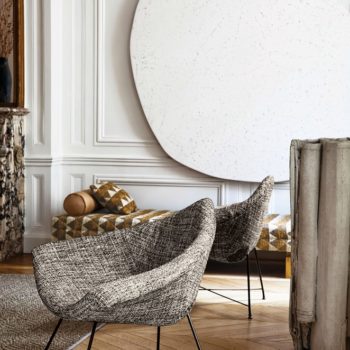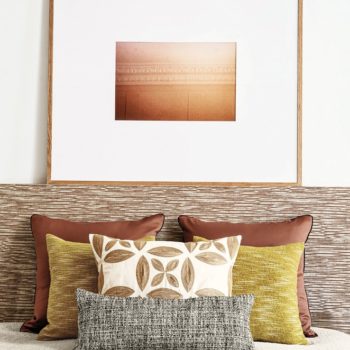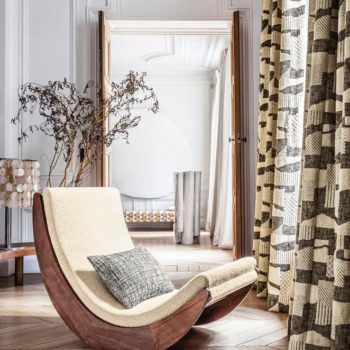 ---
Manuel Canovas
The Spring/Summer collection from the French fabric house Manuel Canovas has been inspired by the 19th century art movement of Les Nabis, a collective of young French artists. It's interesting to see how this has influenced the fabric and wallpaper designs of the collections, as Les Nabis were influenced by symbolist ideas and also Japonism, which was very fashionable at the time. As a result, Manuel Canovas' collection features playful and exotic designs such as Geishas and Salvator, alongside bold large scale florals, such as those seen in Breteuil. You can read more about the Les Nabis movement here if you are interested in finding out more about the influences in this collection.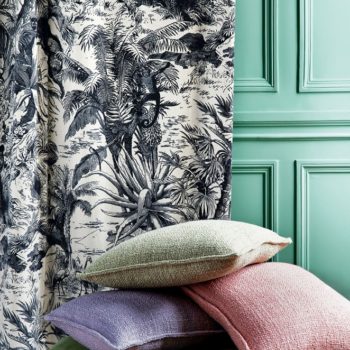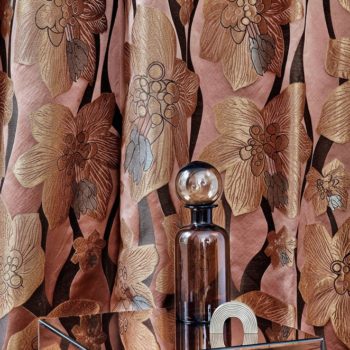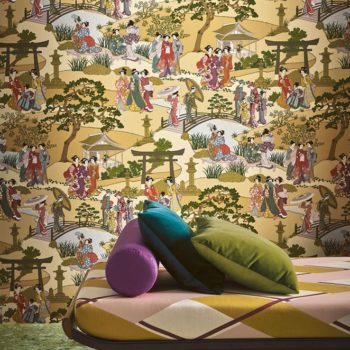 ---
Mulberry Home
It's all in the detail with Mulberry Home's three Spring/Summer collections – Modern Country I, Modern Country II and Modern Country Velvets. The collections remain true to the English heritage of the brand, containing fabrics and textures that you may expect to see in both town or country interiors but perhaps the most striking element of these collections is the precise attention to detail in the fabric designs. The use of colour, pattern and texture is contrasting yet harmonious meaning there are seemingly unlimited combinations to be made within, and across, the collections.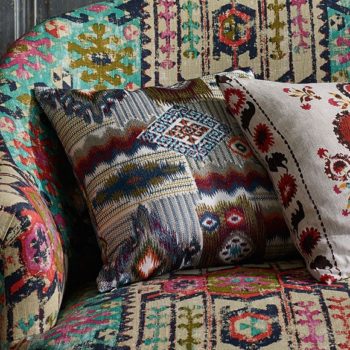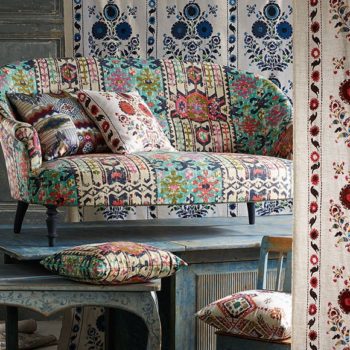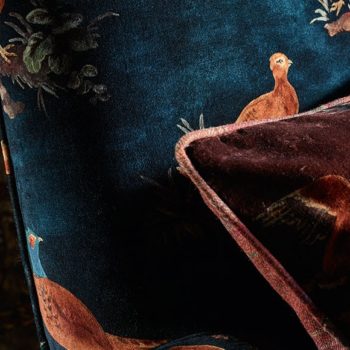 ---
Osborne and Little
If ever you were looking for a collection to transport you to another time and place, then the Spring/Summer collections from Osborne and Little may well be your best bet. An entire fabric and wallpaper collection has been named after the novel Mansfield Park, by Jane Austen and the romantic and sumptuous designs transport you back to the great halls and estates created in her classics. Or if stately houses are not your thing, then the Summer House Collection is sure to grab your attention. Anyone who has visited Kew Gardens could not fail to be reminded of the great Palm House in the centre of the gardens when looking at the collection. Finally, make sure you delve into the Gloriana fabric collection –  a range of brightly coloured geometric fabrics in velvet. You won't be disappointed!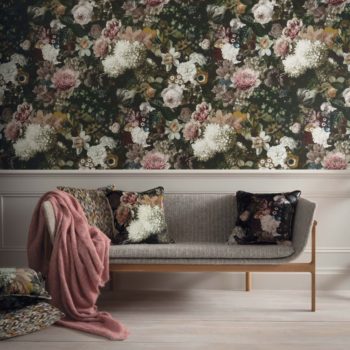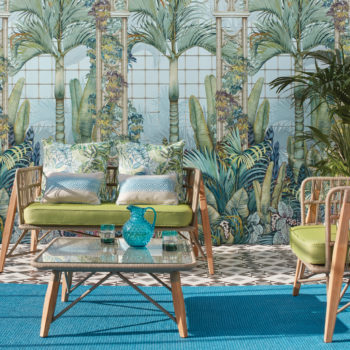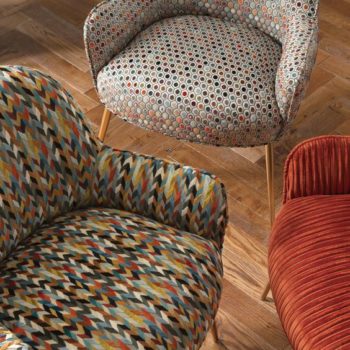 ---
Sanderson
Can you believe that 2020 marks Sanderson's 160th anniversary? The brand have launched a gorgeous range of nine prints, three embroideries and one weave as part of the new Caspian Collection. You'll see opulent and exotic colours, ikats and Indo-Persian and Ottoman designs in this collection as it celebrates the Silk Road trading route and all the inter-cultural design influences that were opened up as a result. The wallpapers are my particular favourite as they bring a unique opportunity to add a playful, eye-catching element to a room design, without being too overbearing.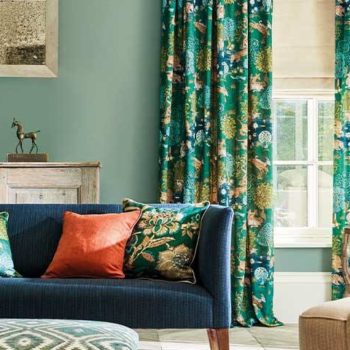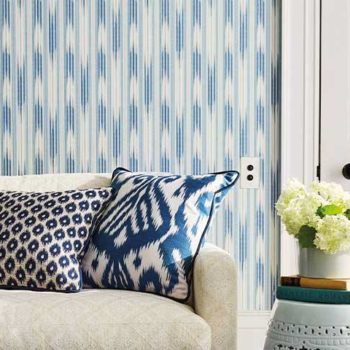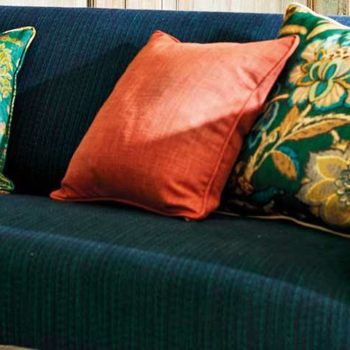 ---
Romo
I LOVE the new collections from Romo! The colour ways are just divine – a gentle mix of blush pinks, greys and yellows all in a relaxed, washable fabric. The collection features a range of geometric prints and Art Deco palm fronds, which look stunning when placed on interior accessories and don't get me started on the Etsu wallcoverings. A hint of luxe metallics in your wallpaper? Yes please! In short, you need to check these collections out pronto!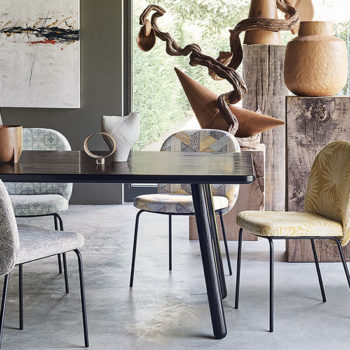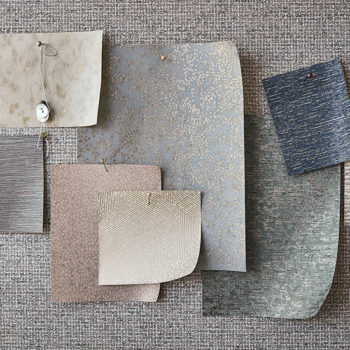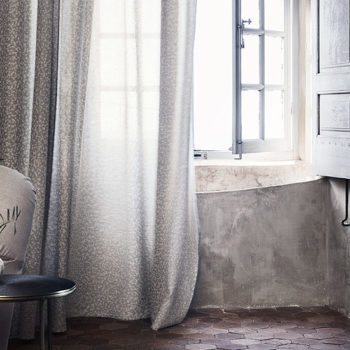 ---
Zimmer & Rohde
Zimmer and Rohde have four new collections this Spring/Summer – Botanical Garden, Etamine (La Couleur Des Fleurs), Travers (Central Park|Out of Africa) and a new wallcoverings collection, Edition. Each has a very distinct design story – from the rich colours and textures of the Travers collection, which fuses African influences with the history of Central Park in New York, to the modern and cool Edition collection of wallcoverings. I love the use of Raffia Weave in the image below and although I missed seeing this in person at the Design Centre, I'm looking forward to ordering in a few samples so that I can see it up close. I bet it looks phenomenal on the wall.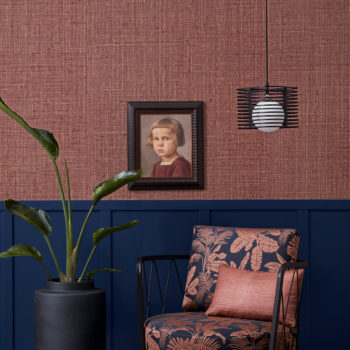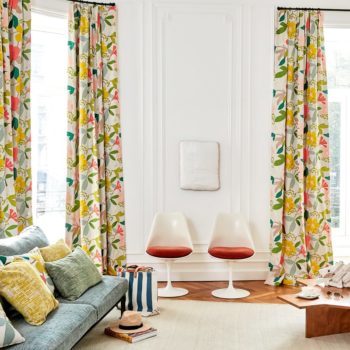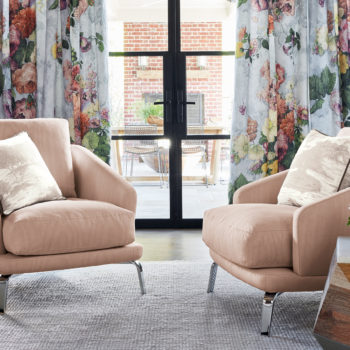 ---
Zoffany
Zoffany's collections are always effortlessly chic and this Spring/Summer is no exception. With over three decades of luxury weaves and wallcoverings to draw upon as inspiration from their archives, the current new collections showcase Zoffany at its very best. The new Damask fabrics are a case in point and show how patterns from as late as the 17th century can be used in contemporary interiors through the clever use of updated colour ways, such as the Ducato Rubient, a deep jewel toned purple and the Persian Tulip Weave in Indigo. And did I mention the Piastrella wallpaper in Hunstman Green (shown below)? Sigh. I'd love a gentleman's study all of my own for that one. Is that strange?!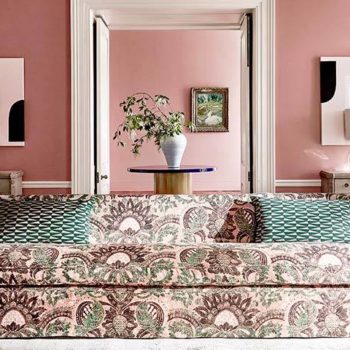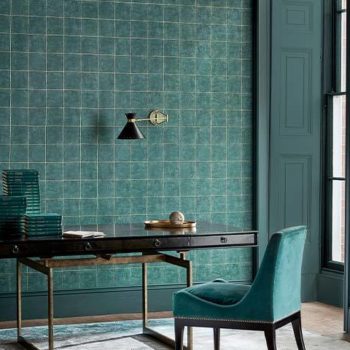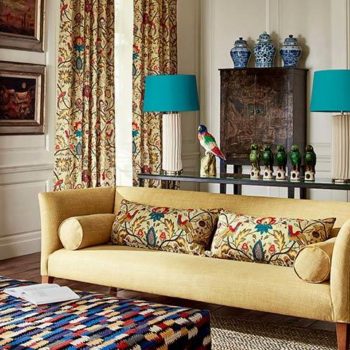 ---
So there you have it,  a round up of fifteen fab wallpaper and fabric finds from this year's Design Week at Chelsea Harbour. We've shared our thoughts with you but what about yours? Which are your personal favourites? Let us know in the comments below or via social media and don't forget to mention any brands that we haven't featured that you think we should be shouting out about.