You will never guess what we saw at The Chelsea Flower show yesterday!
I'm not going to keep you hanging. I was the guest of Laura Ashley at The Chelsea Flower Show this week as I helped them find a team – namely Interior Stylist members Dilly Orme and Claire Morgan, who designed and styled their huge stand – more on that very soon but for now let me just say it was fantastic!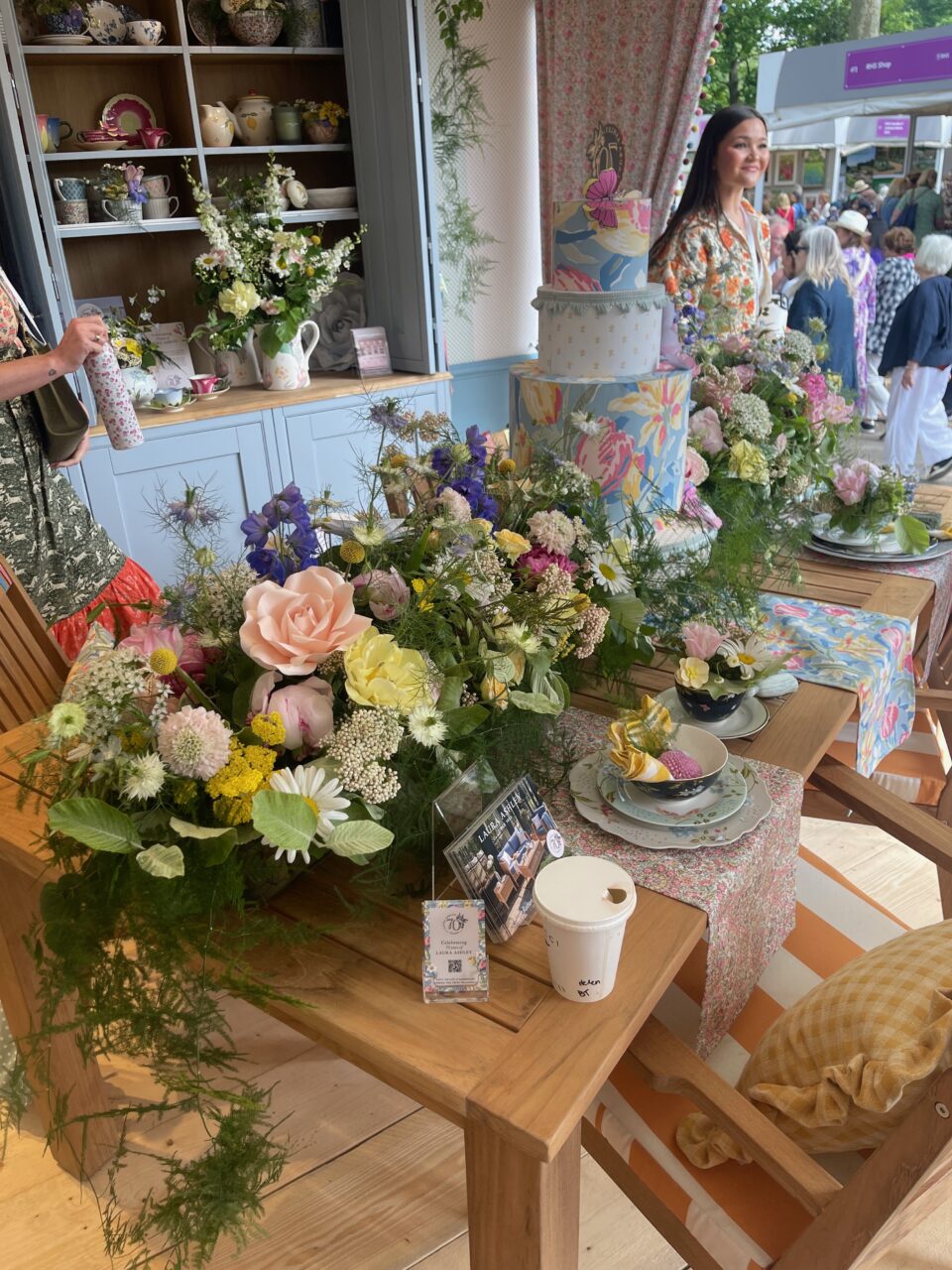 After seeing every inch of the beautiful Laura Ashley stand we went to check out the show gardens. What did we see? Dandelions. Yep, full on fluffy seed headed dandelions. And they weren't the only "weed" we saw in the beautiful gardens. There were tons (using a general term as I have no idea of what most of them were!)
I've been a long time relaxed gardener for many years. If a dandelion or buttercup pops up in my lawn I'm going to enjoy them. In the boarders I've a ton of purple flowering weeds that are too pretty to remove – until they take over the David Austin roses. Then they HAVE TO GO!
So what do you think about weeds in designer gardens at The Chelsea Flower Show? I'm all for it. Here's my highlights from the show
Elbows at the ready
I've been going to The Chelsea Flower Show for literally years. Ever since I ran features on the garden designers in Woman and Home Magazine when I was Home Editor there. Each year I would apply for a press ticket and often be invited onto the stands of the gardeners we had featured on Press Day. Yes, I was petrified of breaking something. Yes, it is still a highlight of my career!
This year I was a sponsor's guest and went on the first RHS member's day. It was a completely different experience, mainly because there were a lot more people there. It's much harder to see the gardens when they're in front of a crown 3-4 deep, but not impossible and the atmosphere was very happy.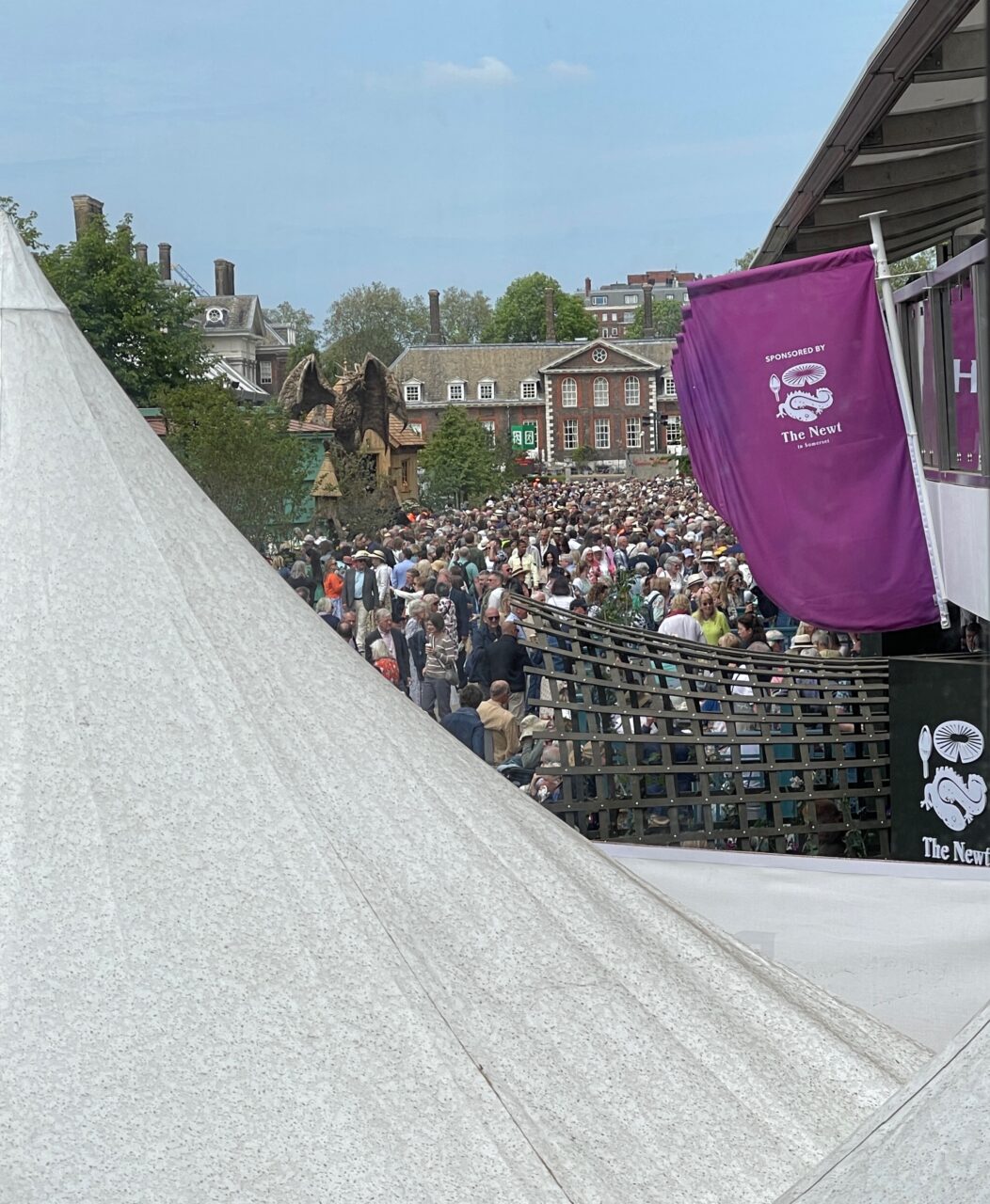 Gardens for healing
When it comes to healing from a spinal injury patients can be in a hospital room or confined to a bed for months without being able to get outside. Horatio's Garden charity nurtures well-being after spinal injury by creating beautiful gardens in hospitals that give patients in wheelchairs and often hospital beds, as well as their visitors a place that's accessible to enjoy. Their gardens are a place of "hope and sanctuary".
Their Chelsea garden has tactile planting, a garden room for physical and emotional shelter, a water feature at wheelchair height, and layered planting so all visitors wherever their eye line is can fully enjoy the space.
All the paths are smooth, and made from recycled materials allowing pain-free movement.
wheelchair. A really beautiful, accessible show garden
Horatio's Garden was Designed by
Charlotte Harris and Hugo Bugg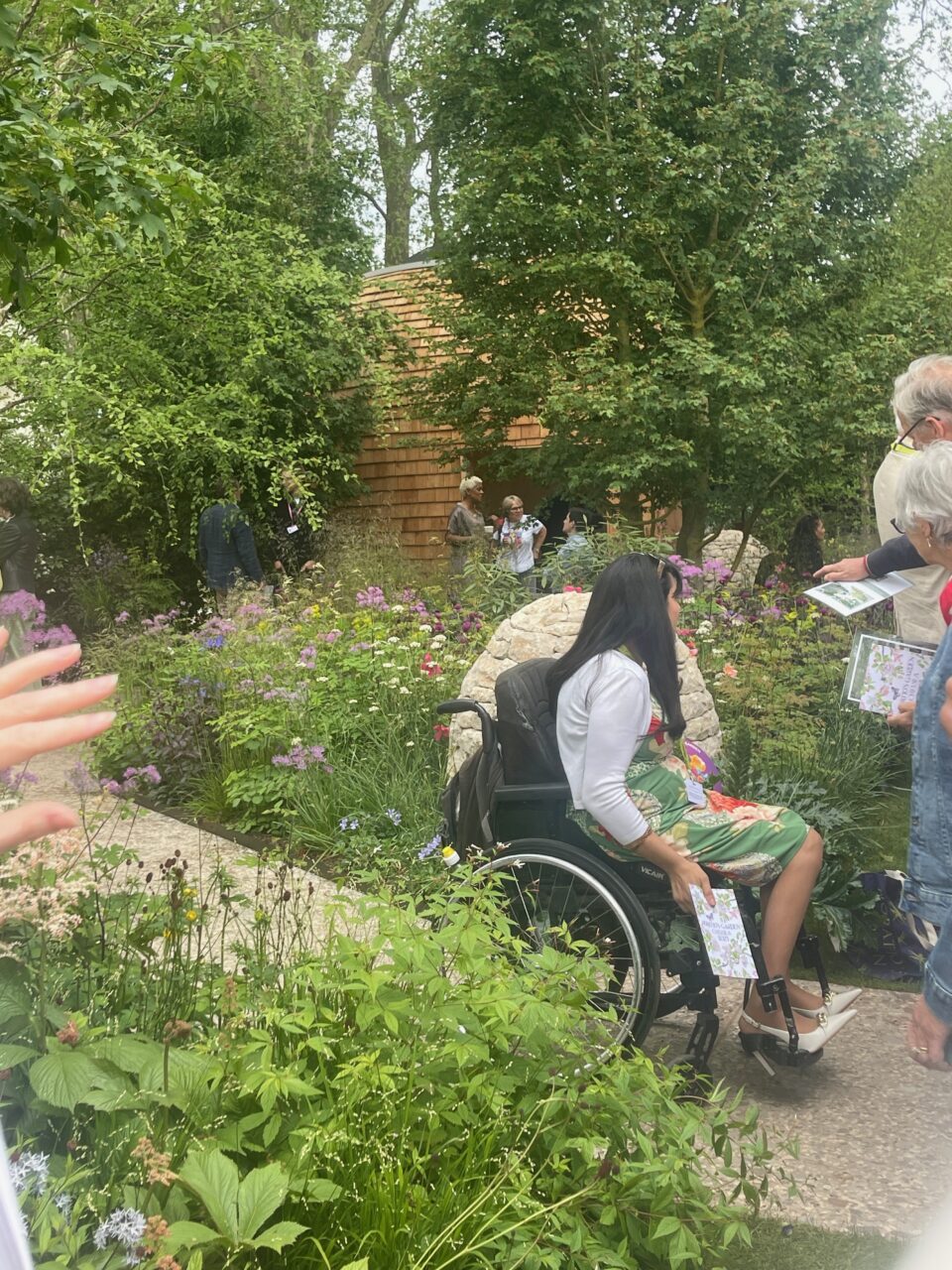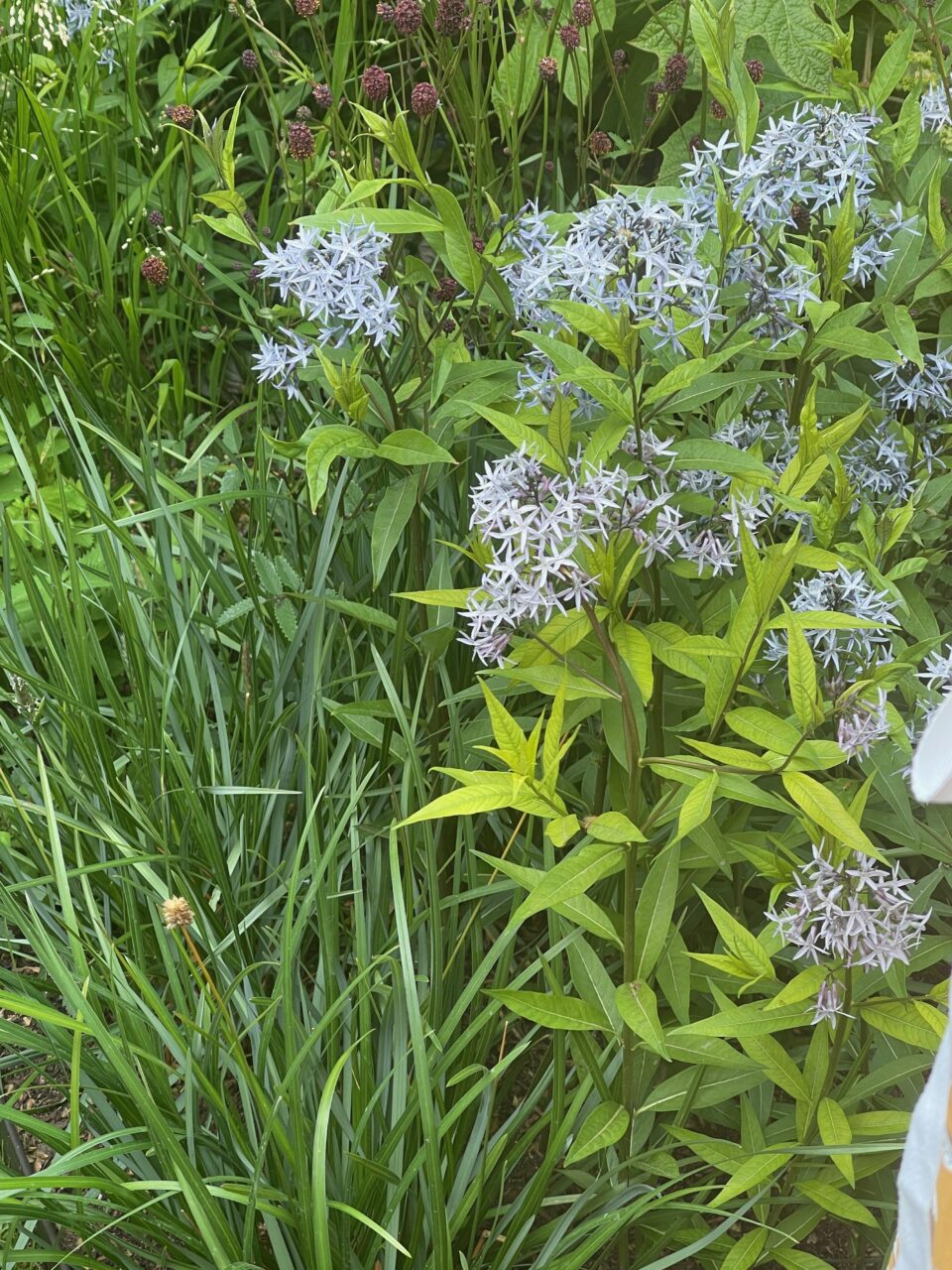 Mental healing
Many of the gardens had a mental health angle and to be honest I don't think you could be stressed-out in any of the spaces we saw. There were areas under trees to relax, meditate, write or just give yourself thinking time. Lots of the gardens had structures in them with the intention of being somewhere you could get away from it all or enjoy the company of others.
The plants were chosen as they stimulate the senses and welcoming wildlife into the space. Listening to birds chirp in your garden relaxing. There were also a lot of plants and flowers mixed in with fruits and vegetables growing. That feeling you get when you eat something you've grown is very 'feel good'.
Chris Beardshaw designed the Myeloma Garden. Myeloma is a blood cancer and the garden is inspired by a patient who said 'the structure and formality in their life suddenly all changed' following a diagnosis.
The garden starts as a passage through a 'softly meandering path to reveal pools of light  filtering through then enveloping treescape accentuating and elevating the ephemeral beauty of the floral detail.'
The immersive experience is one where the person walking through the garden can 'pause become increasingly emboldened, optimistic and uplifted'. You can really see this in the planting as you walk from the front to the back. The 'life worth living temple' is a place to pause and enjoy the garden. The round paper artwork at the back was commissioned to include all the leaves and flower motifs from the grand so the legacy of the garden can live on at the Myeloma garden.
For more information please visit Myeloma.org/about-us
Sustainable gardens
There was an overall sense of sustainability everywhere. All the stands and gardens were aiming to rehouse, replant and avoid landfill at all costs. I'm sure I'm not alone in thinking that this should be a given now. If you're not using sustainable materials that are ethnically sourced and recycling as much as physically possible when the event ends should you even be at Chelsea?
A pet peeve
When we stopped for a caffeine break the coffee was goooood and the paper cups even had paper lids – strong ones, but I have to say the rubbish was less impressive. There were tons of huge industrial bins at the show but non of them were separated into recyclable and nonrecyclable sections. I hope this is sorted later as there must be literally tons of waste with 145,000 people expected this year.
"Weeds!!
Okay, this is a big deal so I'm mentioning it again! The RHS has strict rules about their show gardens. You can't just bang any old plant in there. At one point if there was any soil showing you wouldn't stand a chance of winning a medal. There needs to be planning, thoughtfulness and definitely no weeds… until now.
The conscious move to add wildflowers to gardens has not been taken lightly. Once the first thing to be tugged out, now they are encouraged and everything from dandelions, nettles and brambles were seen at this year's Chelsea Flower Show.
The more weeds there are the more pollination there is. You'll also see a ton of birds, butterflies and bees and I'm all for it.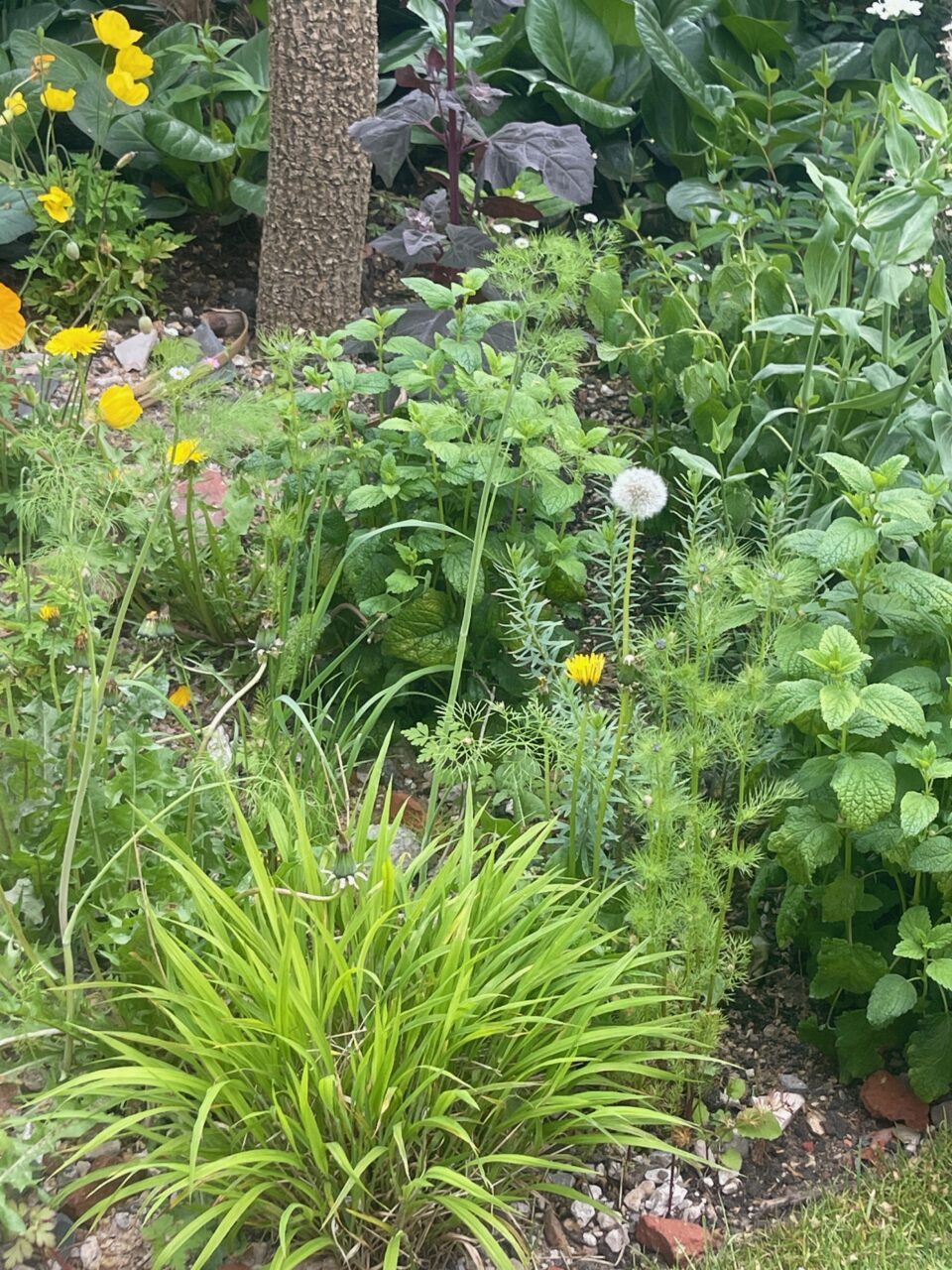 Which Flower did we see the most?
It has to be the Iris. I'm not a massive Iris fan but the tea colour bearded ones we saw were spectacular.
Often at Chelsea Flower Show there is a stand out flower that you see on show garden after show garden and although there were a ton of Iris' there weren't any others or even an overriding colour that stood out.
One year at Chelsea every garden had very dark tulips. The kinds that look almost black. It got a bit boring but this year the gardens all looked very different.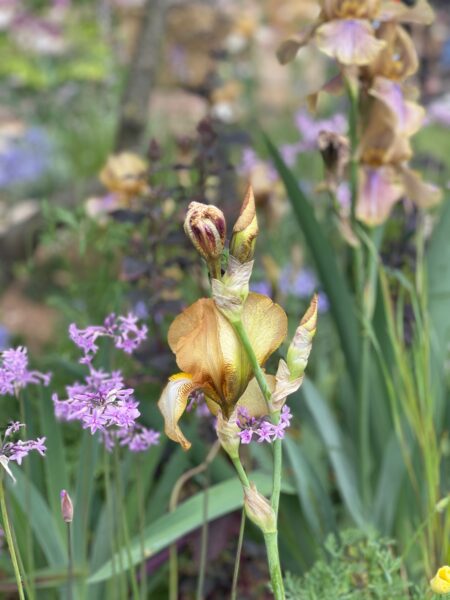 Want to know which was my favorite?
Hands down it was the Hampton's Mediterranean Garden designed by Filippo Dester gardenclublondon.co.uk. Why? Because it has a real living outdoors feel. The wall was covered in lime plaster with a soft natural pigment colour added. There was a dresser (under cover) which I just loved (made a mental note to look out for one for my garden). It had a working garden kitchen that seamlessly sat within the garden and a dining space under a pergola. The planting had lots of edibles, herbs, drought tolerant perennials and scented shrubs. And the sustainable part? The water feature is actually a tank that collects rainwater for easy watering when the weather is hot. So much inspiration.
&nb
The scent of a rose
I can't write this without mentioning the incredible stand in the Great Pavillion. I'm a HUGE  David Austin fan and no trip to The Chelsea Flower show is complete without checking out their stand. The first thing I do is look for the 'Darcey Rose'. Named after Darcey Bussell but my daughterling's name is Darcey Rose so it's a personal fave.
This year I bought a new climbing rose for my garden at the show (and kinda wish I had been doing that for years and years. Imagine how amazing my garden would look now!)
I bought the Gertude Jekyll rose shrub. It looks beautiful and smells divine! Can't wait to get it in the ground.
I already have a climbing David Austin Rose and it just gives and gives and gives.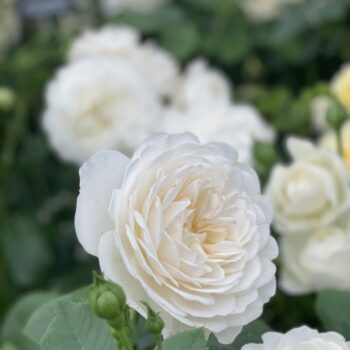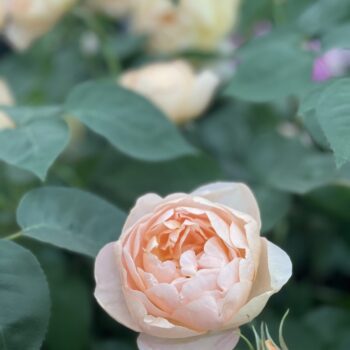 ---
Stands that deliver
Of course, some of us Interior Stylists's favourite brands had stands at the show and it wouldn't be the same without a catch up with them. Want to see what they had going on? Have a look below.
Weaver Green
I should probably apologize for monopolising Barney and Tasha from Weaver Green. We possibly stood chatting for nearly an hour!
They have a beautiful new rug collection called Silk Road, scarves, REALLY fabulous tablecloths and napkins and that's not even mentioning the cushions and throws. All made from recycled plastic bottles.
p.s I interviewed Barney and Tasha on the podcast. Have a listen here.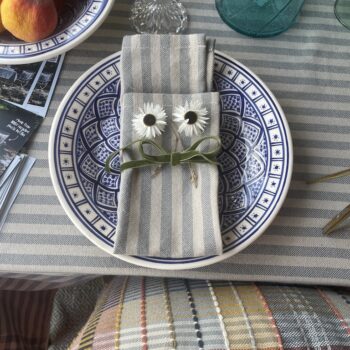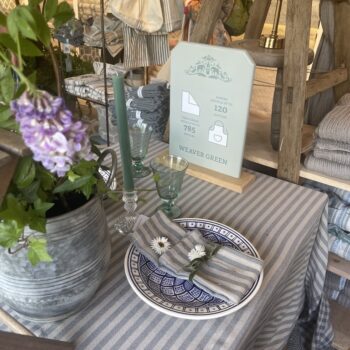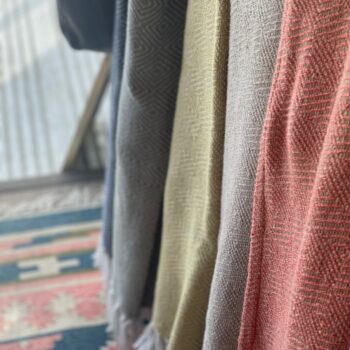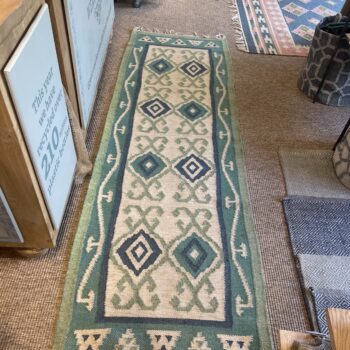 Andrew Martin
This was the first year Andrew Martin were at The Chelsea Flower Show and boy did they make an impact. Their's was one of the first stands I saw – because you couldn't really miss it! Just look at this huge stone-like (I say that because I know what they are really made of and I can't tell you as I'm sworn to secrecy) horse. There is a real archaeological theme to their stand, as well as their really gorgeous garden furniture and outdoor cushions.
Claire, Dilly and I may have sat chatting to Andrew Waller, the founder of Andrew Martin for a very long time. He is FABULOUS! He had us in stitches. He also talked about the inspiration for the archaeological statues. I think I need to get him on the podcast. I was fascinating to talk to.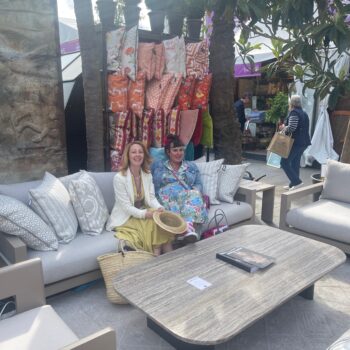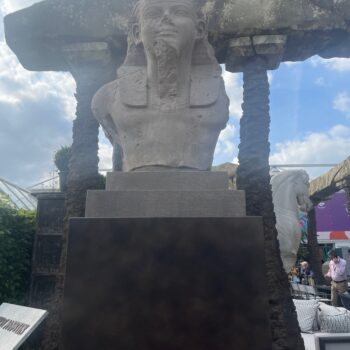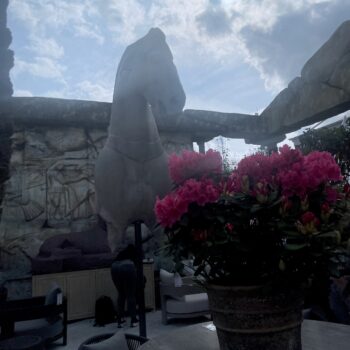 Susie Watson
When I grow up I want to be Susie Watson and design the things I want in my own home from pretty mugs for coffee and tea (there is a difference), fabrics for cushions and throws, pom poms because we all love pom poms right? and now furniture!
I wanted it all.
Italian Terrace
If you want really beautiful, really BIG pots for your garden, check out https://www.italianterrace.co.uk/ They literally come up to my hip – and I'm 5'10! and if you look on their website you'll see they come up to my shoulder too!
They have showrooms and tons of advice on their website so you check it out.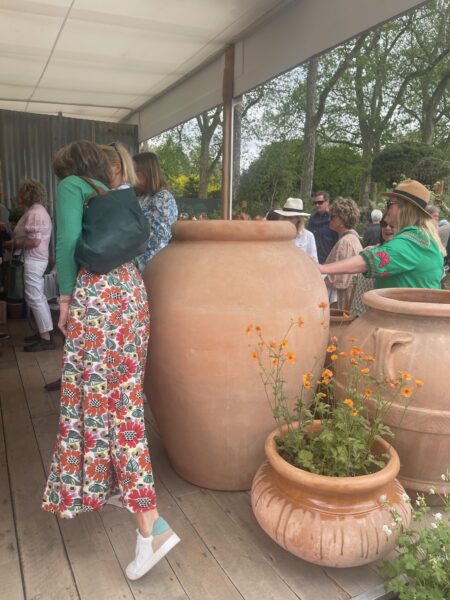 ---
Things I'll do differently next time I visit the flower show.
By the end of the day – 20,000 steps later, I'd say this was a really fabulous show. Once again I saw coverage on TV that I hadn't seen while I was there. I NEVER feel like I see everything. Maybe that's why I am always so excited to come back year after year.
So, what would I do differently?
Get there as early as possible.
The show opens at 8am (7am on Press Day) and I usually get work done before I head to the show. Even with 7 hours there I still missed a whole section.
Bring a picnic lunch.
It was mobbed and all the food places had really long queues and really expensive food and drink. We spotted a group with a picnic complete with china plates and bubbly. Now that's the way to do it.
Check out the show guide first.
The accompanying show guide has so much info and showcases all the gardens, why there were weeds this year and so much more. If I check that out first I will know where I want to head first.
Don't miss the Great Pavillion.
I don't think I have ever made time to really check out the Pavillion with the floral arrangements and specific flower types and their expert growers. Next year I'm going to start there so I don't miss out.
Find the sneaky loos
The benefit of walking around the show with two Interior Stylists who set up a stand – and had been on the grounds for four days before it opened is that they know where all the hidden loos are. Men you don't need to worry about this but ladies, the queues were long at lunchtime and we snuck around the corner where there were none!
Get a press pass
I was due to be shooting when the show's Press day was this year so I didn't apply for a press pass. You've guessed it. The shoot got moved to June and as the deadline to apply for a pass is months before the first RHS show I missed out. Thank you to Laura Ashley for inviting me as their guest.
Find a Friend
And by that I mean find a stand that an Interior Stylist friend or two have designed and styled because is makes is sooooo exciting to see.
So what has inspired you to get out in the garden this week? Let me know in the comments below.