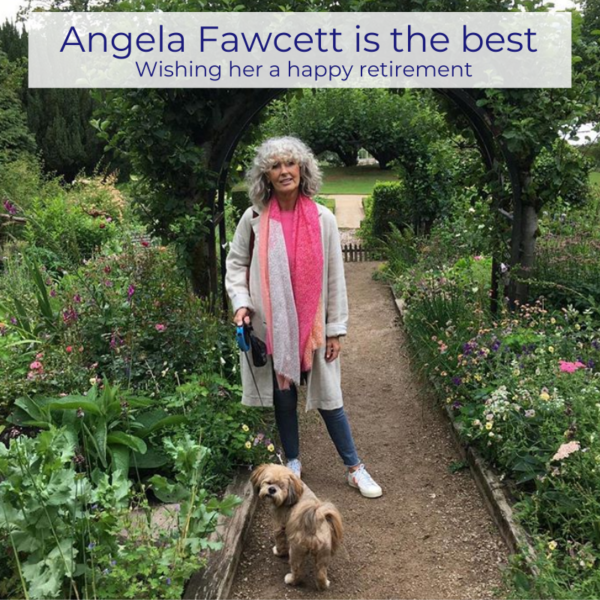 What do you do when a pr you met right at the beginning retires? You send her some love that's what!
This isn't our normal kind of blog post. In fact, I don't think there will be many features on InsideStylists.com like this. Why not? Because there aren't many people as fab as Angella Fawcett.
Angela, for those of you reading this and not in the interiors world, is one of the loveliest interiors prs you could meet. She's been the PR for countless brands including most recently Harlequin, Scion and Little Greene Paint Company.
When we heard that she was retiring we wanted her to know just what a massive impact she has had on so many people's careers. We want to send her off with some lovely "we love you" messages.
A quick word from me.
In the beginning,  back when I very first started the Interior Stylists and writers facebook page four years ago I asked the gang who they would rate as the top PRs within interiors. Who was always great at getting back to you? Who went above and beyond? Who got you samples – even if they weren't in the country? Who was always brilliant at their job?
Let me just say that we love all you pr guys out there and there were lots of gorgeous mentions but time after time Angela's name came up first. It was a no brainer to ask if anyone wanted to contribute to this blog post send-off. The messages came rolling in.
So, in no particular order here are the messages from the Interior Community for lovely Angela 
Sally Denning, Stylist and Creative Director
Dearest Angela. I will miss you so much. You've been part of my professional life for so long and I have such happy memories of all our shoots together. Huge love and luck for your next venture and I look forward to seeing you soon. Huge love Sal xxxx
---
Jennifer Morgan, Editor,  Journalist,  Shoot director
Angela… thanks for being one of the few PRs that ever made it to Orpington! You have always been an absolute star to work with and always treated whatever magazine – whether big or small – with the same excitement and passion, always being one of the PR Pros of this fabulous industry of ours. Enjoy this new journey,
---
Theoda Solms Iles, Interior Stylist 
Angela
, you will be missed so much by all of us. Your kindness, knowledge and experience always made me feel like 'I'm in safe hands'. It's been such a pleasure working with you and thank you so much for all the favours over the years on-top of the work support. May you have a wonderful time relaxing and please do keep in touch.
Sending all my love.
theoda
---
Joanna Thornhill, Interior Stylist, Author, 
'Angela has proved herself to be one of the most dependable PR's I've had the pleasure of dealing with over the last decade or so. Always super quick to respond, her and her team have helped with countless requests for fabrics and paints, sometimes even getting 'emergency' paint to me on set within a few hours. Having a completely dependable PR who you know will bend over backwards to help, even out of hours, is gold dust- Angela, you will be missed!'
---
Sophie Warren Smith, Interior Stylist
Thank you so much for all the pics over the last 20 years
Angela
, I shall miss you! Have a fabulous time doing your Bowen, I'm sure you will be fabulous 🙂
---
Sarita Sharma, Interior Stylist 
Thank you Angela for all of the support you have given to me over the years, I remember our meetings in the Brompton Road showroom where I would come in when I first started working for Ideal Home magazine – it must have been 20 years ago? The years all seem to merge in together when you are having fun! You have always been so helpful and super efficient even replying to emails when you are on holiday. I wish you all the best for your new career as a Bowen therapist, you will be wonderful and the clients will love you. Oh and maybe it's the time to apologise for stealing your lovely assistant Amanda!!!!
---
Jo Rigg, Interior Stylist
Wishing you lots of happiness in your next chapter Angela, you'll be much missed. Thank you so much for all you've done over the years, you've been a superstar! Jo Rigg x
---
Emily Dawe, Interior Stylist
To the very lovely Angela, thank you for being so wonderful over the years. You were an absolute pleasure to talk to, you always delivered the paint or product shots so speedily, even when you were on holiday! PRs come and go, but you're up there with the best! Enjoy your next chapter. Lots of love, Emily Dawe xx
---
Sara Bird, Interior Stylist, Art director, Editor
Can't imagine a Design Week without you. Pivotal in my career and an absolute pleasure to work with /inspire from and chatter to,
Angela
 has been with me and for me from my first interiors foray till, her now, last sign off. Committed and dedicated, getting the game yet being so grounded, 
Angela
 is a one off. I will miss her in my current work mode but will pester her on her new ventures. 
Angela
if this is a big charade to see the back of people like me, soz……it's a big fail. We enjoy being in your company too much!! Enjoy all those next projects…..but I will still be in touch. You have been warned!!!!! Much love Sara xx'
---
Sally Cullen, Interior Stylist
I've had the pleasure of working with Angela for more years than I'm prepared to admit and quite honestly she's the most calm, unflappable person you could hope to meet! It doesn't matter how late the deadline or how crazy the project she's always make me feel like it's all in a day's work for her. Plus she's just the loveliest, chattiest, friendliest person ever and she'll make a wonderful Bowen therapist. All the very best to you Angela, you'll be sorely missed.
Emily Dawe, Interior Stylist
To the very lovely Angela, thank you for being so wonderful over the years. You were an absolute pleasure to talk to, you always delivered the paint or product shots so speedily, even when you were on holiday! PRs come and go, but you're up there with the best! Enjoy your next chapter. Lots of love, Emily Dawe xx
Having worked on huge decorating shoots all my working life, Angela has been one of those wonderful PR's who was right at the front of my address book – always keen and happy to help and so full of positive energy – one of those rare people who naturally radiate positivity.  It was always great to meet-up with Angela on my days at the interior mags where it was a treat to see through the new collections as soon as they were launched and Angela would always go the extra mile to get you the newest fabrics hot of the press and fulfil all your fabric and paint requests often very last minute and in those days it was for metres and metres of fabric and litres and litres of paint..…Angela was always calm, eager to help and nothing was ever a problem.
Angela –  you will be hugely missed in the Interiors world but I'm slightly envious of your retirement… – I wish you all the best for a wonderful time ahead …- with lots of love Di
---
Nicky Philips, Decorating Editor, Future
Hi Angela, I can't believe you're leaving. It's got to be 25 years from press loans from Monkwell all the way through to your present clients. We'll really miss seeing you and hearing your news but we're totally jealous that you're going to be retired and hope you get to have a slower pace of life. Enjoy yourself and take good care. Stay happy and healthy. Lots of love Nicky. x
---
Ali Attenborough, Interior Stylist
Dear Angela
You've been a huge part of my professional upbringing and set the bar for what a great press relationship should be.
You are one of our industry greats and will be super missed.
Love from Ali Attenborough [ Bradshaw ]
x
---
Emma Cuthbert, Interior Stylist
Angela, It's always been an absolute pleasure to get in touch with you over the years and catch up at the various events. Wishing you much happiness and plenty of fun.
Love Emma Cuthbert
---
Laurie Davidson, Interior Stylist
'I've worked with Angela for countless years, and she has just been the most amazing PR – reliable, friendly, and she just 'gets' the industry and how we, as writers and stylists, work. I'll be sad not to have her on hand to email anymore, but am wishing her all the best for the future. You'll be missed Angela!'
---
Emma Morton-Turner, Interior Stylist and Founder of InsideStylists.com 
Angela, thank you for always being the smiling face that greeted me from the days when I was just starting out (20 years ago!)  and knew nothing – to asking to get David Mottershead on the podcast – during a busy press launch – next to noisy catering! You have always been the most reliable, enthusiastic and supportive person and your skills at pr is second to none.
As everyone else has said (and judging by how incredibly easy it was to get these stylists to send messages for you) you will be sorely missed. I wish you every success in your next adventure. Have fun. Em x
---
We look forward to seeing you on Insta. Stay in touch and enjoy every minute.