What's the difference between an interior stylist and an interior designer?
It's a question I get asked all the time.
There are of course lots of similarities so if you're looking to hire someone to help design your home or you're looking at working in one of these fields it's essential to understand what each discipline entails. Today's episode goes into the details I have found both working as an interior stylist and being part of The Stylish Supper Club, which is a community that brings both stylists and designers together.
The meeting of interiors minds
When Emma Merry and I got together to create The Stylish Supper Club little did I know that I would be taken on a completely new journey into seeing exactly what interior designers do and how it differs completely – and yet is so similar to what us stylists do! 
We wanted The Stylish Supper Club events to be all about getting interior stylists and designers together. When I listened to Emma and other designers talking about how Interior Designers work it was like de ja vu! It was exactly how freelance stylists work. Alone the majority of the time, not knowing anyone in the exact same position that would understand the everyday problems and would know how to solve them – or who would be willing to share costings/pricing/contracts. Sound familiar? That's exactly why I set up Inside Stylists in the beginning. To bring the styling and writing community together and now with The Stylish Supper Club I'm chatting with more and more Interior designers too. It can only give insight and help to improve how both disciplines work. 
What is an Interior Stylist?
In a nutshell – an interior stylist predominantly works on editorial and commercial photoshoots as well as setting up events for press launches and other events. They're experts at styling a room for a photoshoot and know exactly how to make the shot 'work'.
What's an Interior Designer?
An interior designer is hired to design any interior space and has usually undergone formal training at college or uni and can work with an architect to create a room or home, including adding or removing walls as well as the decorative elements.
STYLING THE SHOTS: The biggest difference in styling is that an Interior designer designs a room for a person and how they live and shoots the home to make the design look amazing.
PRICING THE JOB: Designers often price up a job 'per room' and the amounts vary drastically from designer to designer. A stylist has a day rate and as much as they differ, they are all in the same ballpark – mostly!
WHAT'S THE TIMELINE? It can take anywhere up to a year or longer to complete an interior designer's project. Stylists like to move along a lot quicker than that!  A decorating room shoot usually only takes around two months at the most from initial planning and prep to finished shot with copy. A brand's whole look book will require a lot more planning but will still happen quite quickly. 
IT GETS EMOTIONAL: There's a lot of emotion  that goes on with an interior designer and often "getting the husband on board". Stylists don't have to deal with the emotion of designing for real people who will live in their space. Stylists have to deal with the 'business' of a room, the client's ideas or the PRs brief.
SHOOT IT : Designers hire and pay for photographers to shoot their finished projects. Stylists find houses to be featured in magazines and are paid to shoot them.
SEASONS & TRENDS: Interior stylists are always working across a number of seasons at once and pretty much doing Christmas all year round. Interior designers have evergreen designs and are more likely to stick to a colour theme they think will work.
How we're the same 
We all love to find a new interior brand to include in our projects whether it's a new linen fabric, stunningly designed wallpaper, kids illustrated wallpaper or bespoke rugs. We want fresh new ideas that the editor or home owner hasn't seen before. 
WE LOVE TO TALK: We all love to get together and talk about what we do, brands we love, ideas we have and solving the problems that arise that only like minded interiors creatives can help answer.
The Stylish Supper Club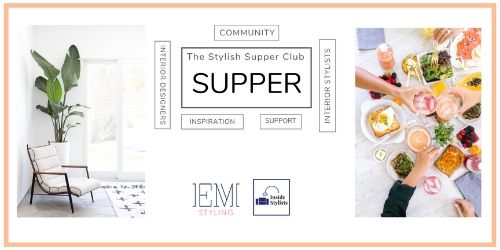 We've got a load of  events in the pipeline – and not just brunch or supper cubs either – workshops and panel discussions too. But for now, we're just sharing our last few tickets for tomorrow's supper club event which is a supper club on the 24th September at Halcyon Interiors.  Save the date and pop over to the Eventbrite page if you want to get your ticket and come and mix with a friendly, growing interiors community.
Listen to this week's podcast episode here!