How much do you love the whole eco ethos that's going on at the moment?
I know it's just part of my daily life now and I'm massively informed by my teens. I mean they were the ones who told me about the whole palm oil destruction of the rainforests thing before I saw it anywhere else in the news. They're also the first to remove the non-recyclable plastic labels from plastic bottles before they're recycled. Did you know you had to do that? I didn't!
So, this feature is a round-up of some eco fabulousness that you can live with, shoot or feature that will love mother earth just that little bit more, and you know what they say,? Every little helps.
1. The coffee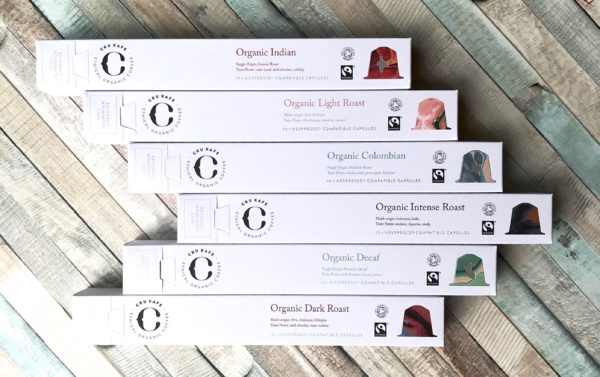 I could start with absolutely anything eco but first thing in the morning I LOVE my coffee so when London Coffee company CRU Kafe got in touch to share their 100% recyclable, organic, fairtrade coffee I had to try a sample – in fact I tried them all and they were the inspiration for this whole feature. Thanks you guys.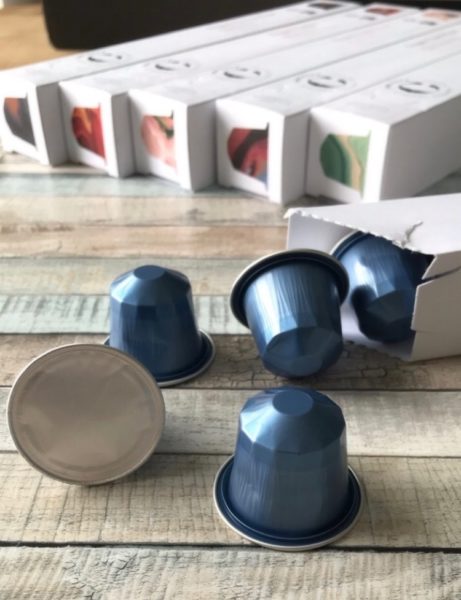 I asked if I could sample a few of the single original blends and they sent me the lot! They didn't last long. My fave was the Organic Indian roast but I have to say the caffeine free ones are the best I've ever tasted. You know that slightly flat way that they tend to be? Well, this blend has none of that. They're full-bodied and delicious – and I'm a coffee snob!
The capsules are made from 100% Aluminum which is what makes them so recyclable. If like me you scoop out the coffee grinds for your garden (there're lots of nutrients in coffee you know? Great for fruit and veg but not for your hydrangeas) then you just rinse the capsules out and put them in your regular recycling for collection. Simple.
The range is available in clever letterbox packaging too, so online orders don't need to be collected if you're out when they're delivered, but you can always pick them up in Waitrose or Tesco on the weekly shop.
2. The rug

Okay, I might be slightly biased with these rugs – as I'm due to interview Tasha and Barney, the duo behind Weaver Green next week (yay) but I also met them on their stand at The Chelsea Flower show earlier this year and I seriously could not believe that the yarn they weave with is made from plastic bottles.
Barney explained to me about how they turn plastic into yarn. He handed me what looked like a pre-spun wool but it was actually the treated bottles – chopped up and stripped and made into spinnable fibers.  Is that not the ULTIMATE in plastic recycling?
The most surprising thing about the Weaver Green collection is how soft it is. You just can't tell it's not a natural fabric like cotton or wool. And the properties of their products give natural ones a serious run for their money. They're machine washable, hard wearing, mothproof and won't fade in the sunlight.
And by the way – this rug above The Nomad Sultan, starts at £169 for a 150 x 90cm size and is made from 600 bottles. The 300 x 25 is made from 3000 bottles. That's one seriously good way to clean up the oceans.
p.s. The holding shot at the top of this post is of Dave the kitten sitting on the Weaver Green diamond throw – so soft he won't get off of it!
3. The Wallpaper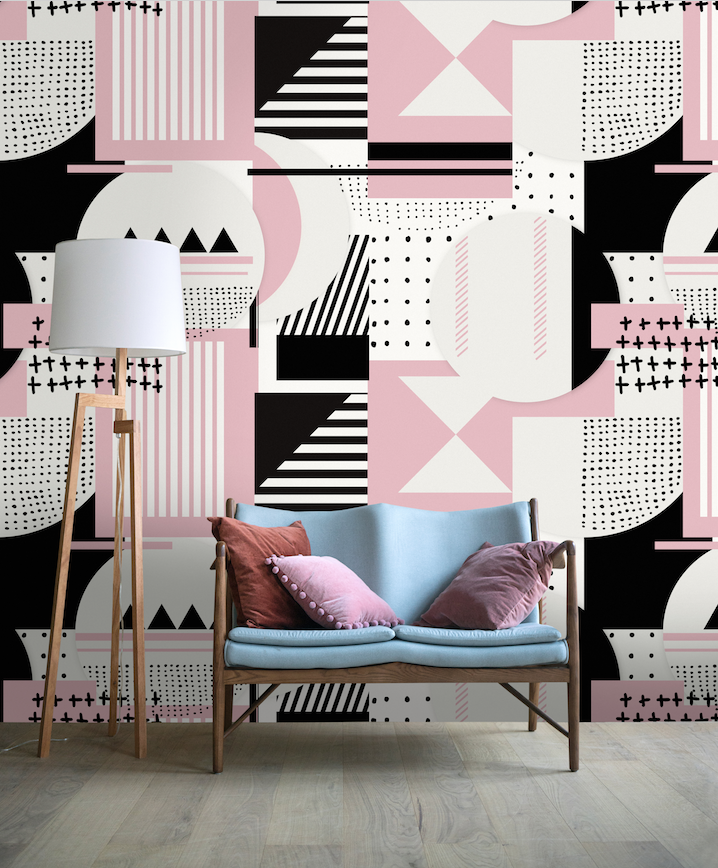 Banbayu.com is one of those fantastic UK based luxury fairtrade interior companies where every piece has philanthropy at its heart. Products are sustainably sourced directly from artisans where they're ethically produced and responsibly transported.  You can discover gorgeous luxury items by local craftsmen from some of the most diverse cultures, remote islands and thriving cities all over the world. Okay. Sold! We want it all – especially these amazing wallpapers!
Designed in Romania their extensive range of wallpapers are eco-friendly – with papers made using premium non- woven, quality FSC grade substrate that's surface printed with eco-friendly inks.
"The inks are odorless, with a very high durability- being certified to comply with the Nordic Swan Environmental Standard (an eco-labeling system that evaluates a product's impact on the environment throughout its lifecycle) so there are no dangerous elements within them that can affect your health or environment. Good eh?
£150 per roll, Banbayu.com
4. The Eyewear

Not strictly an interior 'style' product but I just couldn't resist. I mean this is their mission statement!
"PALA is on a mission. A mission to put an end to poverty, to protect the planet and to enable all people to enjoy peace and prosperity. We've started by putting this mission at the heart of everything we do"
Pala are changing the way we buy sunglasses. For every pair sold someone in Africa gets a pair of vision glasses.  They have many projects on the go at any time – funding eye care projects in Africa from vision centres to providing equipment for outreach programmes.
So, as well as all that giving they have just launched their first ethical recycled frames made from Acetate – and aren't they fab? The frames are named 'Asha' – meaning 'life' in Swahil.  PALA continue to breathe new life into plastic that would otherwise be destined for landfill. 
Go check out the whole range of glasses at Palaeyewear.com
5. The toothpaste and toothbrush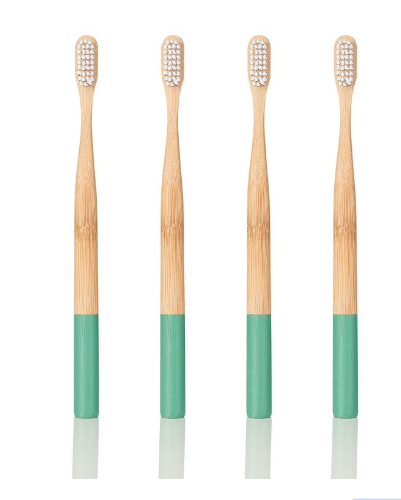 Remember the days when you could only get gorgeous looking toothbrushes in massively expensive shops? Well, those days are long gone. If you head down to Georganics.co.uk you'll find not only reasonably priced biodegradable bamboo toothbrushes (these are £3.90 each).  I'm not sure about how recyclable the bristles are but I can't find any brushes without nylon bristles so these are a big step in the right direction.
One reviewer said she chucked it on the fire when she was finished with it. I love that.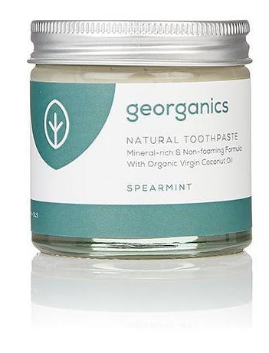 You'll also be needing an eco toothpaste to go with that brush and these are a tad more expensive than your regular tube but it's completely natural and in a recyclable jar container. You simply add a pea size amount onto your toothbrush using the bamboo spatula.
The biggest difference here is that this toothpaste doesn't foam. Fun fact. The first ever toothpaste didn't foam either. When sales weren't doing well the manufacturers made an "effect" so people would feel like their teeth were cleaner. There is absolutely no benefit to a toothpaste foaming whatsoever. It's just what we're used to.
Visit Georganics.co.uk for a whole range of beautiful organic and eco products
6. The Travel Mug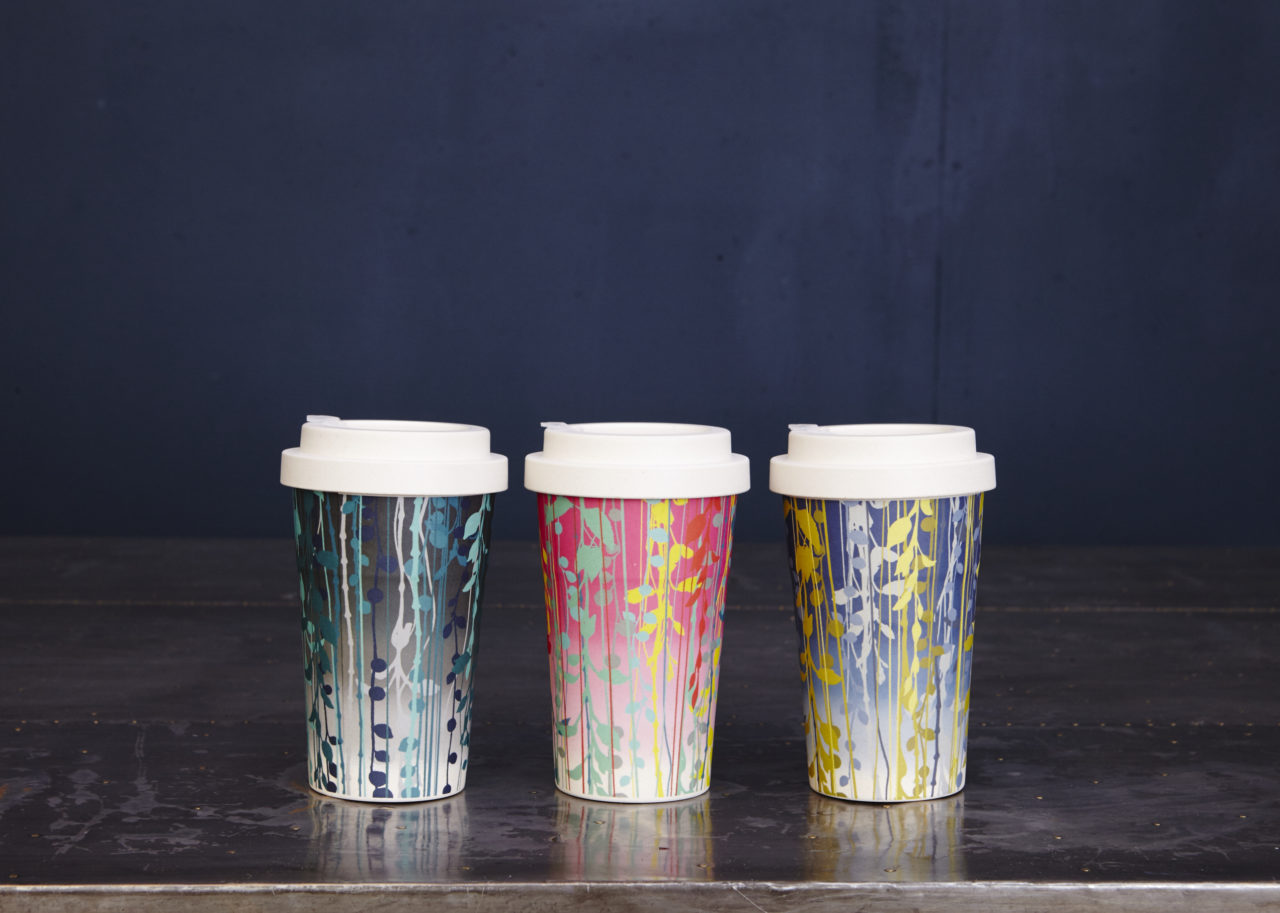 First, it was Waitrose who put a stop to paper coffee cups being used in their stores, and Nero give you a free stamp for your free coffee card when you take your own cup in and the rest of the coffee shops will surely follow suit. Enter the travel mug – longtime friend of the early morning dog walker (or boot sale goer). These are not only eco-friendly for saving us from using disposable cups but they're made from a very sustainable bamboo too!
The designs by Clarissa Hulse are based on the string of pearls vine plant which is notoriously difficult to keep alive! These shouldn't be a problem though.
Bamboo travel mugs £13
7. The clever packaging
Whether you drink lager or not you can't have missed the videos of turtles getting caught up in the plastic packaging rings they're held together with? Well, now Carlsberg have developed an incredible solution to clean up the problem and reduce their impact of the world. The snap pack.
Instead of using the conventional plastic rings they've developed a new eco-friendly glue that holds up to eight beer cans together and can be recycled with your regular refuse. The new snap pack reduces the amount of plastic waste by up to 76%
After testing over 4,000 versions of the glue- which has taken three years to develop they've come up with a winner. It's another fantastic example of re-inventing mass-produced items to lessen the impact on the world.
8. Crown the heros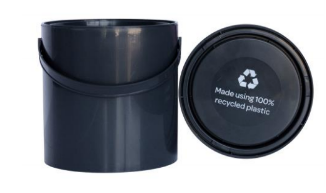 Speaking of amazing packaging changes – Crown paints have been working towards a 100% recycled paint can – which is a massive improvement on the 25% most paint companies have been able to develop in recent years.
The can is made using post-consumer waste plastic by separating polyproplyene plastics (shampoo bottles and water bottles to you and me) and unusable plastic elements from household appliances. The plastic is then dyed using a dark grey shade making them really stand out on the shelves.
Well done Crown.
9. The packed lunch kit 
"Plastic is a problem. Recycling won't save us.
By 2050 there will be more plastic in the ocean than fish " Stasha bags 
Do you ever look at how much wrapping you use at home? I mean the cling film, foil, baking paper type wrappings?
My daughters have packed lunches every day and in an attempt to reduce the crazy amount we throw away I switched to some fab Stasher bags. They're mega eco, made from 100% pure platinum food-grade silicone. This means that stasher bags contain no petroleum, no BPA, no PVC and no latex, so it's safe for people and the planet. I didn't know that silicon is made from sand (silica) and carbon. Did you know that?
I've been using the Stasha bags for 6 months and they work really well for sandwiches, fruit and snacks. You can also use them for baking, cooking, freezing, microwaving AND they go in the dishwasher (a big must in our house!) And as the quote above from a Stasher Video so rightly says we need to stop using plastic not just recycle it.  Using the bags has made a big dent in our recycling. Why don't you give them a try?
Stasher Bags are available in John Lewis, Amazon, Lakeland and Little Green home 
10. The stationary
Did you see the Spring/ Summer 19 ranges that Paperchase are doing next year? No? Well, let me tell you there's a lot of amazing eco elements coming to store from January. Think 3D printed pens and pen pots made from sugar cane, note books made from coffee cups. Recycled paper throughout and all with a fab eco message. Here's just a few that you can chose from…
So, there you have it – 10 great eco buys that would make great earth saving christmas gifts.
Which one do you like best?
EmmaMT x