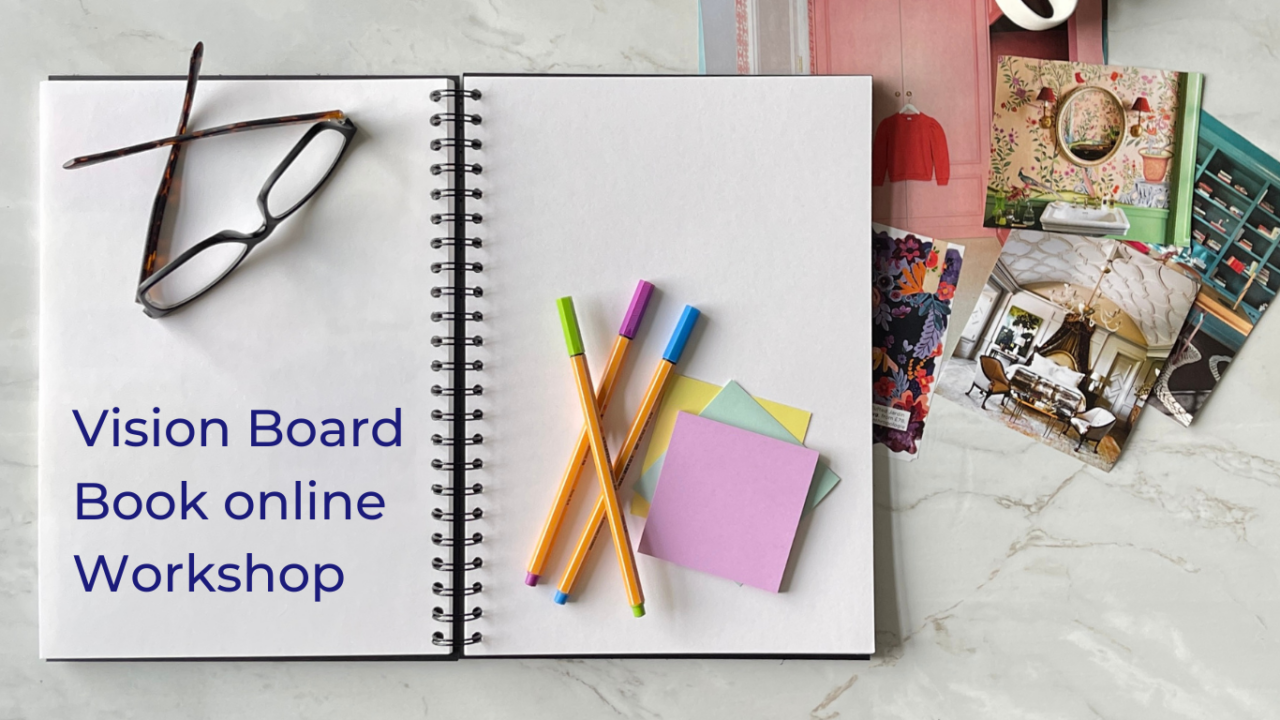 Learn how to set and achieve goals with our online vision board book workshop
How many times have you started off in January with all the good intentions in the world to achieve a new goal only to find by the first of March it's all gone out the window – and I'm not just talking about drinking more water and dropping a dress size or two. I mean the career goals. The ambition of working with that fab brand or being featured in your fave magazines.
A few months into the new year and the big ambitious plans just seem to fizzle out. You may just chalk it all up to the way time flies, and try to keep moving forward, but I want you to know, the solution is SO EASY! The Inside Stylists Vision Board Book Workshop. Sign up now and you'll find the secret to lasting motivation.
What is a vision board book

I'm sure you've heard about vision boards aka Dream Boards, and how they work but in case you haven't they are pages – usually around A3 in size, that are full of images and words. The boards are used as a visual reminder of goals set for the current year, in five years, or even in a lifetime. They're placed either where you'll see them every day or some people like to hide them away until they set new intentions at the beginning of the following year.
I have always found that these boards become part of the furniture and I stop focusing on the goals. It doesn't take long for this to happen – just two or three months. I just stop noticing.
This course is a little different to the traditional vision board. We use a book to create our vision board.  Along with my specific technique, the book helps you to set your intentions and stay focused on them throughout the year.
Why this course

I've been an Interior Stylist for over 20 years and when I set up Inside Stylists I hired business coaches to help me with the business side of running a website. I created this Vision Board Book system almost by mistake after years of advice from the coaches. Each session I would be given tasks to do that I always meant to get around to but never did. We all have busy lives so the constant go, go, go, meant things like journalling never really made it onto the To Do List.
I used to write down things my coaches said to me to remind me of what I was aiming for and that's how the vision board book came about. I wanted to put all my ideas in one place. Little did I know that the system would be so impactful years later.
I've used my vision board book to remind me to set daily intentions, of my monthly and yearly goals,  and to ensure that I stay focused so that I make the right decisions each day. It's what has made staying on top of running InsideStylists.com possible whilst being a freelance interior stylist, mother of teens and of course dog owner (those daily walks don't happen by themselves!)
Why a book works differently to a vision board
The technique in this vision board book online workshop is more than just adding words and pictures to the pages on your book. The way you find your words and visual inspiration is specific. I share a system to overcome obstacles in life that I created by mistake. It helps me whenever I have an issue to deal with including difficult clients and troublesome people in my life. We all have those at some time, don't we?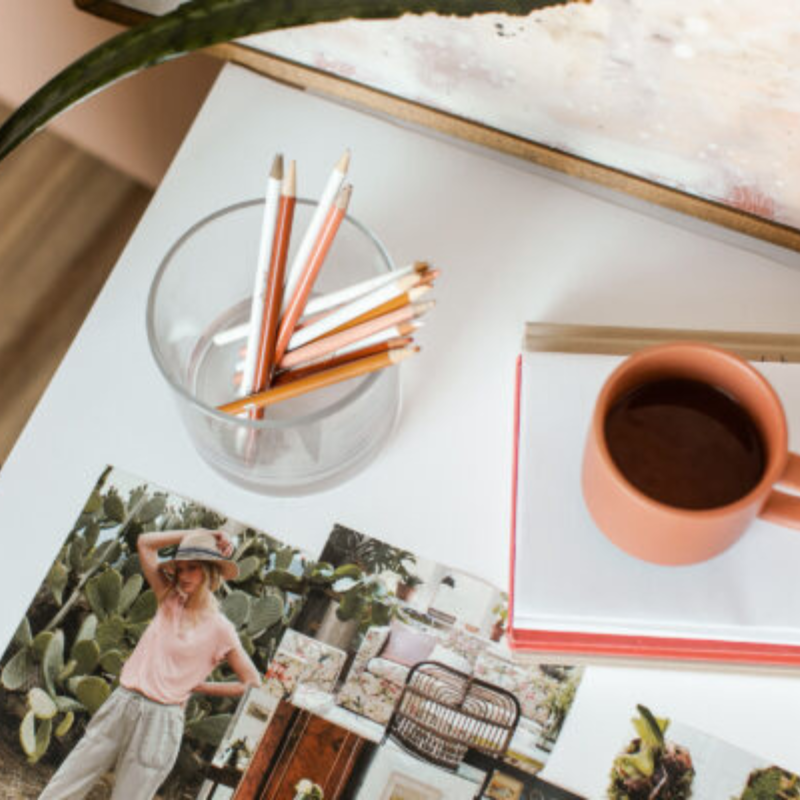 What does the vision board book online workshop include? The outline of this vision board book workshop
During this online workshop, I share how to get and stay focused on your big and small goals. Whether it's January 1st or April 21st, there's never a bad time to reassess where you are and where you want to be. Setting goals is just the start.
In this workshop, you'll…
Learn why we use a book for our vision board and not a poster 
Learn how to get everything on paper and out of your mind and why that's so important. 
How to select the right inspirational images for your vision board book 
How to find the right words that will motivate you consistently
But I'm not a journaller!
Me neither! As I mentioned, countless business coaches had suggested journalling to me. My way is different. In the workshop I share six prompts that you can work through when you have something on your mind. You don't have to do it every day, just when you need it.  When I ran through this section of the workshop when I ran it live and in person THIS was the bit that was the attendees found most GAME CHANGING!

What will I be able to achieve once I've completed this course
Once you've completed this workshop and carried out all the tasks included you'll have a clear idea of what you want to achieve. You'll know how to find inspiration when it feels hard to get started – or even get out of bed. You'll also have an easy technique for dealing with stressful situations.
In a nutshell this workshop will give you inspiration and motivation to achieve your goals.
How long is the workshop?
The vision board book workshop is an hour long and is broken down into short topics and videos so if you want to revisit any specific areas in a month or two you can easily find it. You will have lifetime access to the workshop once signed up.
The topics in the workshop include
How this technique came about
How I use my vision board book
What you'll need
How to make this YOUR book
How this vision board book works
Your goals
Goals and how to set them
Goals brain dump PDF
 List of where to find your quotes
Inspiring images
How I choose images
Journalling for non-journallers
Journalling prompts
How to stay inspired throughout the year.

Who is this vision board book workshop for?
Anyone striving to achieve more or reach their goals can take part in the course, from teens to great grandparents, employed full-time, part-time, freelance or even if you're a pupil and want to focus on school or uni work. You don't have to be creative, work in interiors or have a clue what your goals are before you start. The workshop is aimed at helping you find your drive each morning – whatever that entails.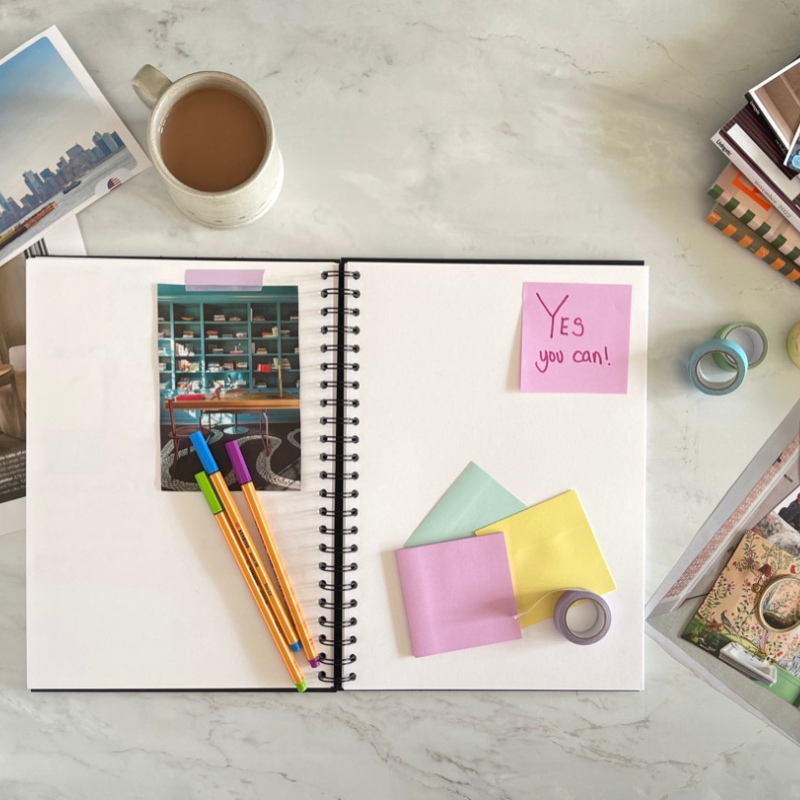 What kit will I need to do this course?
There are a few things that will be helpful for you to have for this workshop. I recommend you have them ready before you start so you can get going straight away. They are…
A book to stick your images and words in. I use an A4 artists book so the pages feel beautiful and I enjoy adding to it. You can use any book you choose. Blank pages are preferable but not essential. This is the book I use *
Post-it notes or paper you can write on. I love a selection of Post-its and find the softer pastel ones are easier on the eye. I also like to have a selection of sizes to keep things interesting.
Coloured pens. I use a mixture of Sharpies and thin liners in different thicknesses and colours. Again this keeps the process lots of fun.
Inspirational images and/or photos. You can take these from magazines or print offs from the web.
Scissors
A glue stick to keep everything in place.
*Please note these are affiliate links.
Sign up now before the course closes.
This course will remain open for two weeks until Monday 15th May 2023. When it will close until the new year so don't delay, sign up today.
The course is £39.99 and you will have lifetime access to the workshop so you can come back and refresh your memory each year.

Still got questions? Drop us a line here