Interior Designer Live Panel talk at Andrew Martin at Tottenham Court Road Showroom
---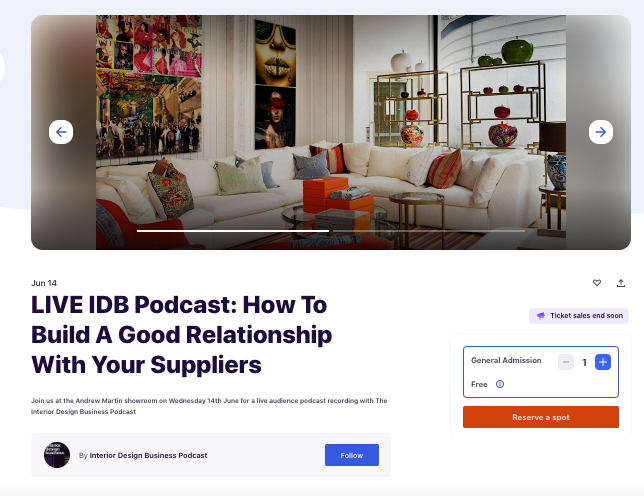 Interior Designer Live Panel talk at Andrew Martin at Tottenham Court Road Showroom
Event Overview
The Interior Design Business podcast is excited to announce its upcoming live audience show taking place on Wednesday 14th June at the Andrew Martin Tottenham Court Road showroom. The panel will feature British Institute of Interior Design member, Naomi Astley Clarke, Ed O'Donnell from Angel O'Donnell and Susie Rumbold from Tessuto on the topic of How To Build A Good Relationship With Your Suppliers. The evening will explore the importance and benefits of building good relationships with suppliers. The expert panellists will give their advice and personal tips on how to build these long lasting and productive connections and how to navigate them when problems arise.
It'd be great to know if you're able to join us at this live panel discussion – Further event details can be found here
Date and Time
The Interior Design Business podcast
Wednesday 14th June at 6pm to 8pm
Location
Andrew Martin Tottenham Court Road Showroom, 204-208 Tottenham Ct Rd, London W1T 4TG
View Map
Come and join us Inside Stylists
---
Why not sign up and join this great community of Interior Stylists, writers, assistants, PRs and all the shoot service providers you could ever need. It's the fast track way to connecting with others in the interior styling and writing world.