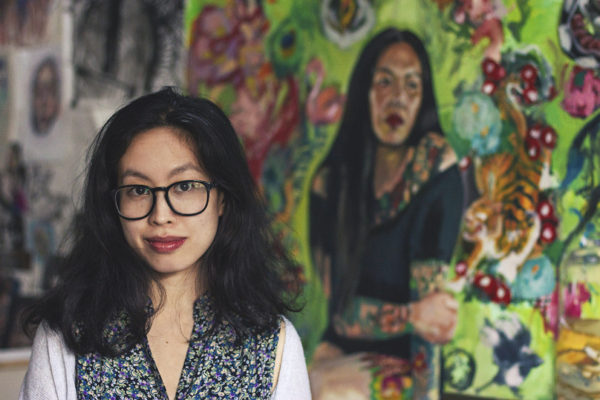 Spotlight on… Artist Caroline Wong
I love it when you find an artist that really captures the character of her subjects AND with a ton of colour and that's what you get with today's Spotlight on guest. Caroline Wong was introduced to me by Helen Stone and I can see why she was so keen to get her in front of me and so many other interior stylists and designers.
Her work is to a large extent a protest against the persisting stereotypes and misconceptions about East Asian women. they're big, they're bold and they make you look deep. We caught up with Caroline to talk all about where it all started and where she's headed to.
---
How did you come to be an artist?
I originally studied modern languages 15 years ago but had always wanted to do art, in particular portraiture. I went on to translate and teach but it was only about three years ago that I decided to pursue my art. I started with a few drawing classes and soon after enrolled in the Contemporary Portrait Diploma at the Art Academy, London. During this two year program, I had extremely supportive and focused teaching and mentoring, especially with teachers such as Roxana Halls, Sadie Lee and Susanne du Toit who've all greatly influenced my work. It's thanks to them really that I have the confidence to do what I'm doing now!
My signature pieces are my large-scale, vibrant, classically-inspired portraits of East Asian women. These are subversions of the often delicate and gentle or else hypersexualised images that we find in both classical and contemporary art as well as mainstream culture. I'm essentially adding a female gaze to a tradition that has largely focused on men's ideas and fantasies.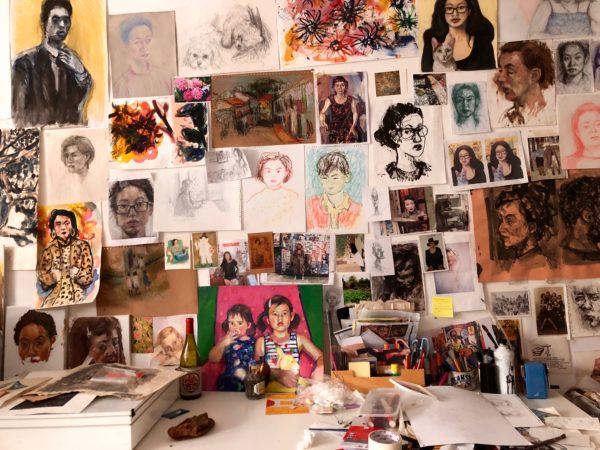 What's your fave thing to create?

I love working on the larger, more sustained pieces and seeing how over time they take on a life and personality of their own, but I also enjoy creating smaller, more playful and informal drawings, especially with charcoal or pastel. It's definitely important for me to keep my practice as varied as possible.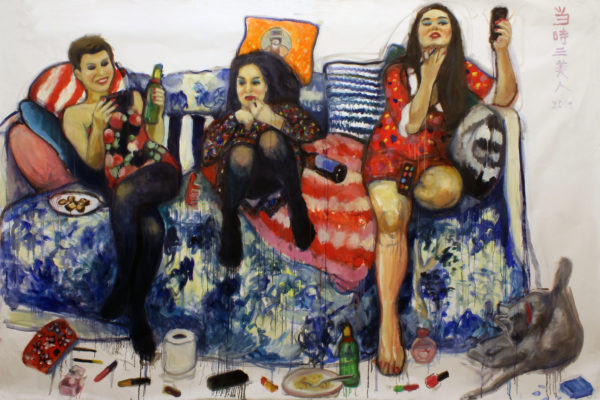 Can you describe your design process for us?
Sometimes I have a general idea for what kind of portrait I want to create and it's simply a matter of finding a model who best suits it, but other times I am inspired by the models themselves – their sense of style, their attitude, and the little that I know about them gives me ideas for potential portraits. When I meet my models, we look at lots of portraits, we discuss ideas for poses and costumes, and then I sketch and photograph them. After that, I create various compositional drawings and mockups until I have a final image that I am happy with. The paintings can be up to 2.5 metres and can take anywhere between a week and three months to paint, depending on how detailed they are. The paintings are for sale but I mainly sell smaller giclee prints of them.
Where does your inspiration come from?
My inspiration comes from people more than anything else. The way they dress and carry themselves, the stories they choose to tell and not tell. In terms of art and artists, I tend to be drawn to artists who strike a balance between technical skill and poetic expression. Just a few of the many artists that inspire me include Klimt, Schiele, Lotte Laserstein, Vuillard, Balthus, Alice Neel, Lucian Freud, Liu Xiaodong, and Wang Yuping.
What's been the highlight of your career so far?
So far, winning the Derwent Prize at the Society of Women Artists annual exhibition last year with my painting 'Little boy's suit' (seen below) – a portrait of drag king and burlesque performer Fancy Chance, and also having two of my paintings ('Mixer' and 'Cabinet') selected for the Liberty Art Prize and subsequently having them on display in the Liberty Specialty Markets boardroom in the Walkie Talkie building.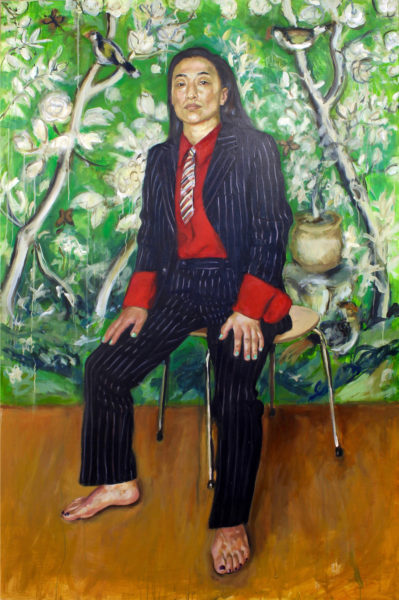 What's the best mistake you've ever made?

I used to regret not pursuing art much earlier in life but I'm now glad I did it later on with more life experience and self-awareness. Everything from my specialisation in feminism and women's writing at university to my time living and working in Asia and Europe has defined the themes of my art.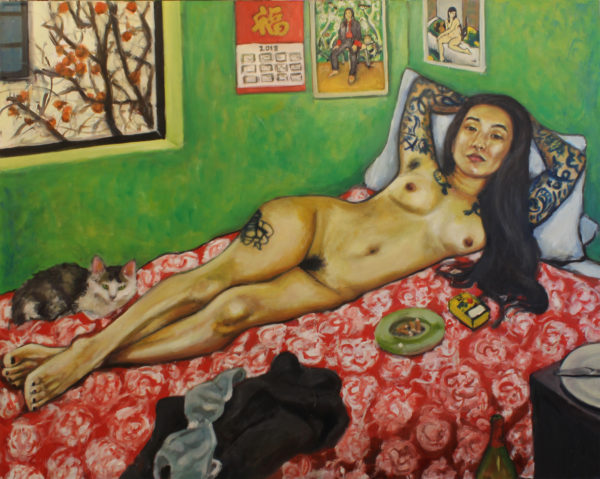 What advice would you give to an aspiring artist?

Always make art for yourself and not anyone else

Don't be afraid of making mistakes. All artists make a lot of bad work, especially at the beginning, and failed experiments will always be part of the process for every artist

Find other artists who you can get together with to draw and discuss art and go to exhibitions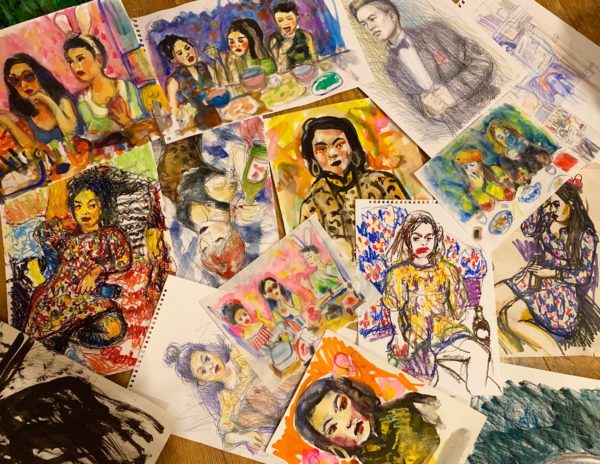 Who would be your dream partner be for a collaboration and what would you create?

I see all my portraits as collaborations with my sitters in some way and generally speaking I can paint anyone. For my series on defiant, non-conforming Asian women, however, I'd love to paint film director Anna Biller or fashion designer Anna Sui. I think we share the same interest in colours, textures, pattern, and fantasy.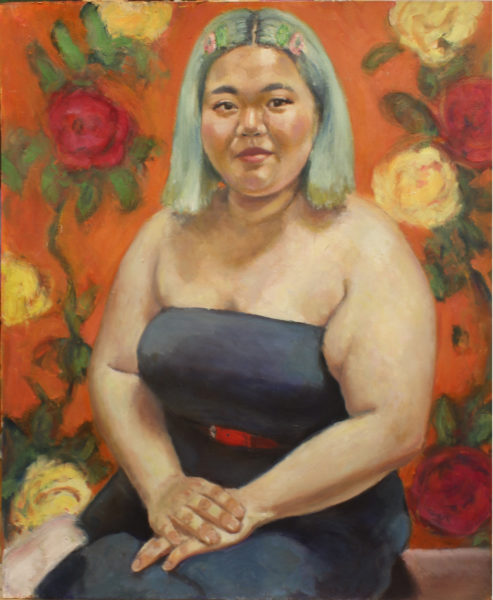 Tell us something not many people know about you?
Although I create these loud, monumental paintings of very confident, striking women, I'm actually a very quiet, low-key person. So in many ways, I see the women of my paintings as my alter-egos and avatars.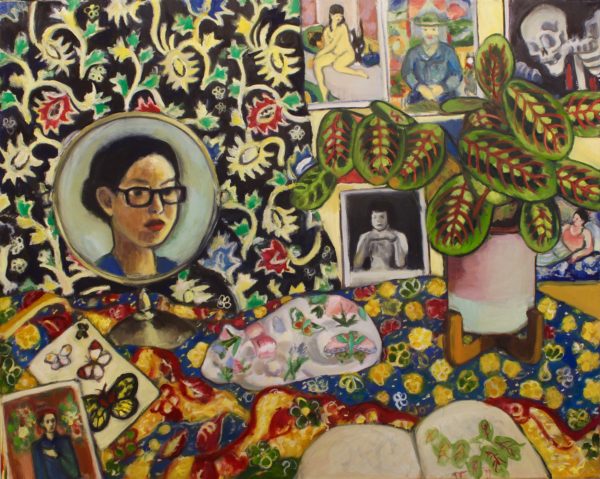 What's next for you?
I'm currently working on portraits of entrepreneur Cindy Gallop, and performance artist and drag queen Victoria Sin, I will then work with performers Viva Lamore and Sigi Moonlight. I'm also working on a series of 'drunk paintings'. I also have I have a couple of commissions and paint portraits of my friends.
---
Find Caroline here